New Balance and Formlabs continue to leverage TripleCell platform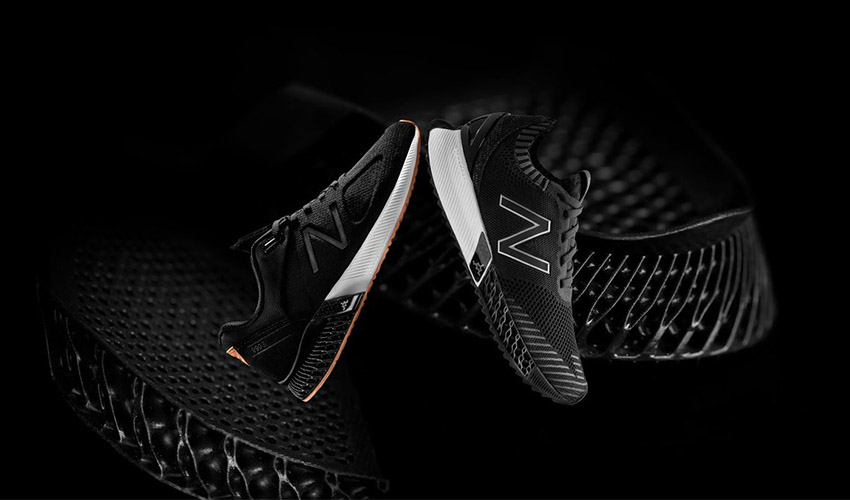 We told you at the beginning of July about the 3D printing platform that had just been launched by New Balance and Formlabs – the TripleCell platform. At the time, the companies announced that this platform would be used to launch the 990 Sport and the FuelCell Echo Triple trainers. This partnership is not new, it started two years ago, in 2017, when the 3D printer manufacturer and the leader in athletic wear announced to the public that they were developing high performance materials, hardware, and a manufacturing process for athlete footwear. 
Following the unveil of the TripleCell platform, the 990 Sport launched during the summer and sold out quickly. Now, it is time for the FuelCell Echo Triple trainer to hit the market. In terms of technology, the latter has also been 3D printed using SLA 3D printers with the custom-made, high-performance Rebound Resin. This resin explains the beginnings of the partnership between New Balance and Formlabs. The two companies came together to develop this material that essentially presents higher resistance to wear and tear than other materials. 
On Formlabs website you can read: "Shoe materials experience  a variety of environments, with the additional need to withstand various levels of pressure thousands of times per day. Designed to create springy, resilient lattice structures, Rebound Resin has a much higher energy return, tear strength, and elongation than any other Formlabs material. Rebound Resin is strong enough to be used in gaskets, seals, and automotive interiors, but light and flexible enough for the sole of a shoe. New Balance has exclusive rights to use Rebound Resin in footwear, but the material was designed for a wide range of applications." 
A Continuous Partnership between New Balance and Formlabs 
This collaboration showcases how the whole manufacturing process can be re-imagined. For example, by eliminating molds, New Balance was capable of saving months of development time. Also, using TripleCell technology for rapid prototyping made it possible to easily produce multiple designs at the same time, reinventing the traditional iterative testing approach. 
For now, it is still hard to exactly measure the ramifications that 3D printing will have on the footwear industry. However, it is evident that the impact will be substantial. The research firm, SmarTech Analysis revealed not that long ago that use of additive manufacturing in the footwear industry was expected to generate more than $6.5 billion by 2029, an expected annual growth of 19.5%. And NB and Formlabs are positioning themselves at the forefront of what could be an entire industry shift towards the adoption of 3D printing. 
Of course, they are not the only ones. For example, Adidas and Carbon made headlines when they announced their partnership in order to create the FUTURECRAFT 4D trainer. Katherine Petrecca, New Balance General Manager of Footwear at the Innovation Design Studio comments: "TripleCell is on the forefront of a broader industry shift. This is just the beginning, 3D printing is going to reshape how we all think about the design to manufacturing process for products. Formlabs has been an integral partner in this process, expect to see more from this partnership in the near future."
What do you think of this partnership? Let us know in a comment below or on our Facebook and Twitter pages! And remember to sign up for our free weekly Newsletter, to get all the latest news in 3D printing send straight to your inbox!