The Longest 3D-Printed Bridge for Cyclists Has Been Inaugurated in the Netherlands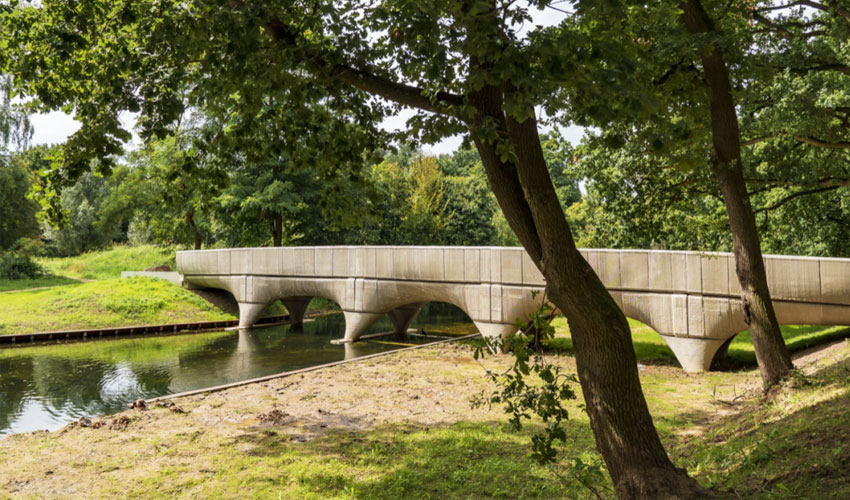 Alas! After several months of work, the Dutch city of Nijmegen is now home to one of the longest 3D-printed bridges for cyclists. Inaugurated on September 8, the bridge measures 29 meters long and was manufactured in the 3D printing center of Saint-Gobain Weber Beamix, which utilizes several BAM robotic arms. One of the fascinating features of this structure is the method used for its design—the bridge was created using parametric design software that optimizes the material, printing time, and expenses depending on the loads applied to the bridge design, such as number of bicycles, pedestrians, weight, etc.
We initially introduced this project to you in April and promised to keep you updated on the bridge's progress! Like the MX3D bridge finally completed in Amsterdam, this bridge in Nijmegen was inaugurated there in just a few days. Behind the scenes developing the structure are several partners including the Technological University of Eindhoven (TU/e) and architect Michiel van der Kley along with Summum Engineering and Witteveen+Bos for the parametric design and translation of the 3D model. The teams broke down the bridge into several 3D-printed blocks, assembled directly on-site for the sake of simplicity. Bert Velthuis, from the Nijmegen City Council, says "The city of Nijmegen is very honored to receive this innovative 3D-printed bridge. We are a city of bridges, and this special, innovative bridge is a wonderful addition. The bridge leads to connection: in the design and construction phase it connected the different partners, and from now on the bridge connects our residents."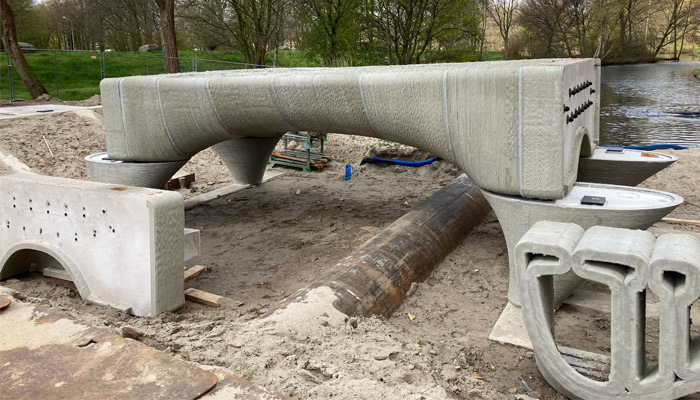 The 29-meter-long bridge blends in perfectly with nature, the architect wanted to give it round and natural shapes. These wavy shapes and natural aesthetic could not have been achieved other than 3D printing. The various members of the team hope to take concrete 3D printing technology further and offer more 3D printed civic structures. Theo Salet, Professor of Concrete Structures at TU/e, concludes: "The printing of concrete has enormous growth potential. We use less raw materials and can drastically increase the construction speed. In the future, we want to make concrete more sustainable and also reuse it. There is much more to achieve. I am also proud that the knowledge developed has found its way to the industry so quickly." You can find more information HERE.
What do you think of this 3D-printed bridge? Let us know in a comment below or on our Facebook and Twitter pages. Don't forget to sign up for our free weekly newsletter, with all the latest news in 3D printing delivered straight to your inbox!
Cover Photo Credit: City of Nijmegen / Michiel van der Kley