Navy Sailors Receive 3D Printed Dental Prosthetics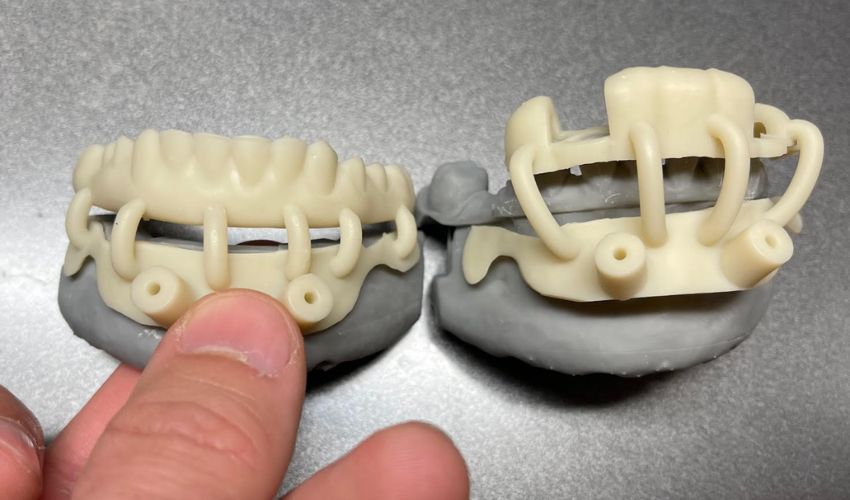 Recently, two Sailors of the United States Navy received emergency dental prosthetics thanks to 3D printing. The procedure made military medical history for being the first of its kind to ever be performed on Navy sailors during a career assignment. The successful use of 3D printing marks a milestone for the use of the technologies in the Navy and opens the door for its extended use in the future. 
Dental issues are always an unpleasant affair, and they always seem to appear in times in which they can't be more inconvenient. Depending on the severity of the issues, the process of fixing the matter can often be a long and weary endeavor, causing an individual to delay all plans and tasks. Exactly that kind of misfortune recently came over two U.S. Navy Sailors, who were on duty aboard the USS Nimitz (CVN 68) and USS Theodore Roosevelt (CVN 71) when their dental problems started to become an issue. Thanks to additive manufacturing technologies, however, U.S. Navy dentists were able to quickly and successfully remove the Sailors' failing teeth and implant new 3D printed prosthetics, allowing them to get back on duty after only two weeks. 
The Process of Restoring Teeth Through AM Technologies
As soon as the problems were acknowledged, the sailors aboard the two navy carriers sought help from the navy dentists on the ships, who are accompanying the sailors, especially for such purposes. Every American aircraft carrier, which carry roughly six thousand active-duty Sailors, includes around five dentists. Aside from that, eight of America's eleven aircraft carriers are nowadays also equipped with state of the art digital dental equipment such as intraoral scanners, which provide soldiers with high-quality medical care.  
Following the dental check-up, the navy dentists took 3D radiographs of both patients and combined them with intraoral scans of their teeth. Those scans were then used to plan the upcoming surgeries as well as identify the dental implant positions. The resulting surgical guides and dental prostheses were then digitally designed, and the files were quickly sent over to the San Diego Area Dental Laboratory where they were 3D printed and then sent back in less than two weeks. The actual surgery for the two Navy patients was then finalized at the Naval Hospital Bremerton, Washington, where the dentist used the so-called "all-on-4" method, a prosthodontics procedure in which fixed prostheses are applied by placing four implants in the frontal jaw region. After a two-week follow-up by the doctors, both patients were already able to get back on duty. 
Logistics Specialist 2nd Class Dianne Ancheta, one of the two patients, is relieved and happy with the outcome, saying, "I had many fears going through my mind on the possibility of anything failing and having to wear dentures. The surgery process was good, and I had zero pain in my mouth.  I returned to work two weeks after the surgery and have been at work to include two underway periods. I have my confidence back for the first time in six years. I have my smile back." You can find out more HERE.
What do you think of the use of 3D printing technologies to help with dental issues in the Navy? Do you think it will help to rebuild forests that have been devastated by wildfires? Let us know in a comment below or on our LinkedIn, Facebook, and Twitter pages! Don't forget to sign up for our free weekly Newsletter here, the latest 3D printing news straight to your inbox! You can also find all our videos on our YouTube channel.
All Photo Credits: U.S. Navy