Native Shoes presents its 3D printed liquid rubber shoes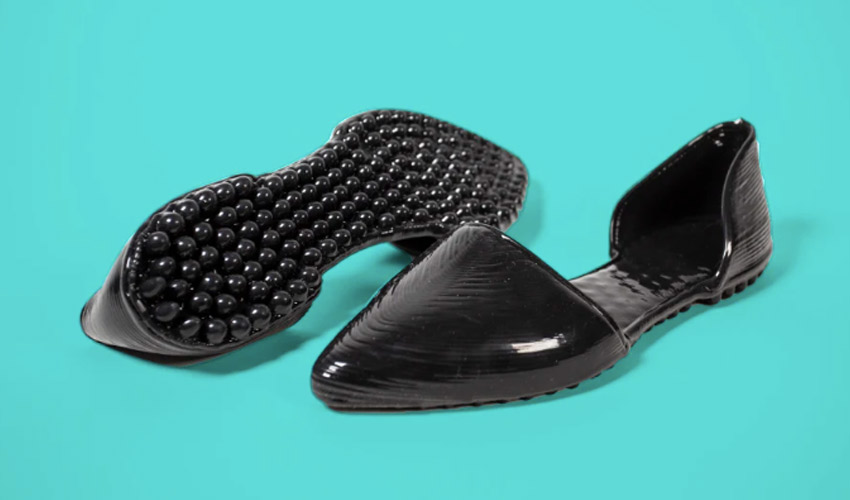 The Canadian shoe manufacturer Native Shoes has announced a new collaboration with the Self-Assembly Lab at MIT to design 3D printed shoes, using liquid rubber. The project, called Liquid Printed Natives, aims to use futuristic manufacturing methods to create everyday products, in this case different types of shoes, from sneakers to ballerinas. These shoes are produced in a gel container thanks to Self Assembly Lab's Rapid Liquid Printing technique. The result are highly original and entirely personalised shoes.
In the fashion industry, if there is one niche that has long been surfing on additive manufacturing, it is in fact shoes. From plastic to metal, we have seen a large number of projects emerge one after the other, aiming to offer a tailor-made products with an exclusive design. This project is experimenting with liquid rubber, a somewhat unusual material in the 3D printing sector. It must be said that Native Shoes has always chosen materials that could participate to a circular economy approach to manufacturing. For example, one of its pairs is made from pineapple and corn husks.
According to the manufacturer, the shoes in the Liquid Printed Natives project were 3D printed directly in a tray containing a reusable water-based viscous gel formula. The Canadian brand explains that it used a 50% recycled ethylene-vinyl acetate (EVA) material known for its rubbery appearance and flexibility. Thomas Claypool, founder of Native Shoes, explained that the printing process itself took longer than traditional injection molding methods (2 hours versus 40 minutes) but was much faster to market and much more personalized. In addition, he says that using additive manufacturing allows them to reduce their stocks and the amount of material used.
Native Shoes is also working on a device to allow people to scan their feet, either directly in a store or via an application. A system that could offer an even higher degree of personalization, as well as maximum comfort for each wearer. Thomas Claypool tried a pair of 3D printed shoes and explains: "The shoes are comfortable and adhere better to the foot. However, I think we can improve the quality of our material." We don't know yet when these shoes will be available on the market, but we're looking forward to trying them on! You can find more information on Native Shoes' website HERE.
What do you think of these Native Shoes? Let us know in a comment below or on our Facebook and Twitter pages! Sign up for our free weekly Newsletter, all the latest news in 3D printing straight to your inbox!