NASA's Artemis Project Will Include a 3D Printed Lunar Bunker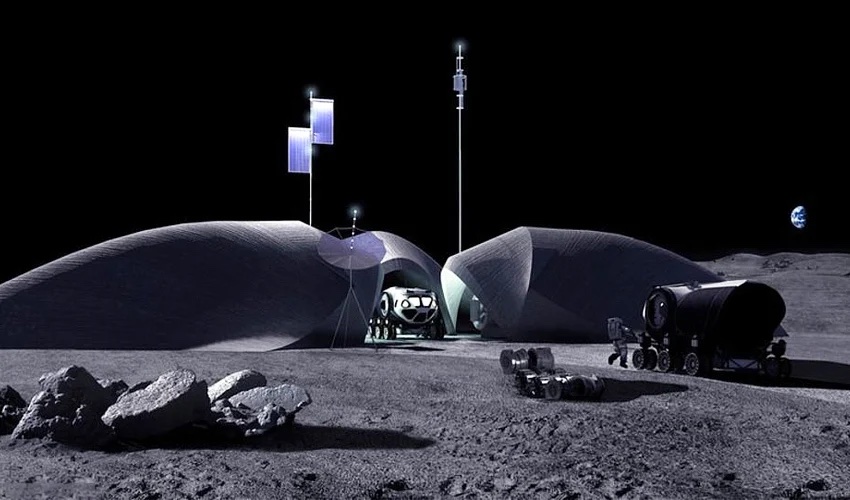 NASA is once again turning to 3D printing to help it in its upcoming Artemis Mission, this time through a collaboration with AI Space Factory. In the project, AI Space Factory will be creating a 3D printed base camp (named LINA) where astronauts and robots will have a place to live and work. This lunar bunker will have the capacity to house an astromobile, telecommunication devices, habitation modules and more. Moreover, it is intended to protect astronauts from radiation, lunar earthquakes, extreme thermal changes, meteorites and will also have a photovoltaic tree to capture solar energy.
NASA is aiming to set off in 2028 for this mission which they hope will allow them to make new scientific, technological discoveries to build a lunar economy and importantly explore Mars while maintaining human presence for long periods of time. The material used for the construction of this 3D printed lunar bunker by AI Space Factor was synthesized by NASA's Granular Mechanics and Regolith Operations Laboratory and later validated in vacuum with static extrusion tests.
LINA (Lunar Infrastructure Asset)
The design of the LINA base has been done by the American company AI Space Factory with the aim of allowing astronauts to stay for long periods of time in the shelter, which will itself be built by autonomous robots. It will consist of three units, each of 75 square meters separated by a common courtyard of 90 square meters. The shelter will be located at the lunar south pole, also known as the "Peak of Eternal Light," where solar radiation is constant. It will also be possible to collect ice in the shade inside a crater near to the proposed site.
The bunker will have a life expectancy of at least 50 years and will allow for protection from solar and cosmic radiation. Additionally, the lunar regolith by which it will be covered will protect against micrometeorites, lunar earthquakes, radiation and extreme thermal fields. This first prototype is being manufactured at the Kennedy Space Center, where the conditions of the area where the next mission will take place are being reproduced, with temperatures ranging from -170ºC to 70ºC.
Discussing LINA, the AI Space Factory design team commented, "As we expand the horizon of what is possible in the future, LINA is an architectural and technological milestone that sets a precedent for conducting explorations farther out than our moon." Notably, we can point to the inclusion of regolith, a loose lunar rock which has been generating interest among NASA scientists working on 3D printing as a potential way to build more sustainably once on other planets or satellites like the moon.
Artemis Mission Phases
This mission has three phases: the first one Artemis I in which by August 2022 mannequins will be sent to pave the way for manned flights. The next phase, Artemis II, scheduled for May 2024, will fly close to the satellite but without landing on it. And finally by 2025 this last stage Artemis III will be the one that will finally transfer humans after the last expedition already 50 years ago. Artemis will also have the honor of being the first time for both a woman and a person of color to set foot on the moon. You can learn more about it HERE.
What do you think about LINA? Let us know in a comment below or on our LinkedIn, Facebook, and Twitter pages! Don't forget to sign up for our free weekly Newsletter here, the latest 3D printing news straight to your inbox! You can also find all our videos on our YouTube channel.
*Cover Photo Credits: AI Space Factory