Narbon 3D prints using the ashes of your loved ones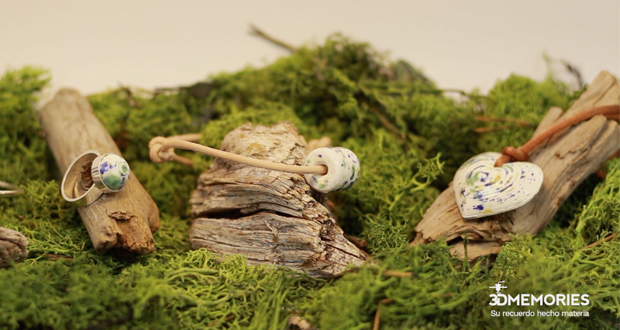 Ever thought of 3D printing using human ashes? It sounds a bit crazy, but Narbon, a funeral home located in Madrid, Spain, is doing just this. Using 3D printing's versatility, Narbon is seizing the moment so to speak, in order to tap into a rather untapped industry with a mission of preserving the memories of our loved ones. Similar to Diana Law's 3D printed jewelry, Narbon uses a mixture of ashes and 3D printing material to create jewelry and custom made objects.
3D Memories is the name of this new service offered by Narbon, a funeral company that has more than 90 years of experience in this sector. Their new technique 3D prints with human ashes by mixing them with 3D printing materials, a process that has been patented by Narbon. "We sell an emotional experience, not a technology," explained José María Robisco, Commercial Director of the company.
Their products range from jewelry (Their specialty) to busts and vases, making the possibilities seemingly endless. The materials you can choose between are plastic, wood, metal and ceramic materials such as porcelain, the star product of Narbon.
Following the printing process, your piece of jewelry or object is then given a QR code that connects to the website surecuerdo.com, a network that was also developed by Narbon, which allows you to create a profile of the deceased in which friends and family can share photos or memories.
4 of the 5 offered finishes
The 3D Memories service starts when the remains are collected, but it should be noted that not all of the ashes are used, as the amount depends on the object chosen. "We guarantee that nothing is lost," said Robisco. The company only uses the necessary material, with leftovers being returned to the family. "What may seem to be just ashes to one person is something important to someone else." To print with human ashes, they use a 3D Delta printer, which has been modified to allow for the mixture of the ashes with the 3D printing material when printing.
While to some this may seem odd, what Narbon hopes is to see is that it becomes something natural, but above all, they would like it to be seen as a beautiful memory of our loved ones.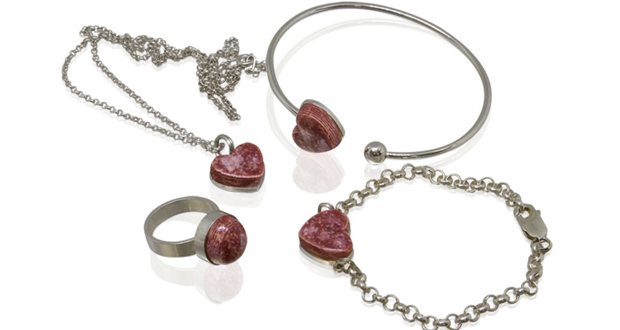 For more information, you can check out their official website here
What do you think of creating 3D printed jewelry and objects from our loved ones? Let us know in a comment below or on our Facebook and Twitter pages! Don't forget to sign up for our free weekly Newsletter, with all the latest news in 3D printing delivered straight to your inbox!