Nanoscribe Has Developed New Microfabrication Methods with the XLF Print Set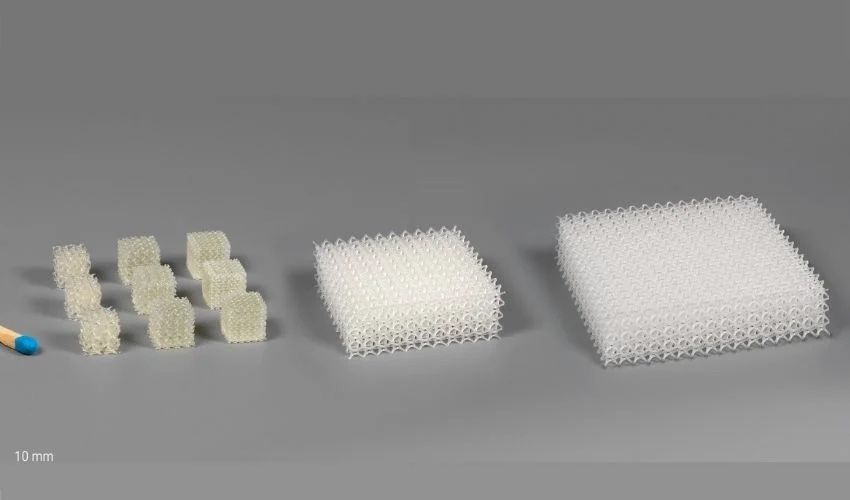 While many developments in the additive manufacturing sector are dedicated to large-format printing, microfabrication, i.e. the process of creating micro-sized structures and also known as microscale 3D printing, is also at the heart of several research efforts. The German company Nanoscribe has specialized in this field and has been working for several years on two-photon polymerization (2PP) technology. This process, which allows the design of parts with nanoscopic and microscopic dimensions, does not allow the manufacture of parts of the order of a centimeter however and is actually relatively long. For that reason the company has now developed the Extra Large Features (XLF) Print Set.
Designed for the Quantum X Shape 3D printer, the XLF Print Set is intended to open up new possibilities for the machine. Currently, the Quantum X Shape can produce parts that are far more accurate than SLA and DLP technologies, but it is limited in terms of size and print speed. And with the XLF Print Set, these limitations should be pushed back. Dr. Michael Thiel, Chief Science Officer and co-founder of Nanoscribe, says, "The XLF Print Set brings a whole new world of opportunities to the Quantum X shape. First and foremost, you gain a tremendous speed up in manufacturing large print quantities of voluminous objects in one batch."
Benefits of the Extra Large Features (XLF) Print Set
According to the manufacturer, the XLF Print Set can print parts several millimeters in size with complex geometries and very fine details. Combined with a highly sensitive photopolymer resin and the properties of Quantum X Shape, i.e. high scanning speed and adjustable voxel sizes, the XLF Print Set is said to be a complete solution for high-precision 3D printing at the thousandth and centimeter scale.
Regarding the different applications of the XLF Print Set and the Quantum X Shape, Nanoscribe explains that this solution is suitable for the prototyping phases, but also for the production of final parts. For example, the German company says the machine can be used to design mechanical parts such as millimeter-sized connectors and housings, microfluidic structures as well as scaffolding for biomedical research. You can find out more HERE.
What do you think of this latest solution from Nanoscribe? Let us know in a comment below or on our Linkedin, Facebook, and Twitter pages! Don't forget to sign up for our free weekly Newsletter here, the latest 3D printing news straight to your inbox! You can also find all our videos on our YouTube channel.