Nano-Sized Rendition of Cornell's McGraw Tower Marks Step Forward for 3D Printing Technology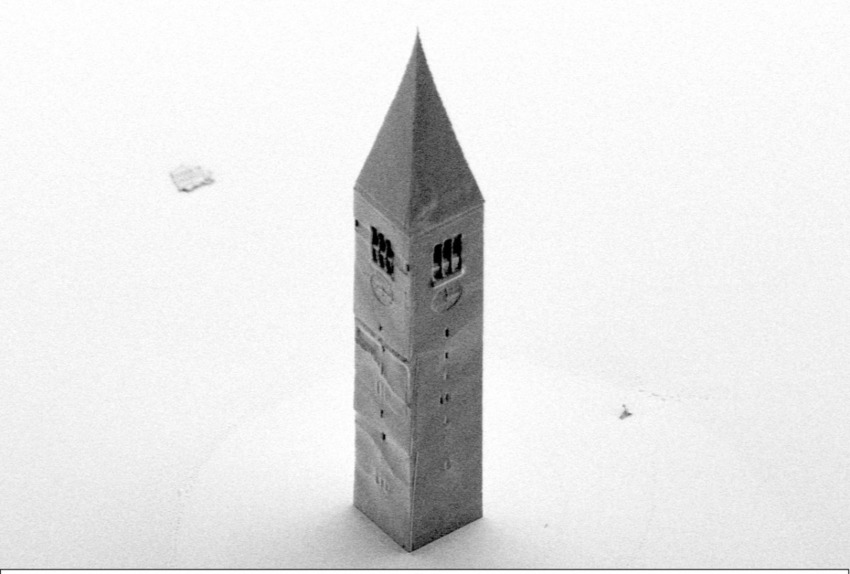 Earlier this month, a team led by staff photolithographer Ed Camacho at Cornell NanoScale Science and Technology Facility (CNF), in Duffield Hall created what is thought to be the world's smallest rendition of Cornell's iconic McGraw Tower. The tower is complete with 161 interior steps, two sets of stairs and 21 bells. 160 microns wide, 150 microns deep and 1 millimeter tall, the miniature was constructed to scale. For reference a penny is just 1.5 millimetres thick. According to Camacho, "this is possibly the world's smallest bell tower". 
This achievement was accomplished using a two-photon polymerization volumetric 3D printer, one of CNF's newest tools, the NanoScribe GT2 Laser Lithography System. Acquired in late 2019 with funding from a National Science Foundation grant and installed in January 2020, the state-of-the-art machine is one of nine photolithography tools at CNF. The NanoScribe GT2 is able to create 3D nanostructures using a near infrared, femtosecond laser via direct-write onto a photosensitive resin.  "Fifteen years ago, only a specialist could do this with very specialized equipment," commented Chris Ober, director of CNF and professor of materials engineering in the College of Arts and Sciences. He continues, "this is a commercial device". 
The tool was purchased in order to bypass several of the limitations possessed by the current generation of 2-photon 3D nano-printers including speed and capacity. With the NanoScribe GT2, researchers specialising in life sciences are now able to develop a variety of different things including cell scaffolds or microfluidic devices. Similarly, it allows researchers in photonics to draw 3D waveguides, while researchers in robotics are now able to make very small, soft structures for soft robotics, all at this miniscule length scale. 
Camacho chose to replicate Cornell's McGraw Clock Tower as it "is unique and has the right combination of complexity to display 3D printing at the nanoscale for this flagship tool." He goes on to explain how he built the piece, "I did not find a detailed 3D CAD model of the structure, so I created my own," he said. "Pictures from the Cornell [library] online archive and the building's website were used as a reference. My main specifications and assumptions: 173 feet (53 meters) tall, 161 steps, 21 bells, identical sides, two different staircases, two floors at the top, a pyramidoid roof and a Romanesque Revival architecture style." With this information, Camacho was then able to achieve an incredible level of detail, including a complete reconstruction of the tower, managing to include aspects from the individual external bricks all the way to the dual internal stairways and bells. 
What do you think about Camacho's scale replica of Cornell's McGraw Clock Tower? Let us know in a comment below or on our Facebook, Twitter and LinkedIn pages! Sign up for our free weekly Newsletter here, the latest 3D printing news straight to your inbox!
*Cover picture: Ed Camacho of the Cornell NanoScale Science and Technology Facility created a scale replica of Cornell's iconic McGraw Tower. The model, just 1 millimeter tall, contains the tower's 161 steps and chimes. Courtesy of Edward Camacho.