Nano Polymer Adhesive, the Glue Developed for High Performance Polymers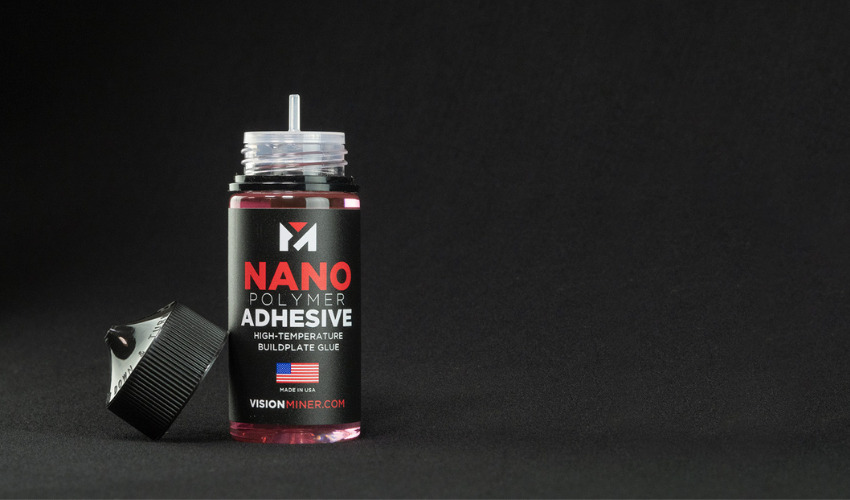 Some of the most important steps in 3D printing take place even before the printing begins. Improperly stored materials, incorrect printer settings and more can ruin a project before it has even started taking form. But one of the most important considerations before printing is build plate adhesion. If your part is not properly stuck to the printer bed, it might be prone to warping or even ruined if it breaks free. Worse, this can happen at any stage of printing and is one of the most common 3D printing problems facing users. When you are working with a high-performance polymer like PEEK, PEI, or PPSU this can be even more difficult as they tend not to bond well to the bed and the warping forces are far greater than with standard materials. Luckily, Vision Miner, an American printing company, known for its strong foundation in working with high performance FDM/FFF polymers, has developed a solution with Nano Polymer Adhesive, one of the first adhesives developed with high-temperature, high-performance FDM filaments in mind.
One common way to address the problem of parts not sticking to the bed is with adhesive, however many do not work with high performance polymers and even the ones that do can be difficult and time-consuming to use. To solve the issue, Nano Polymer decided to hire a material scientist who specialized in adhesives to create a product that would work specifically for PEEK, ULTEM, and PPSU, some of the most common high performance FDM polymers. It is safe to say that they were successful. After 9 months of development in 2018, they had a working formula, Nano Polymer Adhesive. To their great surprise, the team discovered that the glue actually worked for almost every material they tested, including PLA, ABS, ASA, Nylon and PC. Apparently the only two materials that they know the adhesive does not work for are PP and POM, which are well known for not sticking to just about anything. Incredible news for anyone who wishes to minimize part failures caused by poor bed adhesion.
About the Nano Polymer Adhesive
One of the most attractive properties of the adhesive is not just that it works with pretty much every FDM filament, but also that it works on many different surfaces, such as glass, carbon, resins and more. In fact, according to Vision Miner, it works with virtually every printer with a heated bed on the market. It is also easy to clean and re-apply, it is recommended just to clean the glass with water before applying the adhesive, then users can calibrate the first layer and start printing. It is very easy to use as the glue is just put down in an X and then spread around with a brush. Though for best results it is suggested to apply the adhesive in one direction and then the opposite. Additionally, clean up is easy, since the brush can be cleaned with water and set aside to dry. As can be expected removal of the part is also easy, with Vision Miner claiming that most parts come off the bed as soon as the build plate cools.
The glue is made out of safe, non-toxic, organic compounds and a lot goes a long way, especially with materials like PETG and PLA. A single bottle is 100ml which for a 7"x7" build plate would mean at least 200 coatings. However, testing with the material has shown that with low-temperature filaments, it can be reused. Vision Miner found that with PLA especially, they were able to do more than 50 prints on just a single coating. However, for PEEK, PEI or other expensive, high-temperature filaments, it should be reapplied in the area of the part before each build.
Vision Miner prides the product for being 100% Made in the USA and the glue is a way for them to address the problems that they were seeing every day,  thus passing the benefits to their customers who work with high temperature materials. That being said, it is also available worldwide including in Canada, UK, Europe, Asia and Australia. It certainly has been popular among users, making waves not just for being one of the only options for sticking polymers like PEEK to the build plate, but also for its efficacy. You can find out more about the Nano Polymer Adhesive at Vision Miner's website HERE. You can also find $5 (plus shipping!) samples available on the website as well as through Vision Miner's resellers.
What do you think of the Nano Polymer Adhesive? Let us know in a comment below or on our Facebook, Twitter and LinkedIn pages!  Sign up for our free weekly Newsletter here, the latest 3D printing news straight to your inbox!