Nagami presents avant-garde 3D printed chairs
Published on April 3, 2018 by
Niru K.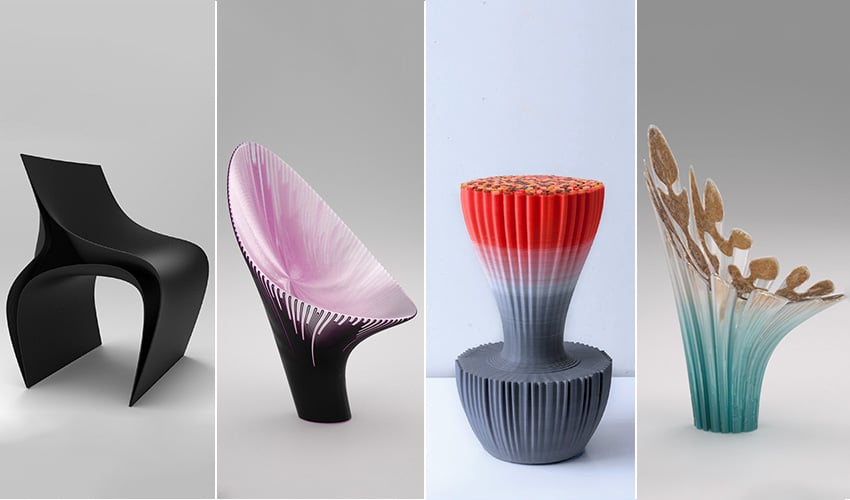 The Milan Furniture Fair will be held from 17 to 22 April and will be an opportunity to see some pretty original 3D printed chairs. They will be presented by the Spanish design firm Nagami, which specialises in large scale 3D printing, in collaboration with several renowned designers and studios including Zaha Hadid Architects. The chairs will be part of the project entitled "Brave new world: redesigned design and large-scale robotic 3D printing".
Nagami will present his project soon in Milan. It includes four models of very avant-garde chairs named Rise and Low – both by Zaha Hadid Architects,  Robotica TM by Ross Lovegrove and Peeler by Daniel Widrig. They would all be printed in 3D.
3D printed chairs for Milan Furniture Fair
The two chairs Rise and Bow have been printed via a robotic arm capable of extruding biodegradable plastic pellets. Their respective designs are both optimised to fulfil their primary function – sitting – and recall a natural floral structure while incorporating colours and shapes in an innovative way. In other words, it's a little more than just chairs!
Robotica TM by Ross Lovegrove is a versatile stool that incorporates a 360 ° structure, inspired by mathematics. The design of this 3D printed stool would also take inspiration from nature and combine both robotics and botany in a very elegant way. It would also include heat resistant silicone inserts which would make it an ideal piece of furniture for hot dishes!
The latest creation, Peeler, is clearly less colourful than other chairs printed in 3D but is equally impressive in its own style. Designed by Daniel Wildrig, the chair is made of a single block printed in 3D from black PLA, with thin walls of 7 mm, the chair would have been printed in 3D in just a few hours.
A project that could join the few applications of 3D printing in architecture ! The founders of Nagami, Manuel Jimenez Garcia, Miki Jimenez García and Ignacio Viguera Ochoa conclude: "  We design products that, until now, have been waiting for the right technology to support them. Not only objects that you can hold, but also that you can feel and experience fully in your environment . Find more information about the project on Nagami's official website .
What do you think of these 3D printed chairs? Let us know in a comment below or on our Facebook and Twitter pages! Sign up for our free weekly Newsletter, all the latest news in 3D printing straight to your inbox!