MX3D and Schindler Have Used 3D Printing to Design an Elevator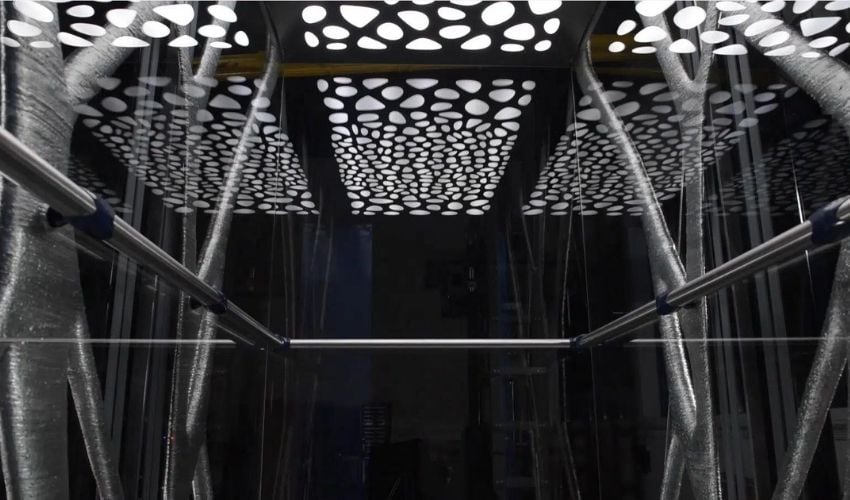 What began in 1857 in the Haughwout department store in New York has become an indispensable part of our lives: the passenger elevator. However, we realize that although we are in one almost every day, it rarely leaves a lasting impression. Although some high-rise buildings or hotel lobbies have fancy elevators that catch the eye with transparent floors or gold ornaments, these are the exceptions. That's why the Swiss company Schindler, known as one of the leading manufacturers of elevators, is joining forces with MX3D, the company that installed a 3D-printed metal bridge in Amsterdam, to make elevators eye-catching again. This is to be achieved by integrating an artistic element within the elevator car, produced using metal 3D printing. We wanted to know what the project is all about and what the two companies expect from the collaboration.
MX3D is an additive manufacturing solutions provider from the Netherlands with the goal of establishing the benefits of 3D metal printing in new industries. MX3D is therefore committed to providing smart, robust and easy-to-use robotic technologies for additive manufacturing that enable industry partners to 3D print large objects in metal using WAAM (DED). Among those partners is Schindler. The elevator and escalator manufacturer has been in business since 1874 and transports one and a half billion people every day.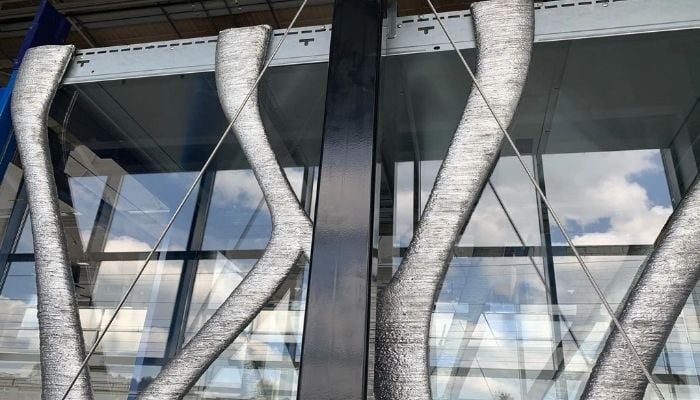 Because standing still would contradict the company's philosophy, the company is now relying on the use of additive manufacturing. With the help of the technology, the company not only hopes to realize creative designs in the interior of the cabs, but also sees potential for reducing material, which ensures that the elevator weighs less. And that inevitably leads to another positive aspect: less energy consumption.
Project combines aesthetics with topology optimization
In the joint project with MX3D, the interior of the Schindler elevator car resembles filigree leafless branches. A design that can only be produced using 3D printing. In addition to aesthetics, however, the project is also dedicated to topology optimization, which aims to achieve the best possible design. "Essentially, you look at an object and lots of it is superfluous material," explained Gijs van der Velden, CEO of MX3D. "The idea is to whittle that object down to its bare essentials." The two companies' project is also one of 35 finalists in Cirp GmbH's Purmundus Contest, with the winner to be chosen at Formnext 2021. Under the motto "Innovation in Progress," the finalists will show how innovation can become a systematic art to enable a smooth transition from prototyping to series production using 3D printing. You can learn more about the project HERE.
What do you think of this use of 3D printing for an elevator? Let us know in a comment below or on our Linkedin, Facebook, and Twitter pages! Don't forget to sign up for our free weekly Newsletter here, the latest 3D printing news straight to your inbox! You can also find all our videos on our YouTube channel.