MX3D Raises €2.25M to Launch Their M1 Metal AM System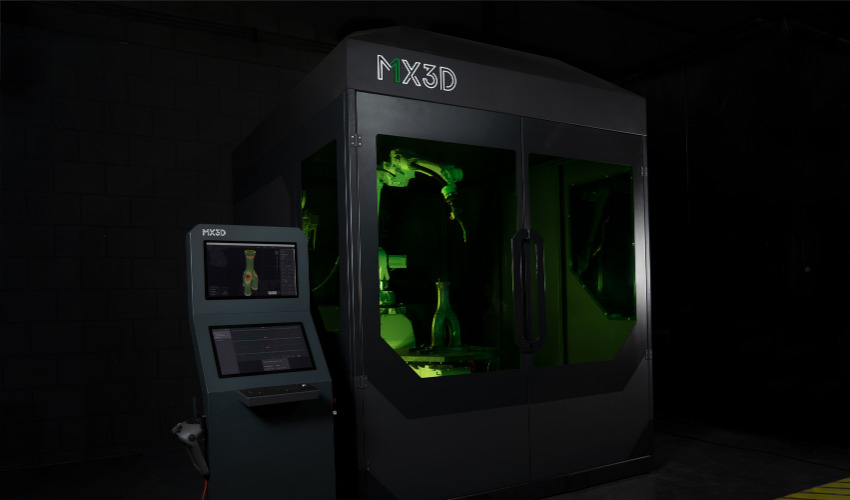 MX3D, a robotic metal 3d printing company based in Amsterdam has raised €2.25 million thanks to investments from DOEN Participaties, PDENH and the Netherlands Enterprise Agency (RVO). The company plans to use the funds to launch the M1, their complete robotic metal AM system which includes a welding robot, software, and control system to 3D print metal parts. This solution will help users to print medium to large metal parts in-house, reducing lead times and costs.The funds will also be used to support the commercial rollout of their software, Metal XL, previously only available to a select number of launching customers. 
We have spoken about MX3D before. The company has been developing robotic 3D metal printing technology since 2015 and they are particularly famous for 3D printing a stainless steel bridge in Amsterdam which won a number of Dutch Design Awards and also the 3D Printing Challenge award. The company uses Wire Arc Additive Manufacturing (WAAM) as a deposition process and they are a key player in the robotic WAAM and industrial 3D printing sectors. Their technology combines robotic arms with software that enables both precision and speed, making it ideal for high impact industries like Oil & Gas, Maritime and Tooling.
The company is already known for their system, Metal XL, a software that allows users to join an industrial robot and power source, thus transforming it into an industrial-grade 3D metal printer. The software is also notable for covering end-to-end workflow for printing 3D metal parts, enabling a more consistent material performance thanks to continuous monitoring. However, now with this investment, they can not just continue to develop this software but also turn to the launch of a full metal AM solution.
Gijs van der Velden, the CEO of MX3D, noted that the M1 metal AM system is a direct response to the previous success of their Metal XL Software and Control system stating:  "Our Metal XL Software and Control System enables companies to turn their welding robot into a high end 3D metal printer, in the course of one day. Since the launch of MetalXL we have received many customer requests whether we could supply them with a complete solution. The M1 metal AM System is the answer to this call. Now customers without a welding robot can quickly and affordably start printing large metal parts." 
Thanks to this €2.25M investment from DOEN, PDENH and RVO, the company will be able to launch a complete metal AM system, the M1 System. This full system includes an 8-axis ABB robotic arm WAAM setup, a welding machine, MetalXL (their WAAM-dedicated workflow, and the MX3D control system.  It will enable users to 3D print medium to large industrial metal parts in-house. The company claims that the M1 control system will allow for both "enhanced print control and performance with sensor that allow for continuous control and monitoring, real-time feedback, high-resolution data logging and advanced insights in printing processes." Of course, the funds will not just be used for the M1, the company plans to also use the investment for a commercial rollout of MetalXL, previously available to a large group of launching customers.
What do you think of the M1 system? Let us know in a comment below or on our Linkedin, Facebook and Twitter pages! Sign up for our free weekly Newsletter here, the latest 3D printing news straight to your inbox! You can also find all our videos on our YouTube channel.