MX3D on the benefits of WAAM technology, the Robot Arm, and more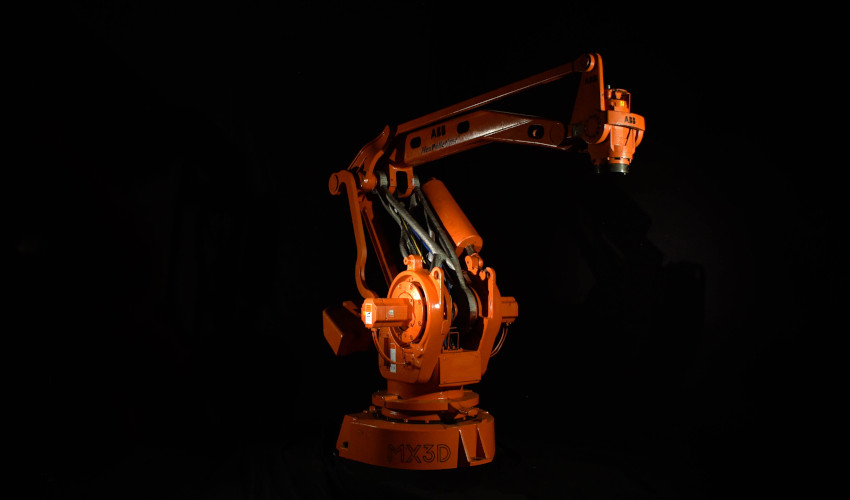 MX3D is a young company that mainly specializes in robotic metal 3D printing. Founded in 2014, the Amsterdam-based company has made quite a few headlines with their ambitious projects, such as the 3D printed stainless steel pedestrian bridge in the heart of Amsterdam or, most recently, the Optimized Robot Arm. MX3D is active in the additive manufacturing for the heavy industry sector, but is also sought after by various designers to create complex practical but aesthetic structures using 3D printing technology. We were curious to learn more about MX3D and their projects, so we went directly to the source and discussed with Thomas Van Glabeke, R&D Engineer and Business Developer for the company.
1. Can you introduce yourself and MX3D?
Hello! My name is Thomas Van Glabeke and I work as an R&D Engineer and Business Developer for the scaleup company MX3D. Throughout my day I analyse various geometries from different industries and figure out how we can get them 3D printed at MX3D.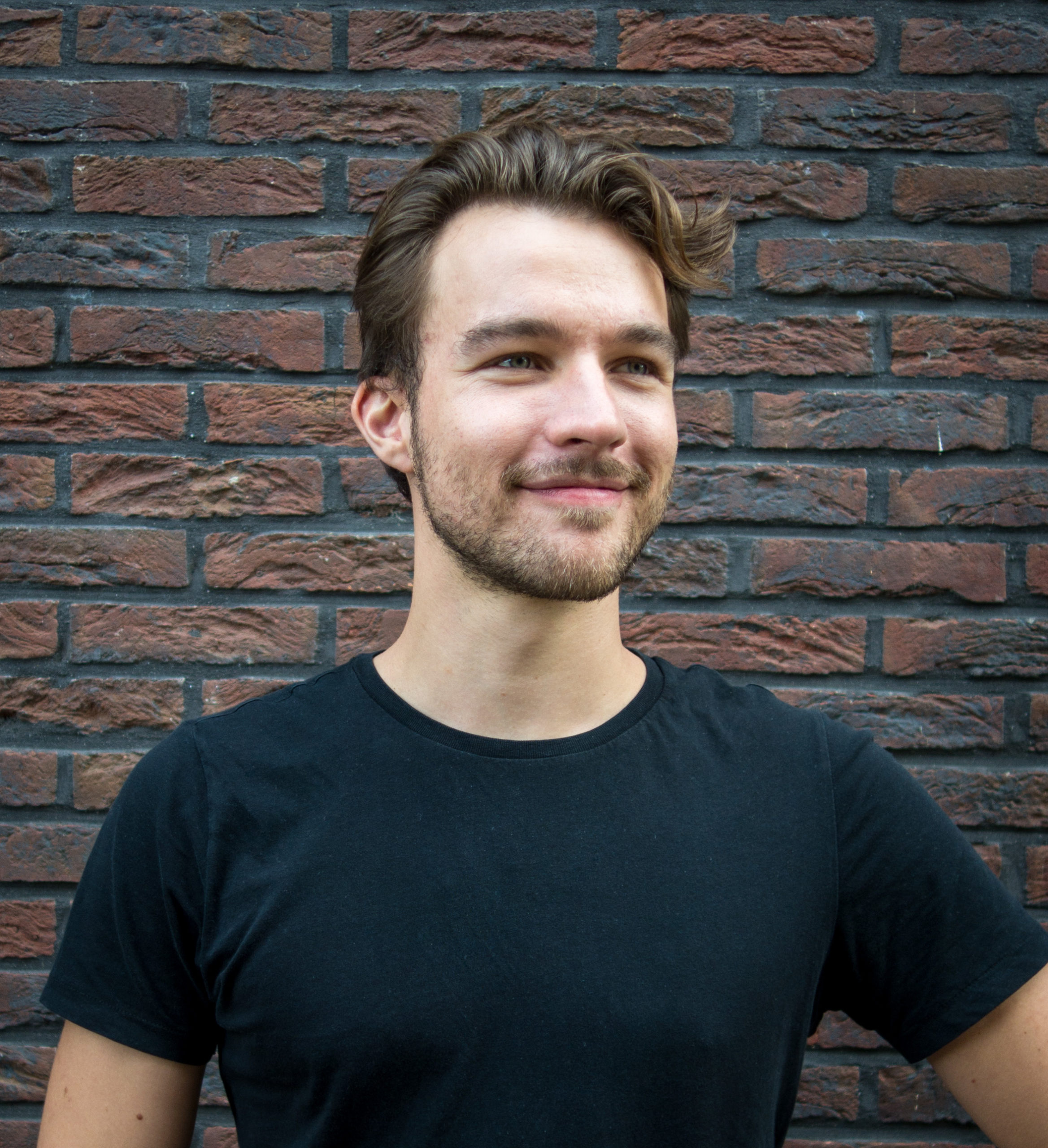 MX3D is a 3D metal printing company that uses Wire Arc Additive Manufacturing (WAAM) as a deposition process. The process features three base components: an industrial robot, a welding machine and a software package (MetalXL) that ties it together and transforms it into a 3D metal printer. It is very similar to robotic welding, but instead of placing just a few welds, large-scale 3-dimensional objects are printed by continuously stacking welds on top of each other. MX3D prints in almost any metal that is available as a welding wire and our objects range from football sized up to car-sized items.
2. How and when was the company launched?
A little less than a decade ago, the team at Joris Laarman Lab had the desire to print 3D objects that were larger than the build box of the existing 3D printers. They wanted to print large-scale and functional objects. Experiments in various materials were made with an old industrial robot. As soon as the team hooked on a welding machine, the potential of this technology became clear. In 2014, this research project officially spun out of the Lab and became the startup MX3D.
Our first big project was the MX3D Bridge, a 12 meter long fully functional 3D printed stainless steel pedestrian bridge, designed for the city centre of Amsterdam. The bridge features around 6.000 kg of 3D printed stainless steel and was printed by 4 industrial robots in our workshop.
3. What AM applications is MX3D involved in? What innovations did your projects introduce?
MX3D has been printing large-scale metal objects for over 5 years and in that time we were approached by many different industries, ranging from construction and architecture/design to maritime, oil + gas, and other heavy industry.
For the construction industry, we print optimized structures and nodes that feature increased performance/weight ratios. A noteworthy interdisciplinary project was our Takenaka WAAM structural steel connector. It is an architectural node that is printed semi-hollow in steel by a MX3D industrial robot and casted with concrete by a Takenaka industrial robot. Using generative design and advanced printing techniques, the geometry of the connector makes use of both the advantages of steel and concrete.
For the heavy industries, we have been printing near-net-shape parts which are partially or fully CNC-milled afterwards. The high deposition rate of WAAM and the precision of CNC go hand in hand to reduce lead time and enable very agile production processes. Wire Arc Additive Manufacturing (WAAM) examples are pipe connectors for the oil & gas industry, custom gears and components for large machinery, hollow and solid propellor blades for the maritime industry, etc.
Industrial customers approach us frequently, but designers often challenge our technology as well. We have printed beautiful metal sculptures that required very complicated toolpath planning and data handling. A short while after, those pieces of code were put to use in an industrial business case. We also developed a system to mix different alloys during printing for a Joris Laarman Lab project, which ended up being an innovative solution for industrial components that required wear-resistant outer shells.
4. Can you tell us more about the industrial MX3D Robot Arm?
About a year ago, MX3D had printed several large-scale optimized metal objects for the heavy industry, ranging from new parts to spare parts or legacy parts where the lead time is very high. Most of these requests came from R&D departments of large multinationals and stayed out of the public radar due to NDA-agreements. Having the advanced technology to tackle these complicated shapes and not being able to showcase it to the public seemed like a waste. We then looked at the parts of our own machines in the workshop, and the idea of our robots printing their own parts quickly came together.
ABB, a leading industrial robot provider, was interested in the concept and supplied us with an old 2.000-kilogram industrial robot that could use some rejuvenation. We then reached out to Altair, a software company at the forefront of simulation and optimization, to see if they were interested in helping out on the engineering side. In a couple of weeks, we revamped the lower arm of the large robot. We started by disassembling the robot, then reverse engineering, optimising, printing and finally finishing the part. Due to the COVID-19 epidemic, the project was temporarily put on halt, but in July 2020, we finalised it by installing the WAAM part in the old robot.
There is a lot to be said about the features and applications of the combination of digital simulation and large-scale additive manufacturing. On the simulation side, the engineers from Altair were able to reduce the mass of the part by 50% while maintaining the functional requirements and printability of the part. They took the optimization to another level by replicating the model in a digital environment, i.e. the 'digital twin', and simulated all the movements, speeds, accelerations and torques and how it influences all the components in the complete system. Getting this complete insight allows you to precisely fine-tune for manufacturability, accuracy, energy consumption and any other variable you have in mind.
On the WAAM side, we are looking at a computer controller process with a high production rate. Mass customization, i.e. mass production with customization of each object, now becomes very accessible for large metal parts. The flexibility of WAAM allows you to reconfigure the part every time you print it. One robot arm can have an extended reach for a specific use case, the next one can feature different mounting options for external hardware, and another one can branch out into two tool holders, etc. Combining this with other optimizations, the robot's maximum carrying capacity can be expanded, the hardware requirements of the motors can be reduced, the yearly energy consumption can be lowered, etc. Many other advantages can be unlocked via our WAAM technology.
5. Why did MX3D decide to launch the MetalXL software?
When we initially started with large-scale metal printing, we realized that there weren't any good WAAM software packages on the market. The existing options usually forced the user to tie different software snippets together, which were not developed with WAAM in mind in the first place. Moreover, several key parameter settings for WAAM were complex, to be found with work-arounds or completely missing in these packages, resulting in low-quality prints.
Therefore MX3D started to build everything from the ground up, specifically dedicated to WAAM. We have been using our WAAM-software for the past 5 years in our production facility, and are now releasing it to the public as MX3D's MetalXL. It is a dedicated WAAM platform that supplies you with the tools you need to go from CAD-design to printed part. It supports you with slicing the object, generating the toolpath, solving the inverse kinematic for industrial robots, monitoring and control of the process, providing insights into the printing process, and much more. As many industries have their own requirements on the process, materials and certification, MetalXL allows our clients to calibrate and log their own materials and processes, in order to facilitate their certification processes and integration of WAAM in their production chain. This makes MetalXL a highly flexible software while ensuring a controlled printing process and quality prints for 3D metal printing.
6. What is your vision of the metal AM market?
The interest in metal AM, and particular interest in DED (Direct Energy Deposition) technologies like WAAM, is growing very fast. Researchers, universities, SMEs and also large corporates want to get started with large-scale metal printing. Moreover, there is also a growing need for integration and certification of metal AM in the production chain.
For these reasons, MX3D is very involved with accelerating the adoption of 3D metal printing in the industry. We are involved in the program "Integradde", a consortium of 26 partners across Europe, that is working on an intelligent data-driven value chain for manufacturing certified metal parts. Next to that, MX3D is in the accelerator program RobotUnion, where we expand our MetalXL-software to work with more robotic brands and welding machines. With these developments, we aim to speed up the adoption and integration of WAAM in the production chain. I anticipate more and more DED processes will get certified, resulting in very agile controlled production environments and steep growth of actual use cases/applications. Companies using these processes will be able to quickly supply the industry with a wide range of objects in different alloys.
7. Any last words for our readers?
Stay safe, stay healthy and keep on 3D printing!
You can find more information about MX3D's projects and services on their official website, HERE. What do you think about this company? Let us know in a comment below or on our Facebook and Twitter pages! Sign up for our free weekly Newsletter to receive all  of the latest news about 3D printing straight to your inbox!