MX3D's 3D Printed Metal Bridge Has Officially Been Installed in the Center of Amsterdam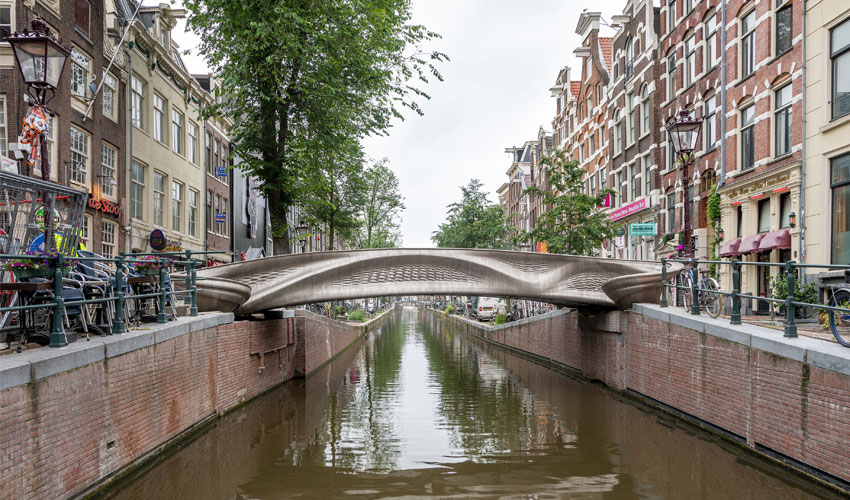 On July 15, the Queen of the Netherlands, Máxima Zorreguieta Cerruti, inaugurated the 3D-printed metal bridge installed in the city center of Amsterdam, right in the Red Light District. It took 6 years for the Dutch company MX3D to allow the public to walk on its 3D printed bridge, made from WAAM (Wire Arc Additive Manufacturing) technology. A titanic job which nevertheless required 6,000 kilos of steel! The city of Amsterdam granted a permit for two to this structure and in any case, won over Queen Máxima.
If you follow the news of additive manufacturing, you have certainly heard of the MX3D Bridge, this bridge built layer by layer by four robotic arms. The bridge is the result of collaboration between several manufacturers including Air Liquide, ABB, and Autodesk. It measures 12.2 meters long, 6.3 meters wide, and 2.1 meters high. The printing process spanned 2017 to 2018, relying on techniques such as topological optimization or generative design .
Gijs van der Velden, CEO and co-founder of MX3D adds, " When we started this project, the bridge was over 100 times bigger than any other part ever 3D printed in metal, and now that it's finished, I still have good reason to believe that it will remain the largest printed metal object for years to come. Our robotic technology finally enables the 3D printing of optimized designs of larger sizes in metal. This results in a significant reduction in weight and reduced impact for parts manufactured in the tooling, oil and gas, and construction industries. "
MX3D metal bridge is a source of information
The MX3D Bridge is not just a bridge according to the partners who worked on its realization. Indeed, it is equipped with sensors that will make it possible to record information such as the behavior of crowds, the impact of tourism in the Red Light District, or the role of connected objects in the construction sector. These sensors will also be used to monitor any deformation of the bridge, its load, vibrations, movements, etc. From the data collected, the project leaders will be able to create a digital twin representing the bridge live, thus, they will be able to understand how the structure evolves.
All the same, the Dutch government is supporting this project, which unfortunately encountered several obstacles before being finally ready including the inability to print the bridge on-site, renovation of the canal walls, formalities to be settled, etc. If you are going to Amsterdam within the next two years, consider crossing this 3D-printed bridge! You can find more information HERE.
What do you think of this newly debuted 3D printed bridge? Let us know in a comment below or on our  Facebook and  Twitter pages. Don't forget to sign up for our free weekly newsletter, with all the latest news in 3D printing delivered straight to your inbox!
Cover Photo Credit: Thea van den Heuvel