MX3D Unveils its 3D Printed Pipeline Clamp for the Oil & Gas Industry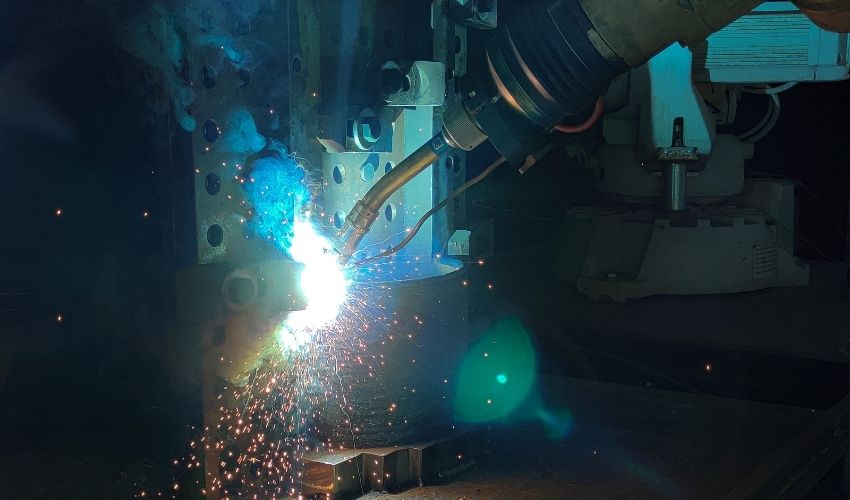 MX3D, an AM company perhaps best known for its installation of a 3D-printed metal bridge in Amsterdam earlier this year, has unveiled their latest project, a 3D printed pipeline clamp for the Oil&Gas industry. The part was made and tested in collaboration between MX3D, Team Industries and TiaT and created using a hybrid approach which included MX3D's robotic Wire Arc Additive Manufacturing (WAAM) process. Ultimately, the part was able to be tested and certified, with a high level of assurance, showing the usefulness of WAAM in the Oil&Gas sector.
Additive manufacturing (AM) has been gaining in popularity in the oil & gas sector, as well as in the energy sector in general. In fact, already this year, we have seen a 3D-printed safety critical component that was made by Vallourec and Total which was installed on an offshore oil rig. Additionally, 3D-printed safety critical parts were also installed at a nuclear plant in Alabama. Though perhaps not as widespread as in other industries, AM is useful for the industries not just for the ability to make complex parts, but for the short lead times which MX3D notes are critical especially in oil and gas. This is because these shorter lead times not only save money, but also help to decrease environmental, human and safety risks.
The 3D Printed Pipeline Clamp
In this specific case, a pipeline clamp was created. These are designed to be installed on damaged or leaking pipework and are key in the industry has a way to prevent incidents and increase run times of an installation before maintenance would be required. Since repairing a pipeline could take up to 2 to 3 weeks, potentially losing 100k to 1M EUR per day, having the ability to quickly make a clamp could help companies save a significant amount of money. Plus, since current repair processes typically rely on CNC milling or specialized manual labor, 3D printing is beneficial as CNC machining is known for its high material waste (about 80% of the original material) and specialized labor in the field is scarce.
The clamp was made using Hybrid WAAM, a first for MX3D. WAAM is a process that is similar to DED wherein a metal wire is melted using an electric arc as a heat source. It is often associated with large-scale 3D printing applications in many industries, such as bridges. In the hybrid process they have developed, MX3D hopes to eliminate the need for post-processing steps and precision, which are often seen as obstacles to adopt AM. In concrete terms, the project using 3D printing just for the most complex geometrical parts while traditional manufacturing was used for simpler parts.
The clamp was made out of steel and was tested by the BWI (Belgium Welding INstitute) and certified by Lloyd's Register, the ability to qualify these parts was a critical aspect of the project. Ultimately, thanks to the collaboration between these two groups, MX3D, Team Industries and TiaT, they were able to reach a high level of assurance, ensuring that the part could be safely used. Or as Stivell, Hemon, a materials experts from MX3D explained, "We used assurable Deposit Procedure Specifications (DPS's), in line with ASTM A370 that can be certified by Lloyd's Register and other assurance bodies, using our qualified M1 Metal AM System. This means it is now possible to certify parts for demanding industries like Chemicals and Oil & Gas Industry. A game-changer for WAAM. " You can find out more about the project HERE.
What do you think of this 3D printed pipeline clamp? Let us know in a comment below or on our Linkedin, Facebook, and Twitter pages! Don't forget to sign up for our free weekly Newsletter here, the latest 3D printing news straight to your inbox! You can also find all our videos on our YouTube channel.
*Cover Photo Credits: MX3D