What Are the Must-See 3D Solutions at Formnext 2022?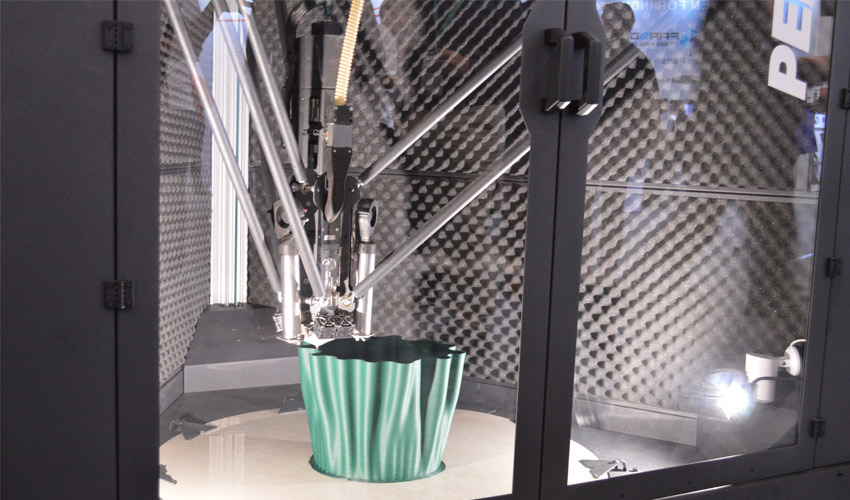 Formnext opened its doors this morning and the buzz is already palpable! We are impressed by the number of visitors walking the aisles, looking for the latest innovations in the additive manufacturing market. Of course, with all the exhibitors present, it is not easy to know who to see and what to look at. Spread over 4 halls and more than 50,000 square meters, the 800 or so exhibitors are presenting their 3D solutions, from new 3D printers to scanners, software and post-processing machines. Our teams went to the aisles to discover the latest launches to share with you some of the most outstanding 3D solutions of Formnext 2022! We hope you will all have a great show and don't hesitate to subscribe to our dedicated Formnext newsletter to make sure you don't miss anything from this international event.
The S300X, Lynxter's Compact Industrial Silicone 3D Printer
French manufacturer Lynxter is introducing its newest silicone 3D printer, the S300X, a solution designed to create parts with medical and industrial grade silicones and polyurethanes. Equipped with IDEX technology, the system offers independent dual extrusion printing with a single-component L1Q11 tool head to print the substrate and another dual-component LIQ21 tool head to deposit the material. This allows the user to design complex shapes, but also to combine two materials to expand the range of possibilities for the final properties of the part. The S300X offers a print volume of 300 x 250 x 200 mm and a layer height of between 100 microns and 1 mm. Manufactured in Bayonne in the south of France, this silicone 3D printer also incorporates the HUB platform that provides access to advanced print profiles, guides and tutorials to enhance the user experience. You can find this new solution on Lynxter's booth at Formnext, Hall 11.1-E02 or click HERE for more information.
Markforged's Improved Software
Another of the innovations presented at the trade show in Frankfurt comes from the company Markforged. Known for its 3D printing solutions, both industrial and desktop, Markforged announced during Formnext the launch of new Simulation features for its additive manufacturing software. With this update, companies will be able to expand their use of 3D technologies for more demanding production applications. Compatible with the Eiger™ software workflow, Simulation makes it possible to validate part strength and stiffness through virtual testing by identifying anchor and load surfaces and then entering values for loads, factor of safety and maximum deflection. In addition, users will find it easier to adopt Markforged's Digital Forge in their manufacturing operations. More information on this release can be found HERE, or at their Formnext stand 12.0-D61.
3YOURMIND's On-Demand Manufacturing Software Solution
When it comes to 3D printing solutions, we would be remiss if we did not mention one of the most important aspects: software. And at Formnext 2022, one software that wanted to draw your attention to is the 3YOURMIND on-demand manufacturing software. 3YOURMIND's eponymous solution enables companies to identify and produce parts whenever they are needed. It is suitable for all users, whether OEMs, operating companies or contract manufacturers, enabling them to create digital inventories of qualified parts to reduce costs, shorten production lead times and secure more efficient and agile operations.
Through advanced manufacturing technologies and data-driven decision-making, companies can use the software to make parts faster, lighter and with cost-saving potential. Moreover, the easy-to-use, continuous data platform also allows manufacturers to communicate and distribute production jobs to approved suppliers. Finally, the software increases fleet availability and reliability thus making more resilient supply chains and reducing operations and overstock costs. And the numbers speak for themselves, 3YOURMIND notes that users have seen 30% lower operational costs as well as inventories that have been reduced by up to 75%. You can find out more HERE or directly at their Formnext stand 11.1-D58.
A Multi-Nozzle 3D Printer
German startup LIQTRA is debuting its FDM 3D printer that incorporates no less than 7 nozzles on its print head. As each nozzle can be individually controlled, the manufacturer claims that its LIQTRA™ FX-7 Pro machine improves productivity by 300% while increasing the quality of finished parts by 37% and reducing manufacturing time by 75%. Available from January 2023, this FDM 3D printer is compatible with polypropylene and polyamide and offers a print volume of 425 x 305 x 500 mm. You can see the machine at the German manufacturer's booth in Hall 12.1-G89.
A New Kit for the Pro3 Series From Raise3D
In order to improve the speed of its flagship 3D printer range, the Pro3 Series, the manufacturer Raise3D has developed the Hyper Speed Upgrade Kit, making the speed 3.8 times faster than competing solutions on the market. The result is greater productivity for users while maintaining a high level of surface quality and very good layer adhesion. This new technology, called Hyper FFF, is based on an algorithm capable of determining an optimized acceleration model while eliminating machine vibrations, but also on new filaments. Two ranges have been designed – Hyper Speed and Hyper Core – to offer this final quality and a total absence of warping. You can find more information on the stand C10, Hall 12.1.
Artec 3D and its Metrology Kit
3D scanner manufacturer Artec 3D is showcasing its metrology kit for the first time at Formnext, launched last October. Available in two versions – entry-level and professional, it is a 3D optical coordinate measurement system that offers high accuracy inspection to 2 micrometers. This photogrammetry solution is easily transportable and can capture moving objects quickly and with high accuracy. Find the metrology kit at the manufacturer's booth, Hall 12.1-E01.
WASP Focuses on Sustainability
The Italian manufacturer is taking advantage of Formnext 2022 to present new 3D printers, both for FDM and LDM (for dense fluid materials). WASP has developed large format machines for the deposition of molten material. These machines are designed to make parts with recycled materials as a way of being more environmentally friendly. On the LDM side, the Italian company has designed a ceramic 3D printer, the Delta WASP 40100 Clay Production, and a concrete solution, CSF Concrete HD, with a patented self-cleaning extruder. Finally, there is also the 60100 HDP, a 3D printer for granules, which is compatible with PEEK.
An XXL DLP 3D printer
Resin 3D printers are often limited by the size of their platens, which are usually quite small. However, it seems that the Dutch company Fiberneering has remedied this disadvantage. It is presenting its large format DLP machine, the XD2, for the first time at Formnext, which offers a print volume of 518 x 415 x 1000 mm. And to be honest, it's its smallest model! In addition to the machine, the manufacturer is also developing its own materials, namely a Standard Blue X10 resin and Tough X08, used for its impact resistance.
DyeMansion Introduces the Powerfuse S PP
To finish this snapshot of the most interesting 3D solutions at Formnext this year, what better than to wrap it up with post-processing. Notably, we wanted to introduce you to the new machine from DyeMansion, the Powerfuse S PP. According to the company, this solution is the one of the first ever green and industrial systems to be able to vapor polish 3D printed polypropylene (PP). As the material is highly chemical resistant, usually it is not possible to treat with chemicals for post-processing. However, they were able to find one that not only could treat PP but which was environmentally friendly with no PFAS, CMR or vPvM substances. Moreover, to align with DyeMansion's focus on sustainability, the solvent is recycled within the machine itself, with only yearly changes necessary. This essentially means that there are almost no consumables during the process, except of course electricity.
What do you think of the 3D solutions presented at Formnext 2022? Let us know in a comment below or on our LinkedIn, Facebook, and Twitter pages! Don't forget to sign up for our free weekly Newsletter here, the latest 3D printing news straight to your inbox! You can also find all our videos on our YouTube channel.
*Cover Photo Credits: 3Dnatives