Multi Material Jetting system combines different materials into a single AM part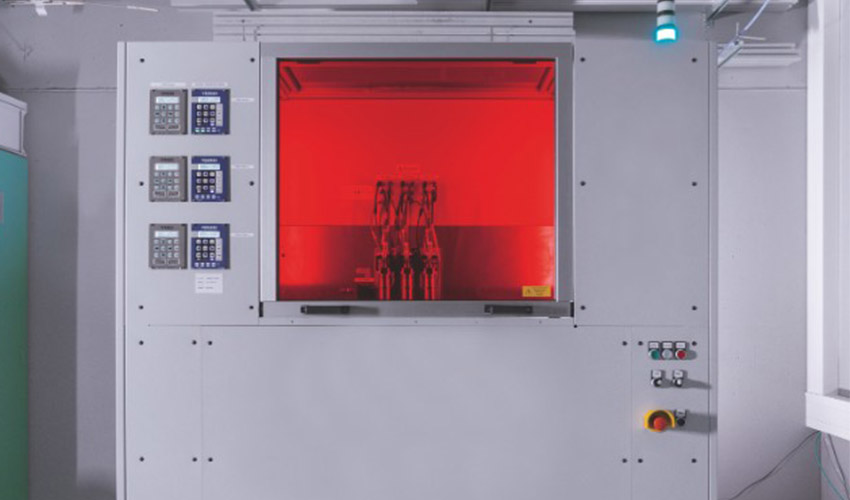 At the Fraunhofer Institute for Ceramic Technologies and Systems (IKTS) in Germany, researchers have developed a Multi Material Jetting system that is capable of additively manufacturing parts that integrate multiple materials, including high-performance materials such as ceramics and metals. What is the purpose of such a technology you might ask. Components that are, for instance, thermally or electrically equally insulating or conductive place high demand on production. This is also the case if they are multicolored. Therefore, the Multi Material Jetting (MMJ) technology developed at Fraunhofer IKTS holds a great deal of potential for parts that need to integrate multiple properties or functions.
In AM, just like with conventional methods, manufacturing with multiple materials is not an easy task. The process of Multi Material Jetting is capable of overcoming these limitations by spraying different materials at the nanoliter scale. Here, the technology is based on the drop-by-drop deposition of a metal or ceramic powder-filled thermoplastic binder substance, using high-precision microdispensing systems (MDS). The droplet's diameter is between 300 and 1000 µm. During the printing process, the droplets overlap after each deposition to form layer heights between 100 to 200 µm. The solidification solidification mechanism is based on cooling, allowing metals, hardmetals as well as oxide, nitride and carbide ceramic materials to be processed. The final step is debinding and sintering.
Multi Material Jetting opens the door to a range of applications
"Right now, we can process up to four different materials at a time," says Uwe Scheithauer, a researcher at Fraunhofer IKTS. This opens the door to a diverse range of applications, allowing companies to produce highly integrated multi-functional components with individually defined properties. For example, this system could be used to make highly complex parts such as the ignition system in a satellite propulsion engine made of ceramics. Satellite engine combustion chambers reach extremely high temperatures, so the ability of ceramics to withstand heat makes them an ideal choice of material. Also, MMJ can be used to produce an ignition system that is directly integrated within the engine. This ignition system combines electrically conductive and insulating areas in a single, extremely robust component.
Thanks to its high precision and flexibility, the MMJ system is suitable for more than just manufacturing multi-functional components. "We could also use it to make blanks for carbide parts, for example. Thanks to the tremendous precision of the dosing systems, the contours of the blanks would already be very close to those of the end product. They would therefore require very little subsequent grinding as compared to conventional methods. That's a big advantage when you are working with carbide," says Scheithauer.
The project at Fraunhofer IKTS has demonstrated that the technology also works in practice and is scalable. The next step is to validate the technology for industrial use. Fraunhofer IKTS intends to supply the hardware, but also help industry customers develop the materials and software required for monitoring and automation. To find out more about this technology, the institute is holding an online conference: AM Ceramics meets CERAMITEC Conference, on September 16 and 17. You can fins more information HERE.
What do you think of this Multi Material Jetting system developed by Fraunhofer Institute? Let us know in a comment below or on our Facebook and Twitter pages! And remember to sign up for our free weekly Newsletter, to get all the latest news on progress, research and more entrepreneurs in 3D printing send straight to your inbox!