MSC Software explains the importance of simulation software for AM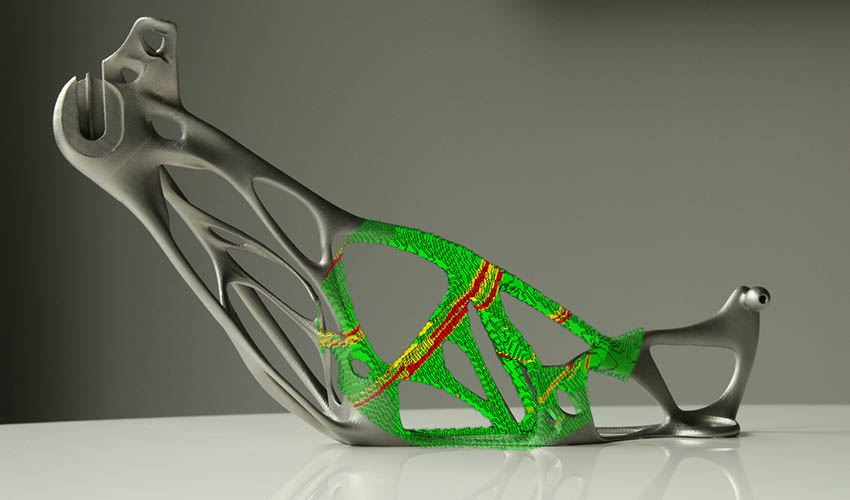 Design is extremely important for any manufacturing process. If you want to achieve the performance, cost and lead times enabled by additive manufacturing technologies, you should start with the right design. MSC Software, specialized in simulation software, enables engineers to design optimal products and validate them using established physics. Simulation software falls under CAE (Computer Aided Engineering) software; whereas CAD is for designing a product, CAE is for testing and simulating it. Essentially, you will be able to diminish the number of prototypes of your design and the overall development costs of your projects. In order to learn more about MSC Software's solutions for AM, we spoke to Hendrik Schafstall, VP Virtual Manufacturing and Costing at MSC Software. He told us more about two products, Simufact Additive and MSC Apex Generative Design!
3DN: Can you present yourself and MSC Software?
I lead our manufacturing business at MSC, developing software and solutions with our customers and partners to take the guesswork out of manufacturing. We believe manufacturing starts at the design stage, so we are applying our simulation tools from material choice through the engineering of parts to design for manufacturing cost and part performance. As part of Hexagon's Manufacturing Intelligence division, we are also connecting quality inspection data from metrology with ecosystem partners to advance data-driven manufacturing.
3DN: Which of MSC Software's solutions are meant for additive manufacturing?
It really depends on what the customer is trying to achieve. The design phase is where the most value is created, and where key decisions are made that affect the cost and timescale of the final product delivery. For example, MSC is working in partnership with Danfoss and Markforged to predict how parts printed with composite materials will perform and optimise the build process.
Powder Bed Fusion customers use our Simufact Additive manufacturing simulation to iron out issues that would affect the quality of printed metal parts, and to optimise the cost of manufacturing. Similarly, we introduced simulation for Direct Energy Deposition (DED) processes and hybrid processes that combine additive with subtractive technologies. We are also helping engineers to design products that exploit the unique topologies made possible by AM with our generative design software, MSC Apex Generative Design.
3DN: What is the importance of CAE software for additive manufacturing?
Computer Aided Engineering (CAE) software helps businesses to design optimal products and validate them using established physics (mechanical, sounds and vibration, thermal and so on) before they are prototyped. 3D printing offers faster time to market, new form factors and opportunities for innovation and it is CAE that helps engineers to explore this exciting new design space. For example, a wearable electronic device could be designed to be printed using a conductive composite. CAE can be used to analyse the thermal dynamics and non-linear effects of interacting with the body, and to validate that it will perform its task mechanically before the device is prototyped.
3DN: What are the main features of MSC Apex Generative Design?
Next-generation dedicated Design for Additive Manufacturing (DfAM) tools like MSC Apex Generative Design can shorten the design process by up to 80%. A design engineer needs only to specify the required load handling capabilities, material and design envelope and its unique generative design algorithm will create several optimal design candidates quickly with very efficient use of computing resources.
Our software combines generative design with several workflow improvements that bridge the gap between computer aided design (CAD) and computer aided engineering (CAE) to improve productivity and accelerate product development cycles. Finally, it produces design-quality output. Conventional topology optimization tools produce engineered designs, but these require further processing and therefore engineering time to produce a smooth printable geometry.
3DN: Can you tell us more about the Simufact Additive tool?
We created Simufact Additive to help manufacturing engineers develop and refine production-ready processes. Trial and error quickly becomes expensive, so the case for manufacturing simulation to reduce print failures and optimise part quality is clear. Simufact Additive applies simulation to identify issues in the printing process such as cracks, distortions, re-coater contact and to optimise support structures. It guides the user through the process, suggesting changes to the geometry and build process that help ensure parts are printed right the first time.
Since November (2019), we have also made it possible for customers to estimate print job costs for single components or assemblies. Not limited to the build process, the capability also includes subsequent processes such as cutting, machining, drilling and grinding. This helps manufacturers to identify the best build variant by considering printing costs.
3DN: What are the main benefits of generative design for Additive Manufacturing?
Generative design enables engineers to fully explore the design space and discover new possibilities. For example, creating innovative part designs that make optimal use of material to lightweight a product and exploit the AM opportunity to reduce material waste. It's not just about innovation, there's a more immediate business case for boosting engineering productivity by automating topology optimization. That time saved can be invested into generating more design variants and evaluating their suitability with regard to common manufacturing issues, cost-effectiveness and process robustness. By integrating tools for generative design, print optimization and post processing in a seamless digital thread, engineers can count on feedback loops that help develop better printable designs.
For polymer-based 3D printing, this approach to DfAM is also important because there is less confidence working with composites among manufacturers. The tool will embed material and print process knowledge from our Digimat suite into the design process to make lightweight part production with advanced materials more accessible.
3DN: Which sectors do you target? Who are your clients?
MSC technologies are used in many industries, but one of the greatest early industrial adopters is the aerospace industry. For example, BAE Air Systems employed Simufact Additive to reduce five or six build trials, which are costly and time-consuming to just two builds per component.
Composite 3D printing has huge disruptive potential, but is also much less mature and very complex. We are partnering with material suppliers such as Solvay and DSM to improve quality outcomes for their customers and develop confidence and repeatability in solutions. Through a partnership with Markforged and industrial equipment manufacturer Danfoss, our e-Xstream Engineering business is refining multi-scale material simulation to predict composite part performance and optimise design.
MSC Apex Generative design was used to optimise the design of a part for the German communications satellite Heinrich Hertz. Working with our partner Trumpf and Tesat-Spacecom GmbH & Co. KG, generative design was used to optimise the mounting, resulting in a 55% lower mass geometry that could only be produced with additive manufacturing using a Trumpf TruPrint 3000 3D printer.
3DN: Any last words for our readers?
The designers and engineers that work on additive manufacturing projects every day want to achieve a printable part design in the shortest possible time. Our view is that the printed result should be accurate right away, avoiding the inefficient trial and error that many early adopters still experience today.
The better the feedback loops are and the shorter the process to achieve the best design candidate, the more productive the user gets. With this in mind, our goal is to provide solutions that are not just best-of-breed with regards to accuracy, speed and usability, but also integrate effectively with the technology ecosystem. We allow our customers to build effective process chains based on high interoperability (e.g. CAD export, 3MF standard), and are always open to third-party solutions. You can learn more on MSC Software's website.
What do you think of MSC Software's solution? Let us know in a comment below or on our Facebook and Twitter pages! Don't forget to sign up for our free weekly Newsletter, with all the latest news in 3D printing delivered straight to your inbox!