New Moving Platform 3D Printer Saves Time and Money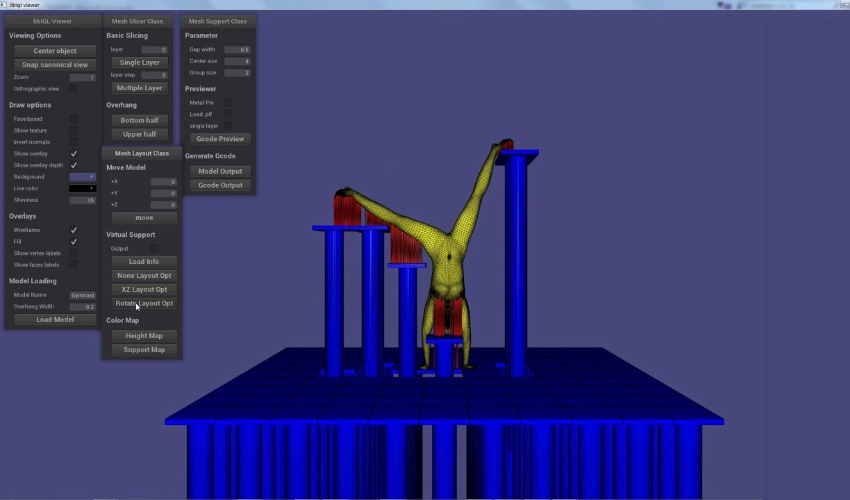 Researchers from the University of Southern California Viterbi School of Engineering have created a novel method of reducing the material waste, and consequently, the cost of 3D printing using Fused Deposition Modeling, or FDM, technology. Together the team, led by Yong Chen, professor of industrial and systems engineering and PhD student Yang Xu, developed a unique, low cost, dynamically controlled surface for 3D printers. These Moving Platform 3D printers negate the need for supports, and therefore produce less waste and require less material, so are more sustainable and decrease printing costs.
In most cases, particularly those where the part in question is complex or peculiar, FDM processes require supports to balance part during printing. Chen comments, "When you're 3-D printing complex shapes, half of the time you are building the parts that you need, the other half of the time you're building the supports. So, with this system, we're not building the supports. Therefore, in terms of printing time, we have a savings of about 40%." Not only does the existence of these parts mean that the overall print time is considerably increased but it also means that the part requires additional post processing as the supports must be manually removed. This in turn not only further increases the time taken to complete the final part, but also creates room for human error, meaning that the final part will often possess shape inaccuracies or surface roughness. By eliminating supports, the Moving Platform 3D printer heavily reduces the potential for human error and vastly accelerates the overall process.
How does the Moving Platform 3D printer work?
For the most part, the Moving Platform 3D printer functions just like any other FDM 3D printer. The key difference, of course, is the moving platform. At present, the prototype functions by running each of its individual supports from a motor, which in turn moves said moving platform. The platform simultaneously raises groups of metal pins, supporting the part. After the part has been printed, the user can easily remove these pins without damaging the product.
This technology could be of great import to the evolution of additive manufacturing, particularly in its ability to encourage wider use of FDM 3D printing. According to Chen, the system could be easily adapted for large scale manufacturing in industries such as automotive, aerospace, and yachting. He continues, "People are already building FDM printers for large size car and ship bodies, as well as for consumer products such as furniture. As you can imagine, their building times are really long–we're talking about a whole day. So if you can save half of that, your manufacturing time could be reduced to half a day. Using our approach could bring a lot of benefits for this type of 3D printing."
To find out more about the Moving Platform 3D printer, you can read the full press release HERE.
What do you think about this Moving Platform 3D printer ? Let us know in a comment below or on our Facebook, Twitter and LinkedIn pages! Sign up for our free weekly Newsletter here, the latest 3D printing news straight to your inbox!
*Cover photo credit USC Viterbi School of Engineering Youtube