The Honda NX 650 Dominator motorbike meets 3D printing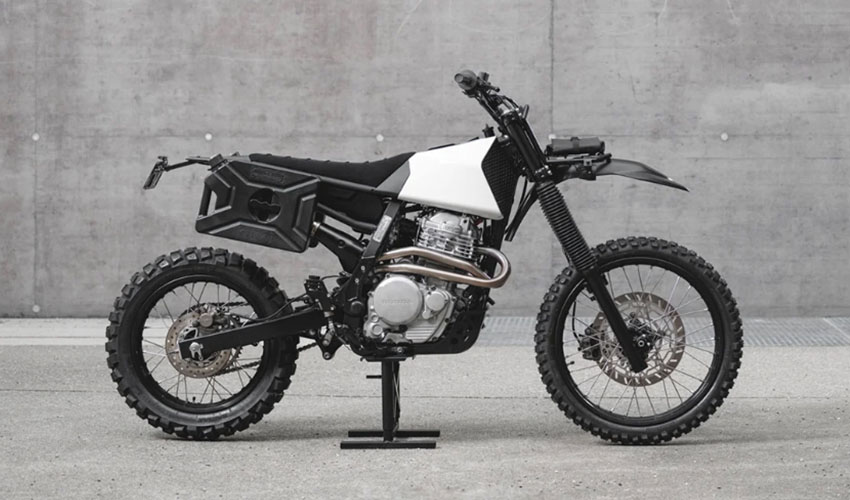 Vagabund Moto is a company based in Austria that builds upon existing motorcycle models to offer a singular aesthetic and improve performance. Building upon the NX 650 Dominator 1991 model from Honda, Vagabund has released its V13 custom-made motorbike. To customize the motorcycle, the Austrian company used 3D printing technologies, well-known to enable greater design freedom, providing completely unique parts at a reasonable cost.
On the V13, it's the fuel tank, rear end, air filter cover, indicator light bracket and handlebar switch housings that have been 3D printed. Vagabund used Nylon (PA12) for the fuel tank. Nylon is actually a widely used thermoplastic in the additive manufacturing sector. It has many interesting material properties including great flexibility, resistance to impact and abrasion.
After two years of development, the V13 combines minimalism with functionality. On top of the 3D printed vehicle components, the motorbike features a stainless-steel manifold with custom-made two into one collector and modified Akrapovic muffler. On the front, it borrows a Husqvarna TC85 front fender with a magnetic front rack sitting above. The new rear frame accommodates an alcantara custom-made seat. The two wheels are powder-coated and fitted with stainless spokes.
This is not the first time 3D printing has been used to fabricate vehicle parts. In the sector of motorbikes, it's true that many projects have been developed around electric motorbikes such as the Zeus 8 from Curtis, the Falectra, NERA, Tarform Mortorcycles' motorbike, or the 2029 model from Fuller Moto. In each case, the use of additive manufacturing enables the creation of a completely unique vehicle, which would be impossible using traditional manufacturing techniques. The design and materials are studied to increase the performance by reducing the weight of parts.
It's always impressive to see how unique the aesthetic on these motorbikes are. What do you think of the V13 from Vagabund? Let us know in a comment below or on our Facebook and Twitter pages! Don't forget to sign up for our free weekly Newsletter, with all the latest news in 3D printing delivered straight to your inbox!