The Most Influential Personalities of Additive Manufacturing 2020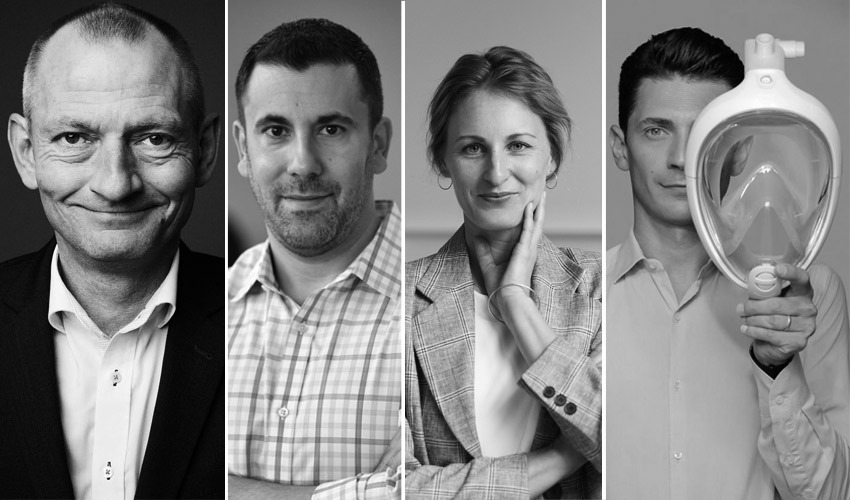 With the end of the year comes a unique opportunity to recognise the personalities who have most impacted the additive manufacturing industry: those behind the latest innovations, investments made, and most remarkable projects. 2020 was a special year in which 3D technologies found their place in the fight against coronavirus: the entire sector mobilised to develop solutions and meet the needs of our health personnel. Although it is hard not to talk about it at all, let us remember that 2020 was about more than the health crisis. 2020 is also a year during which additive manufacturing has strengthened its position as a method of producing finished parts and has attracted a good number of industrialists who have adopted 3D printing in a sustainable way by allocating dedicated resources. So which personalities made their mark on the 3D printing industry this year? These are our 12 personalities of the year 2020, ranked in alphabetical order.
Marine Coré-Baillais, founder of La Pâtisserie Numérique
If you're a pastry enthusiast, you've probably heard of Marine Coré-Baillais who launched her business this year, 3D printing food. Notably, she developed a slicer for a 3D food printer and an extruder called Cakewalk3D. This was a hit on Kickstarter and raised over 26,500 euros. Marine hopes that, using additive manufacturing, all pastry chefs will be able to express their creativity more easily and imagine more complex and original forms.
Jens Ertel, Head of Additive Manufacturing Campus, BMW
In June, the car manufacturer BMW announced the opening of Additive Manufacturing Campus, a center dedicated to 3D  printing technologies. This 6'000 meter squared space houses around fifty industrial, polymer and metal 3D printing solutions. Led by Dr. Jens Ertel, who has worked for the BMW Group for 25 years, it will accelerate the production of finished parts in the brand's vehicles. Dr. Jens Ertel took over the management of the BMW Group's first additive manufacturing centre in 2012, where he was responsible for the development of 3D technologies, prototype construction and mass production.
Adam Feinberg, biomedical engineer, Carnegie Mellon University
Professor of material science and engineering and biomedical engineering, Adam Feinberg has been closely interested in bio-printing for several years now with the aim of designing all types of structures from cells and collagen. He also co-founded his company, FluidForm, which developed a technology for printing very realistic anatomical models and even scaffolding from soft materials. This year, Adam Feinberg presented the first human heart model able to reproduce the soft and elastic appearance of organ tissues.
Cristian Fracassi, CEO, Isinnova
Last March, Cristian Fracassi was one of the first to use additive manufacturing to fight Covid-19. As head of the Italian design firm Isinnova, he responded to a call for help from a hospital which, lacking valves and breathing apparatus, was unable to prevent the increasing number of patient deaths. Cristian and his team quickly mobilized to design the first batch of valves and then used an SLS solution to design more. A few days later, Cristian went one step further, 3D printing valves which attached to Decathlon's snorkelling masks forming breathing apparatus. This kind of solidarity and responsiveness has been praised around the world, leading to a series of similar initiatives.
Paul Gradl, Senior Propulsion Engineer, NASA
NASA is one of the largest agencies to have integrated additive manufacturing into its space projects. Their most recent project, so-called RAMPT (Rapid Analysis and Manufacturing Propulsion Technology), aims to incorporate additive manufacturing in the development of large rocket engines. Paul Gradl has been a senior propulsion engineer at NASA for more than 16 years and, on this occasion, was one of the leading researchers of the RAMPT project. With a promising initiative such as this, it is almost impossible to exclude Paul Gradl, and his team, from 2020's list of influential personalities.
Alex Huckstepp, Head of Business Development & Marketing, Arris Composites
After a career at Stratasys, Carbon and Digital Alloys, last spring Alex Huckstepp joined Arris Composites with the goal of accelerating the company's growth. It must be said that the company made a good start, having announced a $48.5 million fund-raiser, earlier this year, to expand its composites manufacturing capacity and open new facilities in the United States and Taiwan. The company has also modernised its logo and website, persuading many manufacturers such as Skydio, and even gained strategic investment from Bosch. One thing is for sure, Alex is a valuable asset to the composites additive manufacturing market!
Marie Langer, CEO, EOS
Marie Langer has faced many challenges this year, having only recently been appointed CEO of EOS GmbH in October 2019. Born and bred in the additive manufacturing industry, she has dedicated her focus to the ecological impact of 3D technologies. According to Langer, 3D printing not only stimulates economic growth, but can improve people's lives through its social and ecological footprint. Like many manufacturers in 2020, EOS has mobilised its machines and materials to combat Covid-19.
Henrik Lund-Nielsen, CEO, COBOD
This year, the construction sector was characterised by a few additive manufacturing projects carried out by the Danish company COBOD. Its director, Henrik Lund-Nielsen, wants to accelerate the automation of 3D technologies in this market and thus enable the construction of more sustainable and complex buildings. In 2020, COBOD's BOD2 was used in the construction of the first 3D printed residential building in Germany as well as a three-storey residential building in the Wallhausen region, also in Germany. We can't wait to see what the company will be up to in 2021!
Jeff Mize, CEO, PostProcess Technologies
One of the key trends we identified in 2020, was the increasing automation and number of post-processing solutions available to facilitate the workflow of additive manufacturing. PostProcess Technologies, led by CEO Jeff Mize, was heavily involved in this development. In particular, the company developed its first fully automated post-processing machine for resin processes, and also expanded its network of partners as well as obtained several patents. Not to mention the company's annual post-treatment report, which this year highlighted the fact that currently used methods remain long and complex.
Mike Moceri, CEO, MakerOS
Mike Moceri began his adventure in the additive manufacturing industry as an intern at MakerBot in 2012. Three years later, after creating his own 3D printing service, he founded MakerOS, a software platform designed to more efficiently manage the entire additive manufacturing workflow. The solution makes it possible to better communicate with clients and their in-house teams throughout the project, from start to finish. As a result, development cycles are reduced by several days and revenues are higher.
Jordan Noone, cofounder & CTO, Relativity Space
The objective of the American start-up Relativity Space is clear: to send rockets, designed using additive manufacturing, into space. With his partner, Jordan Noone, co-founder and CTO of Relativity Space, has thus created a metal machine capable of designing the majority of said spacecraft's components. Jordan has always been passionate about aerospace: he was the first student and youngest person in the world to obtain Federal Aviation Administration approval to fly a rocket into space (150 kilometres above sea level). The reason we're talking about Jordan Noone this year is because at the end of November Relativity Space raised half a billion dollars, a remarkable achievement within this sector!
Bradley Rothenberg, CEO, nTopology
In 2015, Bradley Rothenberg founded nTopology, a startup that developed a software solution to optimise additive manufacturing design. The solution, called nTop Platform, enabled direct control of all modelling and faster innovation. It is now suitable for all sectors, from aeronautics to medicine to automotive. This year, the company raised $40 million to advance the functionalities available and also announced a partnership with manufacturer Stratasys to facilitate workflow.
What do you think of the personalities that have impacted additive manufacturing in 2020? Is someone missing from our list? Let us know in a comment below or on our Facebook and Twitter pages! Sign up for our free weekly Newsletter here, the latest 3D printing news straight to your inbox!