Mosaic Manufacturing: Multiple Materials, Infinite Potential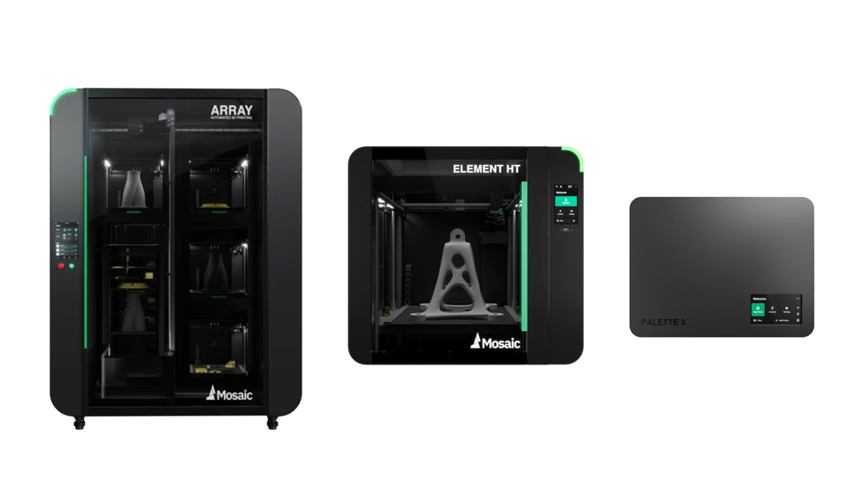 Mosaic Manufacturing is a Canadian company that made a name for itself in 2014 with Palette. This piece of equipment connects to a FDM 3D printer and allows for multi-color and multi-material parts without having to modify the extruder. Based on a patented technology called SEME (Series Enabled Multi-Material Extrusion), Palette pushed back one of the main limits of FDM 3D printing by mixing several filaments simultaneously. With the success of the Palette, the manufacturer is now moving into high gear by announcing several new products and materials with the aim of making multi-color FDM printing even easier. In France, Atome3D is the official reseller.
First steps in the 3D printer market
The big news recently revealed by the manufacturer is the upcoming arrival of its first range of 3D printers. These printers feature Palette X technology, which allows the simultaneous printing of up to eight filaments. Respectively named Element and Element HT, these two models are accompanied by CANVAS slicing software, which is free for all Mosaic users and allows for easy colorization of 3D models.
In terms of technical characteristics, these two 3D printers offer a printing volume of 350 x 350 x 350 mm. They allow a maximum extrusion temperature of 300°C and are equipped with a heating plate up to 120°C, all with a printing speed of up to 100mm/s. The Element HT differs from its little sister by offering an extrusion temperature of up to 500°C and a closed chamber that can reach up to 80°C, which allows it to print technical and high-performance materials.
The manufacturer also took the opportunity to unveil Array, an automated cabinet with four Element HT 3D printers and a storage capacity of 32 spools. Measuring 2.13m high and 1.59m wide, Array is geared towards mass production. It offers various intelligent tools, such as a queue system, a robotic arm that automatically removes the trays, monitoring of the prints in progress, optimized active filtration and so on.
Versions 3 and 3 PRO for the Palette
Also new are enhanced versions of Mosaic Manufacturing's successful Palette 3 and 3 PRO product. Like their predecessor, they allow for multi-material printing, with up to four filaments for version 3 and eight for version 3 PRO. The latter, equipped with Splice Core Pro technology, allows to print up to 10% faster than before. Available for pre-order on Atome3D's website at an attractive price (introductory offer), the Palette 3 is sold at a price of €499 without tax (instead of €599) while the version 3 PRO is sold at a price of €699 without tax (instead of €799) with first deliveries planned for next June.
A complete range of filaments
In order to take full advantage of these new equipments, Mosaic also offers a very wide range of thermoplastic filaments. From simple materials such as PLA, ABS, PETG, flexible or support, to more technical filaments such as ASA, PC or Nylon 6, but also high performance materials, namely PEI 9085, PEEK or PEKK.
What do you think of Mosaic's new products? You can find out more about them on Atome 3D's website HERE and let us know in a comment below or on our Facebook, Twitter and LinkedIn pages! Sign up for our free weekly Newsletter here, the latest 3D printing news straight to your inbox!