More Than Shape 3D Prints Chocolate to Offer New Taste Experiences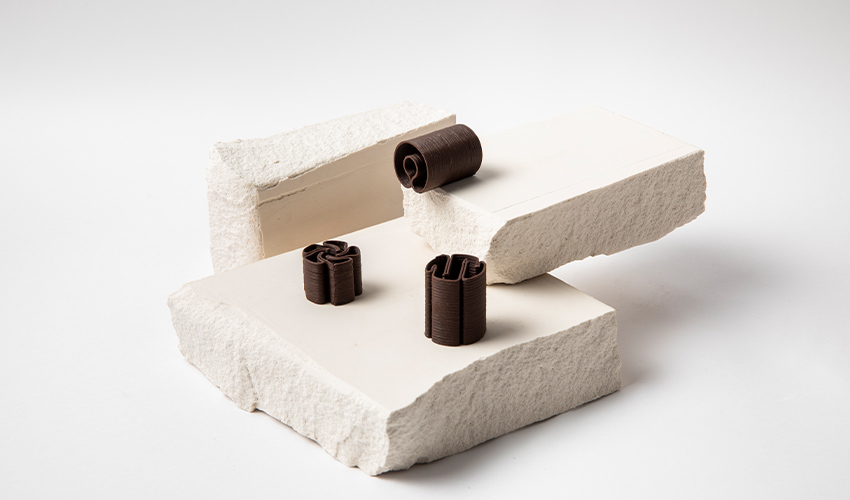 Lately, more and more projects combining 3D printing and food are emerging. Earlier this year, we told you about the startup Revo Foods, which 3D prints salmon fillets from pea proteins, citrus fibers, vegetable oils and seaweed extracts, of course there is also the famed French startup La Pâtisserie Numérique. And this type of initiative is becoming more widespread. Thibault Baes, a Brussels-based designer, is at the head of the More Than Shape project. Accompanied by a Michelin-starred chef and a chocolatier, he 3D prints chocolate with the aim of creating new taste experiences through additive manufacturing. We sat down with him to learn more.
3DN: Can you introduce yourself and More Than Shape?
My name is Thibault Baes and I am a designer in Brussels. More Than Shape is the result of my graduation project at ENSAV LaCambre. It is formal research aiming to create new taste experiences in the mouth thanks to 3D printed chocolate. My research is divided into 4 parts: Compartmentalize, Fold, Support, Break.
3DN: What made you decide to go into food 3D printing, and more specifically chocolate?
It was about combining my two passions: 3D printing and cooking. I started to get interested in 3D printing around the same time I started my design studies and since then I bought several printers, worked in a fablab, etc… When it came time to choose a final project, I wanted it to be related to 3D printing. The theme of 3D printing in the gastronomy sector was obvious. Not very easily at first, but I was very proud of it because I thought it represented me perfectly. I first started experimenting with new "materials" but as a designer, I had to focus on form and use, so I chose to work only with chocolate because this material was already well documented in food printing.
3DN: You are working with a Michelin-starred chef and a chocolatier in More Than Shape. How is your collaboration going?
The advantage of working with a food artisan is that each one brings his own vision to his training. Within the framework of the project, the chef was there first of all because he knows the "field" and its needs, he knows what could be interesting to develop. On the basis of this initial information, we operated a kind of ping pong process where I developed an idea, he gave me his feedback and told me in which direction to dig, and so on. In the end, the chef integrates the printed piece into a dish.
3DN: Can you tell us more about 3D printers and the 3D printing technology you use at More Than Shape?
I use Print2Taste printers which are wire deposited chocolate printers. They work with a piston that presses the melted chocolate and deposits it in layers. I started with the Mycusini (home version) and I am now working on the Procusini. The Procusini is larger and allows me to use my own ingredients unlike the Mycusini which works with the brand's cartridges.To be honest, that's about all I've found on the market but they work well for what I need.
I also bought the new Choc Mate 2 which was in kickstarter last June. For me it's the best chocolate printer right now.
3DN: How does the printing process work?
It is quite simple and very similar to a plastic FDM printer except that instead of using filament, you would use chocolate cartridges. You put the cartridge in a syringe and the machine melts the chocolate. Then, you are ready to print. Also, the ambient temperature is very important for the chocolate. If it is too hot, our piece melts, if it is too cold, the extrusion is not continuous.
3DN: In addition to 3D printing, you also use other technologies, such as laser cutting. What are the benefits of using these other technologies?
My goal is to use digital technologies for their intrinsic properties. For the 3D printing of chocolate, I always try to create shapes that can only be created by printing and that have a function in the mouth or on the plate other than decorative. 3D printing allows for example to work on the inside of a shape, to create cavities inaccessible from the outside, intricate folds, … For laser cutting, it's more about lace, cutting small details or creating notches, interlocking, …
3DN: What is the difference between traditional chocolate and 3D printed chocolate?
I am often asked if there is plastic in my chocolate but it is classic chocolate. The difference comes when you shape it. When we print thin walls, it gives a crunchier texture and the taste is modified. The printing tends to make the chocolate less heavy when tasted.
3DN: What does 3D printing bring to the food sector?
It allows many things that you have already covered in previous articles such as dietary applications, logistics. But for me, the most interesting thing as a designer is that it brings new shapes and new ways to create a dish. I really see it as a mixer, a full-fledged kitchen tool that allows you to do a particular thing that you couldn't do or that would require a lot of work otherwise.
3DN: What are More Than Shape's future plans?
I am currently doing cooking workshops to discover food 3D printing but I am also looking to continue my work with chefs and other actors in the sector.
3DN: Any last words for our readers?
Feel free to contact me, I'm very open to talking about my work! You can also follow my instagram @thibaultbaes for more information or on my website HERE. Thank you!
What do you think of More Than Shape? Let us know in a comment below or on our Facebook and Twitter pages. Don't forget to sign up for our free weekly newsletter, with all the latest news in 3D printing delivered straight to your inbox!