Moving to a more sustainable and responsible economy with 4D Pioneers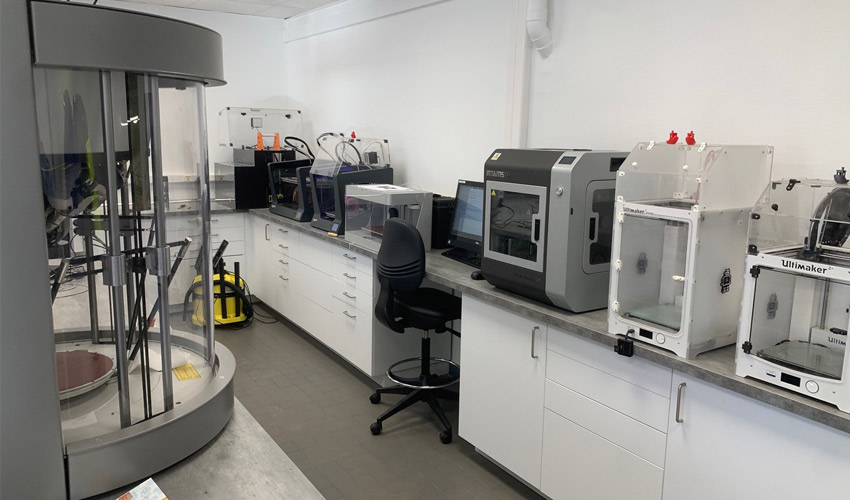 The additive manufacturing sector has seen the supply of materials explode in recent years: market players are constantly innovating and looking for solutions to meet the needs and constraints of manufacturers. It is well known that the materials that are now compatible with 3D printing are considered more and more important, even receiving more consideration than the printers themselves at times. Among the start-ups that have recently developed to advance additive manufacturing is 4D Pioneers, despite being founded barely a year ago. The startup helps manufacturers move towards a more responsible and sustainable economy, with a 360° process: diagnosis, design, deployment and sustainability (the 4 Ds in the original French, hence 4D Pioneers). It has also developed its range of high-performance materials, including fire-resistant solutions. To learn more about its projects and ambitions, we met with Nicolas Gay, one of the founders of the startup.
3DN: Can you introduce yourself and your link with additive manufacturing?
Hello, my name is Nicolas Gay and I'm the co-founder and technical director of 4D Pioneers. I'm an engineer with a PhD in civil engineering, and I did my thesis on the problems of elastomer durability in a nuclear environment in partnership with Électricité de France S.A., commonly known as EDF, (a French multinational electric utility company largely owned by the French state), Centrale Lille (LamCube) and Arts et Métiers ParisTech. During those 3 years, I often had to develop new experiments. I was immediately interested in additive manufacturing which represented a great tool for my research with the design and rapid realization of proof of concept for the purpose of material characterization. As a result, when I joined Centrale Lille for my post-doctorate, I took part in the creation of a 3D platform to meet industrial challenges. This led me to realize that 3D was much more than a simple prototyping tool but that it could play a major role in the manufacturing of functional parts and thus revolutionize the future of industry.
3DN: Why did you create 4D Pioneers?
With my associate, Ingrid Florentin, we were convinced that a radical change was taking place in the world of industry, particularly in the field of obsolescence and the repair of industrial equipment. 3D was going to be THE structuring pillar of this transition, and it was inconceivable that it could happen without us! With my expertise in materials, processes and durability and Ingrid's expertise in business and strategy we decided to found 4D Pioneers in March 2020.
3DN: Can you tell us a bit more about the 4-step process you have put in place?
My industrial experience made me realize that it was essential to support customers with a structured service to be able to respond very precisely to their needs. So I developed a 360-degree process, the "4 Ds": diagnosis, design, deployment and sustainability (durable in French, hence the reasoning behind the 4 Ds name). It all starts with the diagnosis. The aim of this first step is to identify the environment of the parts under consideration: temperature, radiology, humidity, etc…, but also to analyze the properties of the original material using state-of-the-art scientific tools. Then comes the design phase, which allows us to move from a physical model to a numerical model. This stage also consists of producing prototypes using different printing technologies and the use of different materials when the application allows it. Depending on our customers' choices, we deploy our solution on a technological hub with more than 40 multi-material (polymers, composites, ceramics and metals) and multi-process machines. Finally, we offer them support in quantifying the durability of the parts produced in this way.
3DN : What are the materials currently developed by 4D Pioneers?
To meet the needs of our customers, we develop new high-performance, printable and certified materials. Our first R&D project is the creation of a catalogue of fire-resistant materials to meet the standards of different industrial sectors. The demand is very strong whether it is for energy, railways, aeronautics or construction. If we take for example the interior of a train or an aircraft, all functional parts will have to meet certain fire safety standards. A new pre-certification approach allows us to quickly screen the developed formulations and select the best candidate materials. Our expertise in materials and the agility of our business model allow us to be fast, efficient and innovative to bring real solutions to our customers in record time.
3DN: What impact do you think additive manufacturing can have on our environment?
Additive manufacturing will have a huge impact on the environment because it will fundamentally change the way industrial parts are manufactured. First through eco-design, as AM has less waste than subtractive manufacturing and allows for the  manufacturing of optimized, light and durable parts. Then, because it reduces the impact of logistics, parts will be produced on demand at their place of use. In addition, the use of high-performance materials for a given function will extend the service life of the machines. Finally, through the additive manufacture of transition parts, we will be able to re-use elements to reassemble them in a different way, we are leaving the field of recycling to land in the era of upcycling! We're talking about an incredibly motivating and inspiring future thanks to additive manufacturing, and in today's world, which is so gloomy and anxious, working for a better and eco-responsible future can only give our teams great energy.
3DN : Any last words for our readers?
Our motivation is at its peak, and we look forward to providing useful and innovative solutions to tomorrow's industry pioneers for a better world! You can find more information on the 4D Pioneers website HERE.
What do you think of 4D Pioneers' projects? Let us know in a comment below or on our Linkedin, Facebook and Twitter pages! Sign up for our free weekly Newsletter here, the latest 3D printing news straight to your inbox!