MONAD Studio: 3D Printing Musical Instruments
Published on November 17, 2017 by
Jamie D.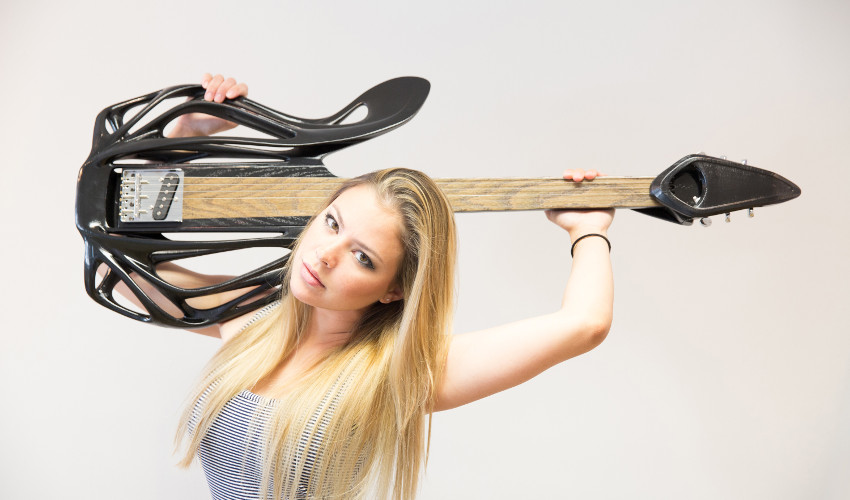 We were lucky enough to sit down with Monad Studio recently to discuss their recent developments. Monad Studio have created some of the most beautiful, 3D printed instruments we have ever seen. These include instruments used by Viktoria Modesta and more, spanning violins, guitar, and even grand pianos. We asked them how they got into 3D printing, their inspirations, and their plans for the future.
3DN: Could you introduce us to Monad Studio and talk about your relationship with 3D printing?
MONAD Studio is an architecture studio formed in New York by Veronica Zalcberg and Eric Goldemberg (Argentines of origin), after graduating from the Advanced Master of Architecture at Columbia University in 2002. At that time we could visualize in a computer very innovative shapes and spaces based on curvilinear surfaces, but we still could not move from the virtual world of the screen to concrete materialization.
When moving to Miami in 2006 and taking a job as director of digital architecture at Florida International University (Eric's job), we started using 3D printers and CNC milling machines to explore the concrete form. This allowed us to learn the possibilities and productive limitations of a new materiality that allowed us to develop all kinds of objects and installations at the scale of the human body. This experimentation at a 1:1 scale allowed us to leave behind the purely virtual world and concentrate on projects, mostly in relation to the art world.
3DN: How did you come up with the idea of ​​futuristic instruments and why the use of 3D printing?
We have always had an interest in the rhythmic condition in architecture, and such obsession led us to write a book entitled "Pulsation in Architecture". We showed the evolution of digital architecture in the sensations in the rhythmic groupings of tectonicity arisen in digital practices. At the same time, we began our own experimentations with the printers. We constructed objects where we developed different ways of concretizing rhythmic effects of aggregation of parts in series.
A colleague musician and luthier, Scott F. Hall, suggested that our approach with the rhythmic form could have concrete sonorous consequences. That is how we came up with the task creating our first instrument. The 3D printing machines turned out to be the most suitable tools to express our visionary forms of great geometrical complexity, designed to obtain an anatomical adaptation between body and instrument that can not be built except with 3D technology.
3DN: Can you describe the process of creating the instruments?
Firstly, we focused on musicians' postures and dynamics of their body friction with the surfaces of the instrument during performance. We carried out "mapping" of said dynamics with digital diagrams that we translated into 3D generating lines. Thus, a process of constant testing and calibration begins in order to define with precision that relationship between the body of the instrument and the body of the musician.
There lies the architectural component of our designs, portraying the expressiveness of anatomical tension. Several impressions are made during the process, generating a series of iterations that allow us to analyze the formal and sonic capacities at real scale, and at the same time receive feedback from the musicians who test them.
Typically it takes approximately 3 months to design, and depending on the instrument, 3 to 6 days to print. We must consider the limitations on the maximum possible size of the printer, and parts in the design. Then the strings, pickups and pegs are incorporated into the instrument. This demands a high degree of craftsmanship, beyond the automation of the digital printing process.
What importance do you think exists between music and 3D technologies?
MONAD Studio has developed a very particular niche. These sonic sculptures are unique because they allow exploration of multiple sonic capacities: not only according to the shape of the instrument but also according to the material densities used in each impression which can affect sensibly the sound behaviour of the surfaces and the volume built. We also had the opportunity to print a violin in titanium, that gave the instrument a very particular voice. This was possible thanks to a collaboration with a company in the aviation industry. They print titanium components for aircraft engines!
This and other 3D printing technologies allow us to be pioneers in the development of new sounds. We also use "transducers" – they are like speakers without their cone, applied directly to the surfaces of 3D which creates a very particular vibrational sound field in our artistic experiences of sound installations. 3D modeling and 3D printing are powerful because they allow a sense of imperative immediacy in this experimental process generation.
What are the future plans of Monad Studio?
We are developing our biggest and most ambitious instrument, a Grand Piano! It is undoubtedly the most architectural of all our instruments since it has its own structural system. Therefore, this particular piano has been developed as if it had large windows that expose the interior sound percussion machinery. It is a collaboration with Blüthner, a very prestigious German piano firm, and Lucid Pianos, a Spanish firm.
Our model is called EXO in reference to the exoskeletal system of the structure. This includes the curved components that structure and sustain the sound body of the piano. The construction of the "box" that we designed will be made in Portugal using large printing machines, and the assembly of the sound pieces of the piano will be made in Leipzig where Blüthner is based.
Pianos & Guitars
We are also developing a new line of very innovative electric guitars. These will include, within the instrument, all the pedals and peripheral effects that are typically connected from the ground. We also continue to develop large projects such as our installation  for the Jewish Museum of Florida in Miami. This was formed from a series of panels suspended in the space in an adjacent way forming flocks of birds that have transducers and vibrate with sonification.
This project was made in collaboration with the musical composer Jacob Sudol. We collaborated previously with Jacob in the creation of a large 3D mural that was played with manual transducers. Another recent project is our collaboration with fashion and interactivity designer Anouk Wipprecht. This collaboration was to create a sonic bustier for the fascinating bionic-pop artist Viktoria Modesta.
A large team of multi-disciplinary collaborators was formed for this project. These included choreographers, musicians, set designers, and engineers. We also had the support of firms such as Intel and Autodesk, which allowed us to raise our technological and artistic inspiration. Viktoria made two performances at Art Basel Miami, accompanied by an ensemble of musicians who played MONAD Studio's instruments.
Do you have some last words for our readers?
Veronica and I think that there are many frontiers to be explored by integrating 3D technology with our visionary capacity, and also to collaborate through the different disciplines with other creators with whom we share the same spirit of provocation and curiosity. Everything is possible!
Enjoy this interview? Let us know in a comment below or on our Facebook and Twitter pages! Don't forget to sign up for our free weekly Newsletter, with all the latest news in 3D printing delivered straight to your inbox!