Wake Forest Institute for Regenerative Medicine develops mobile 3D bio-printer to heal extensive wounds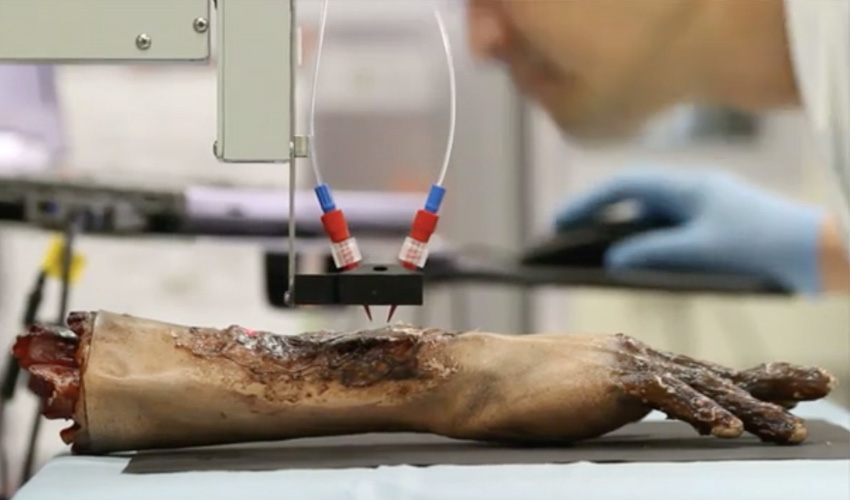 A team of scientists from the Wake Forest Institute for Regenerative Medicine (WFIRM) claims that it has developed a mobile 3D bio-printer capable of printing skin directly onto large wounds. As explained in the paper, the early treatment and rapid closure of acute chronic wounds is essential for normal healing and prevention of hypertrophic scarring. However, availability of a suitable area of healthy donor skin to harvest is often limited. Additionally, treatments usually involve multiple surgical procedures and are associated with high costs of production and repeated wound treatment. The WFIRM could have a solution as they've developed a new bioprinting process that enables rapid on-site management of extensive wounds.
A mobile 3D printer to heal extensive wounds on site
For now, the experiments were conducted on mice and pigskin. Therefore, we are still a long time away from seeing this technology applied to humans. Nevertheless it remains a promising technique that could have many applications in treating wounds in a personalised way by bioprinting directly onto patients.
In general, bioprinting already has many applications in the medical sector. Whether we are talking about organ transplants, finding more effective treatments for illnesses, healing wounds or producing tissues and blood vessels, bioprinting is key. In fact, one of the main advantages of this technology is that it can offer tailor-made treatments, adapted to the needs of each patient. Research such as the one conducted by the WFIRM is only the beginning of the many improvements to come in the field of regenerative medicine.
More precisely, the bioprinting system developed by the scientists is a bedside machine that can tailor skin tissue directly onto the patient. It also contains a hand-held 3D scanner and a printing head with an XYZ movement system containing eight 260 µm diameter nozzles, each driven by an independent dispensing motor. The ZScanner Z700 scanner used offers the ability to capture an entire wound in a continuous scan and create a map for printing. Furthermore, the researchers developed an ink suitable for printing, consisting of autologous dermal fibroblasts and epidermal keratinocytes in a hydrogel carrier.
In the experiments, excisional wounds bioprinted showed rapid wound closure, reduced contraction and accelerated re-epitheliatisation (covering of epithelial cells over, as a wound). The regenerated tissues had a dermal structure and composition similar to healthy skin.
A large demand for extensive wound treatments
Currently, it is estimated that over 7 million patients in the United-States alone are affected by chronic wounds. It represents an annual treatment expenditure of $25 billion. For civilians, it is an estimated 500,000 people that are treated each year in the US. As for military personnel, burn injuries accounts for 10-30% of combat casualties in conventional warfare. The early excision and proper coverage of wounds are always a vital step in increasing the survivability of patients with extensive burn injuries.
The Wake Forest Institute for Regenerative Medicine (WFIRM) in the United-States aims to translate scientific discovery into clinical therapies. Today, this interdisciplinary team is working to engineer more than 30 different replacement tissues, organs and develop healing cell therapies. You can find out more about their research HERE.
What do you think of this new research? Let us know in a comment below or on our Facebook and Twitter page! Don't forget to sign up for our free weekly Newsletter, with all the latest news in 3D printing delivered straight to your inbox!