MIT researchers 3D print miniature magnetic multi-material pump
Published on September 10, 2020 by
Aysha M.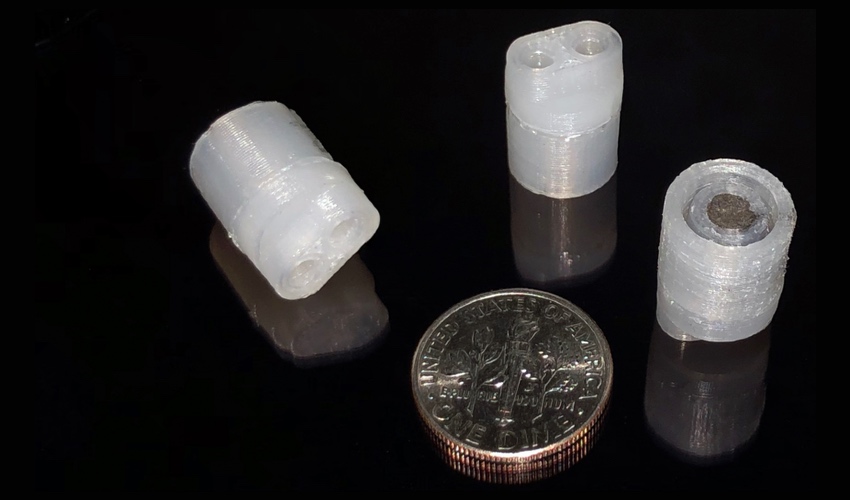 A research team at MIT's Microsystems Technology Laboratories (MTL) has designed a 3D printed diaphragm pump that is operated magnetically. Portable and effective, the new pump demonstrates the potential of additively manufactured devices. The scientists behind the project hope that this proof-of-principle pump will inspire others to explore – and benefit from – the  additive manufacturing techniques as opposed to the conventional mass-production methods.
What exactly is a diaphragm pump? Sometimes referred to as a membrane pump, it is a positive displacement pump that is typically used to transfer liquids. Luis Fernando Velásquez-García, principal research scientist at MIT, explains that such pump could be used in applications "from fuel cells to power generation to heat exchangers" that cool computer chips. The 3D printed pump is only 1 centimeter in diameter; it took in total 75 minutes and less than $3.89 to fabricate one unit. The device can move both liquids and gases using less power and experiencing less clogging than standard pumps of similar size. Interestingly, one of the pump designs was actually 3D printed monolithically (in one piece), for the first time.
The miniature pumps were made in the form of cylinders crowned by a membrane. On top of the membrane is the fluid chamber, with two valveless ports at the top to attach tubes. As for the material, the researchers selected Nylon 12. In fact, there were two different designs developed. In the first design, a magnet is press-fitted into the structure of the enclosing piston. With the second monolithic pump, the researchers embedded Nylon 12 with neodymium magnet (NdFeB) microparticles to create the pump's magnetic core.
The properties of Nylon 12 make it a perfect structural material for this particular application as it can easily absorb large amounts of the magnetic particles, and is sturdy enough to hold still the NdFeB microparticles during the initial magnetization, which makes possible to create strong permanent magnets. According to Velásquez-García, "In a softer material, the particles would wobble, resulting in no net magnetization of the magnetic composite." Since the 3D printed pump is magnetically driven, it is more portable than more traditional pneumatic pumps as they would typically need to be physically coupled to an outside source of pressurized fluid.
What do you think about the 3D printed magnetic pump developed by MIT? Let us know in a comment below or on our Facebook and Twitter pages your comments. Don't forget to sign up for our free weekly Newsletter, with all the latest news in 3D printing delivered straight to your inbox!