Miss Universe Singapore Wears 3D Printed Outfit, Paying Homage to the Country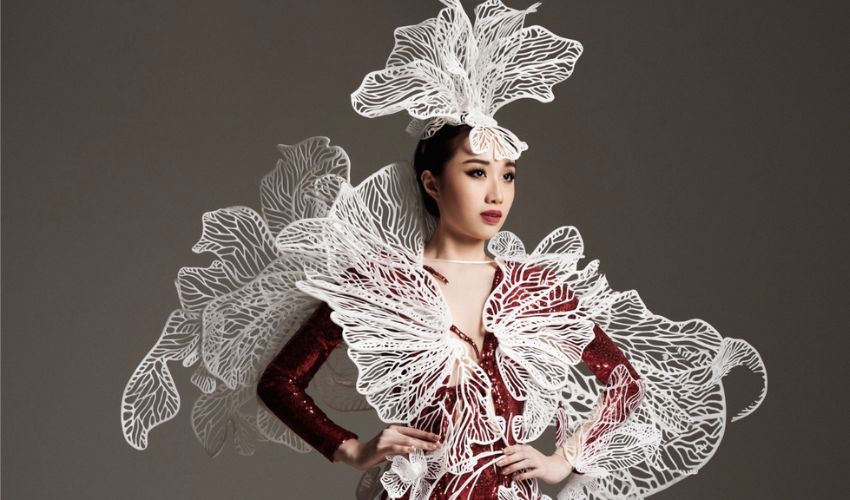 January 15th saw the finale of Miss Universe, an international beauty pageant which draws 15 million viewers annually. In the pageant, women compete in a number of categories and clothing styles, and are then ranked on their looks and personalities. While the link between a beauty pageant and 3D printing might seem non-existent, in fact this show saw the technology put to the forefront!
Carissa Yap was crowned MIss Singapore in October 2022 and went on to represent the country at the Universe event. She chose to wear a 3D printed outfit depicting orchids for the National Costumes segment of the show. Her dress was of Papilionanthe Miss Joaquim, formally known as Vanda Miss Joaquim,  a hybrid orchid which is the national flower of Singapore. The outfit combined red and white, the nation's national colors. In this way, she represented her country on the world stage.
The dress was designed by Baëlf Design, a Singaporean fashion design firm which offers experimental fashion works and whimsical detailing. According to their social media, 'Baëlf Design imagines the islands of Singapore composed of the five-fold petals of an orchid draping the upper torso of Miss Singapore. By using computation to grow organic, vein-like structures, these petals form a high-rising collar as well as gracefully outstretched wings, all sensually enveloping the body in a lightweight, white-coloured 3D printed lattice. Ultimately, the 5 petals unite to compose the unmistakable silhouette of the islands of Singapore'. Furthermore, the bodysuit worn underneath the flowers was decorated with red sequins by Fredrick Lee, a designer of theatrical couture who has won numerous awards in the country for his flamboyant designs. 
When 3D printing is employed in fashion, it is usually used for futuristic and avant garde pieces. The Dutch fashion designer Anouk Wipprecht used the technology to create a tech-inspired outfit which debuted at a recent New York gastronomy event. Furthermore, at Paris Fashion Week this year a vegan haute couture dress was presented by Iris van Herpen in collaboration with the ice cream brand Magnum. The benefit of 3D printing, apart from piquing consumer interest by being an alternative fabrication method, is the ability to create complex designs in a relatively short time. You can see more about her outfit on Baelf's facebook HERE.
What do you think of this 3D printed outfit for Miss Universe Singapore? Would you wear 3D printed fashion? Let us know in a comment below or on our LinkedIn, Facebook, and Twitter pages! Don't forget to sign up for our free weekly Newsletter here for the latest 3D printing news straight to your inbox! You can also find all our videos on our YouTube channel.