Miranda Marquez and her original vision of 3D printed clothing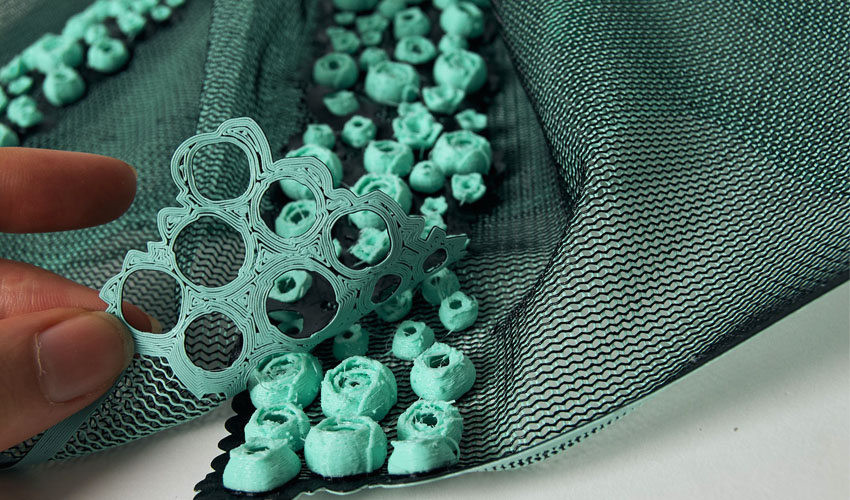 The use of additive manufacturing in fashion is becoming increasingly popular. Many are the projects that use this technology to design unique pieces, from footwear to entire collections. In the world of fashion and design, 3D printing technology offers a great deal of artistic freedom that allows the creation of the most original and personalized pieces. One example of this is a successful model and multimedia artist Miranda Marquez. She has collaborated with several CGI digital artists and has been exploring the potential of the 3D printing technologies. We discussed with Miranda to find out more about her projects and how the 3D printed fashion is related to the current health crisis.
3DN: Could you introduce yourself and tell us why you decided to start using the 3D printing technology? What additive manufacturing method do you use?
Hi, I'm Miranda Marquez, and among other things, I make additively manufactured clothes. I had a very technical but at the same time creative education – I studied Multimedia Engineering. In my last year, I started my international career as a model, but always found some time to dedicate to my own artistic projects, which are always focused on exploring new means of creative expression. When I saw that there were people 3D printing fashion items, using simple desktop FDM printers, I got very interested. I saw that there was a lot of potential that was being wasted, I saw an opportunity to exploit my interest in innovation and research with the taste for fashion that I had developed thanks to my modeling career.
3DN: You recently launched the RESILIENCE project. Can you tell us more about it?
This is my first downloadable and printable fashion project done on a desktop 3D printer. It is an artistic project with an optimistic approach to the current pandemic. It is about our ability to flourish and grow after a difficult situation that forces us to rebuild and re-imagine our future. As we aim for collective recovery, I think the creation can be collective too. That is why I propose 3D printing as a democratic means of transmitting art and fashion. I presented two downloadable and printable pieces that anyone can self-produce anywhere in the world: A tank top, and of course, a mask, which can be downloaded for free and with a CC license HERE.
3DN: In your opinion, how do you see the use of 3D printing in the world of fashion?
It is something that has been done for years, but usually using production methods that I see as elitist due to their high price, such as the PolyJet technology, for instance. Such technologies make sense when you have a lot of creative potential and the 3D printed pieces are high fashion, expensive and not very accessible. Then there are other brands that use FDM technologies to create pieces, but I believe that this production method is not entirely interesting for the end consumer, because regardless of much we innovate the garment making, if we distribute them through the same means, the end consumer will only see a slight difference in the finish.
That's why I propose that we use 3D printing not as a production method, but rather as a method of self-production and consumption. Besides, I really believe that if the consumers create their clothes themselves, then their emotional involvement with the final piece is deeper, thus they will take more care of their garments.
3DN: What are your future projects regarding additive manufacturing?
I want to continue experimenting in the field of 3D printed clothing. I still have many ideas and concepts to experiment with. I want to iterate more in the project of 3D printing shoes that I have already started, and find ways to make them comfortable; try making bags; find new methods to put the pieces of my models together; try making skirts and tops that are printed straight upright and at full length etc. There is so much to explore, I assure you that if I don't develop more new projects it is for the lack of time, not for the lack of ideas!
3DN: Any last words for our readers?
First of all, thank you very much for your interest, I invite you to try to print my model, and share your opinion on the project page. And if you don't have a compatible printer but are interested in 3D printed clothing I invite you to fill out this survey, as I am trying to hear as many opinions as possible about the project and how it should evolve.
What do you think about Miranda Marquez and her 3D printed designs? Let us know in a comment below or on our Facebook and Twitter pages! Sign up for our free weekly Newsletter, all the latest news in 3D printing straight to your inbox!