MINI Partners With Designer Paul Smith to Create the More Sustainable MINI Strip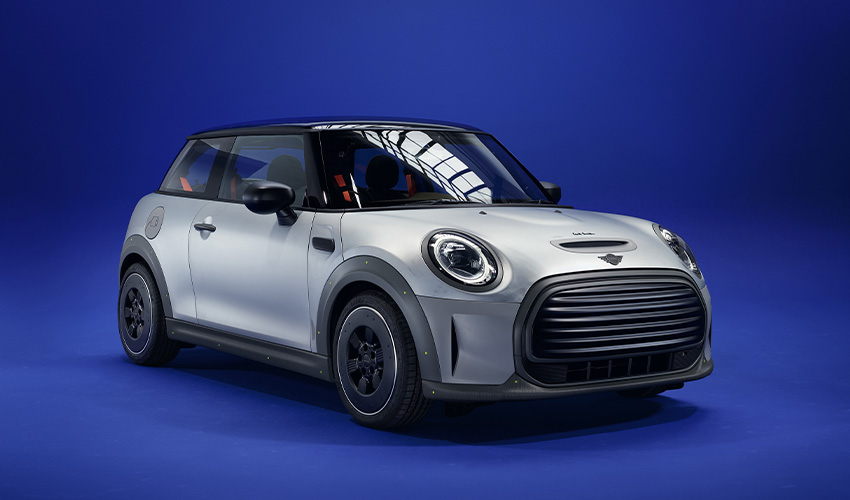 For some time now, the British car manufacturer MINI has been trying to become more eco-responsible. And in order to put its money where its mouth is, MINI has teamed up with British fashion designer Paul Smith to develop a minimalist car: the Mini Strip. Designed to illustrate the slogan "Simplicity, Transparency, Sustainability", the Strip takes only the necessary elements from the Mini Cooper SE. In order to achieve durable yet unique parts, Paul Smith used additive manufacturing to design parts from recycled polymers.
Made mostly of recycled materials, for example the floor mats which are made from recycled rubber as well as recycled seat coverings, the MINI Strip is environmentally friendly. For example, the bodywork has only a thin layer of transparent paint to protect it from corrosion. An effect that gives the car a rough appearance, which Paul Smith has dubbed "the perfect imperfection". As for the interior of the MINI Strip, the same method was used. It is clean, with a simplified geometry and made of recycled parts.
3D Printed Parts
As mentioned earlier, the makers of the Strip used 3D printing to ensure that they could make sustainable and unique parts. To stay true to modern Mini designs, the rocker panels and wheel arches have been kept, but this time they were 3D printed out of recycled plastic. This is a new development for the British carmaker, which through acts like these, shows its willingness to produce more environmentally friendly cars.
Thanks to the use of all these recycled materials, the car has been built in such a way that it can be recycled at the end of its life. And by combining the skills of artist Paul Smith with new technologies, they have managed to achieve a car with a remarkable design. Oliver Heilmer, Head of Design at MINI, who worked closely with the designer on the Strip project, concluded by praising Paul Smith's contribution to the design of the car: "Paul asked essential questions right at the start with his non-automotive, and therefore fresh, perspective. The process was an invaluable learning experience. You constantly ask yourself about what is really necessary and what is not, if you think it is – why? With every item, you choose if it stays or if it goes, and it provides you with a fresh new view on a given space." You can find more information in the video below.
What do you think of the MINI Strip? Let us know in a comment below or on our Facebook and Twitter pages! Don't forget to sign up for our free weekly newsletter to receive all the latest 3D printing news straight to your inbox!
 *Thumbnail Photo Credits: MINI