Michelin's Uptis Airless Tire is Officially on the Road!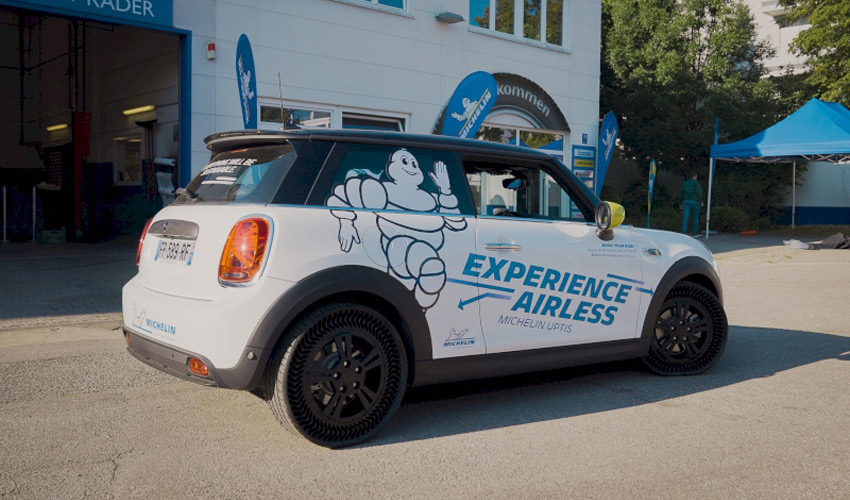 In June 2019, we reported on an interesting new tire that came from famous French manufacturer Michelin. Designed to be airless, the concept of the tire is that it could avoid any risk of puncture and be repaired if needed thanks to a 3D printed rubber tread. Called Uptis (Unique Puncture-proof Tire System), the tire was first presented at the Munich Motor Show last September. Mounted on an electric MINI, the Uptis tires caused a sensation, allowing Michelin to confirm its ambitions: the French company wants to go to market in 2024. It remains to be seen whether 3D printing will still be part of this project. The program has taken a step forward as Michelin has started to put it in road tests. Done on public roads by two automotive youtubers, Michelin reported that the tires felt just like any others, despite their unique beginnings.
The Uptis tire is part of Michelin's Vision Concept, which was created with the aim of imagining the tires of the future. Ultimately, the company wants to reduce the environmental impact of these products and offer a greener alternative. Through an internal study, the company realized that more than 20% of tires are thrown away because they are flat or damaged, resulting in a lot of waste that is difficult to process. By creating an airless tire, Michelin is diverting this problem and should, in principle, extend the life of these tires. Which brings us to what interests us the most in particular in this solution. Users would be able to 3D print the tread, allowing them to adapt the tires according to their driving, the weather conditions as well as also the general health of the tire.
Not much is known about which 3D printing technology would be needed or how long it would take to make the 3D printed tread. And there are many questions remaining. For example, would the driver have to go to a licensed garage to print this tired? Or would they be able to do it themselves? How much will this custom-made tire cost? However, one thing that we do know what would be the preferred material to make the tread: a flexible structure reinforced with fiberglass and rubber that is placed on an aluminum wheel. Michelin claims that Uptis will last three times longer than conventional tires.
After the road test by automotive youtubers Mr. JWW and Gercollecter, Cyrille Roget, Michelin's Director of Technical and Scientific Communications, concluded: "Our greatest satisfaction came at the end of the demonstration when our passengers said they felt no difference compared with conventional tires." Michelin is expected to bring its new tires to passenger vehicles by 2024 through a partnership with General Motors.
And it does not end there. By 2050, the brand that originated the infamous Michelin Man hopes to produce tires that were made with 100% sustainable materials. An ambitious challenge that could have a definite impact on the environment. We will keep you informed of the latest news on this project, especially where it concerns additive manufacturing. You can find more information HERE.
What do you think of Michelin's Uptis 3D-printed, airless tire? Let us know in a comment below or on our Facebook and Twitter pages. Don't forget to sign up for our free weekly newsletter, with all the latest news in 3D printing delivered straight to your inbox!