MetShape Discusses its Innovative Lithography-Based Metal Manufacturing (LMM) and Investment from AM Ventures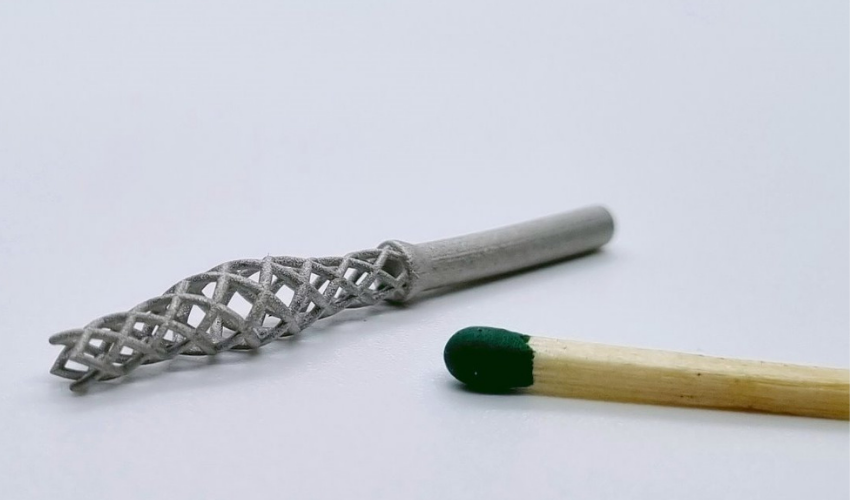 Back in March 2021, AM Ventures announced the launch of a first-of-its-kind, venture capital fund solely devoted to industrial 3D printing. Now, the company is set to announce their first investment in a production and development provider, MetShape. MetShape is unique in not just its use of the novel Lithography-based Metal Manufacturing technology but also in the expertise that it brings to customers in the form of thermal post-processing technologies. We sat down with Andreas Baum to find out more about the investment from AM ventures and the company itself in an exclusive interview.
3DN: Can you introduce yourself and your connection to AM?
My name is Andreas Baum and I am one of three founders of MetShape. We are a spin-off company from Pforzheim in Germany. My first contact with additive manufacturing goes back to 2003, when I wrote my diploma thesis on laser deposition welding. Since then, I have been passionately involved in various metal additive manufacturing technologies as part of numerous research and development projects at Pforzheim University.
3DN: How was MetShape started? What is its mission?
The basic idea for the LMM technology was created in 2015 as part of a research project by our co-founders Johannes Homa and Carlo Burkhardt. In the following years, it was further developed in close cooperation between Lithoz and Pforzheim University, with Lithoz focusing on the development of the printing process and Pforzheim University developing the thermal post-processing (debinding and sintering). As LMM turned out to be a success story, in 2019 Lithoz gave birth to Incus, which develops and manufactures the machine for additive manufacturing of green parts.
To cover the full processing chain of LMM, MetShape spun off from Pforzheim University as application development and production company for thermal post-processing in the same year. In addition to the production of prototypes and small series, we offer full-service application development and develop new materials for sinter-based AM. This makes us the experts for the industrial production of high-precision metallic small and micro components, especially via LMM technology. In the mid-term, we will use our core know-how to expand our technology portfolio to complimentary technologies in the field of sinter-based additive manufacturing to become a holistic specialist for 2-stage-process manufacturing for our customers.
3DN: At MetShape you use Lithography-based Metal Manufacturing (LMM) technology, can you tell us a little more about what it is and how it works?
Lithography-based Metal Manufacturing (LMM) is a sinter-based additive manufacturing technology for metals. A green part (the part before post-processing) is printed from a photopolymeric binder system which is highly filled with metal powder. In the following step, the green part is debinded and sintered. Due to the high resolution and the high achievable accuracies as well as the extraordinary surface qualities, the LMM technology is particularly suitable for precise small and micro parts. MetShape has the expertise to develop and produce high-performance parts for its customers with two-step metal technologies. One of the main applications which we are currently developing together with our customers are surgical tools and parts of it as well as several applications in luxury, especially watch parts and parts for micromechanical applications. Furthermore, LMM creates extraordinary opportunities to develop new applications in several technological fields as for example micro nozzles or micro filters.
3DN: LMM is considered an indirect AM method, could you explain what this means and why you have chosen to focus on indirect methods?
We have chosen to focus on indirect AM methods to overcome existing restraints of currently available fusion-based additive manufacturing (AM) technologies for metals (including Selective Laser Sintering (SLS), Direct Metal Laser Sintering (DMLS), and Electron Beam Melting (EBM)), i.e. rough surfaces, distortions and the need for extensive after-treatment by machining. Since the mid-2010s sinter-based (or indirect) AM methods see increasing attention for single-piece and small-scale production of precision parts. These manufacturing techniques do not print directly the metal part but rather a polymeric 'green compact' which is highly filled with the desired metal material in powder form.
In a second step the polymers, which are only needed as a temporary binder for printing purposes, are then removed either by solvent or heat and the resulting 'brown compact' is then sintered at high temperatures to fuse the powder particles together. The final product is a dense, fully metallic part with properties comparable to cast material, albeit in its heat-treated state due to the sintering procedure. The whole process is very similar to Metal Injection Moulding (MIM), using an AM printer instead of an injection moulding machine.
Indeed, indirect processes have a couple of advantages. For example, in most indirect processes, the green part is produced almost stress-free, which means that in some processes, in combination with other process boundary conditions, support structures are not necessary. Another significant advantage is the wide range of materials that can be processed with indirect technologies, opening up a significantly broader range of applications for additive technologies.
3DN: What is particularly interesting about MetShape is your expertise in thermal post-processing technologies, notably debinding and sintering. How do you use this knowledge to help your customers?
While the printing processes for green part production are usually very well studied and mastered by the respective technology providers, we repeatedly find that the main challenge with indirect technologies is thermal post-processing. Although sintering as a manufacturing process is generally well known, sufficient process knowledge for the implementation of AM applications is rather rare. Even more challenging is the interacting combination of debinding and sintering processes. Here, well-founded process know-how and knowledge of materials science are required. It is precisely this expertise that we have at our disposal, and we translate this into components of the highest quality for our customers.
3DN: Metshape is the first production and development provider to be chosen by AM Ventures to be part of their venture capital dedicated to industrial 3D printing, what about your company drew them to invest?
We are often perceived as a classic 3D printing service provider, which 'only' produces parts on demand by using bought equipment. In fact, however, we are much more. Our expertise in the field of thermal post-processing is the fundamental know-how for all indirect additive processes, without which the production of high-quality AM components is impossible. AM Ventures has recognized that we have uniquely mastered the two steps metal AM processes. They expect two-step sinter-based additive manufacturing technologies to become increasingly important for the production of larger quantities of metal components.  Thus, we are delighted to have been able to win AM Ventures as an investor to accompany us in the future growth of our company.
3DN: What will you do with the investment from AM Ventures?
In recent years, our joint focus with Incus has been on the further development of LMM technology and, in particular, the associated debinding and sintering process, in order to increase the TRL to the point where LMM technology can be used on an industrial scale. Now that we have succeeded, we obviously want to industrialize the technology and expand our technology portfolio. And this is exactly what we use the investment for. First and foremost, we will use it to expand our sales activities and enable investments to expand our production capacities and quality assurance.
3DN: Any last words for our readers?
If we have aroused your interest in MetShape and LMM technology and you would like to convince yourself of the quality of our components, please visit our website HERE for more information or, even better, contact us directly.
What do you think of MetShape and the investment from AM Ventures? Let us know in a comment below or on our Facebook and Twitter pages. Don't forget to sign up for our free weekly newsletter, with all the latest news in 3D printing delivered straight to your inbox!
*All Image Credits: MetShape