MakerBot launches METHOD X, bridging the gap between industrial & desktop 3D printers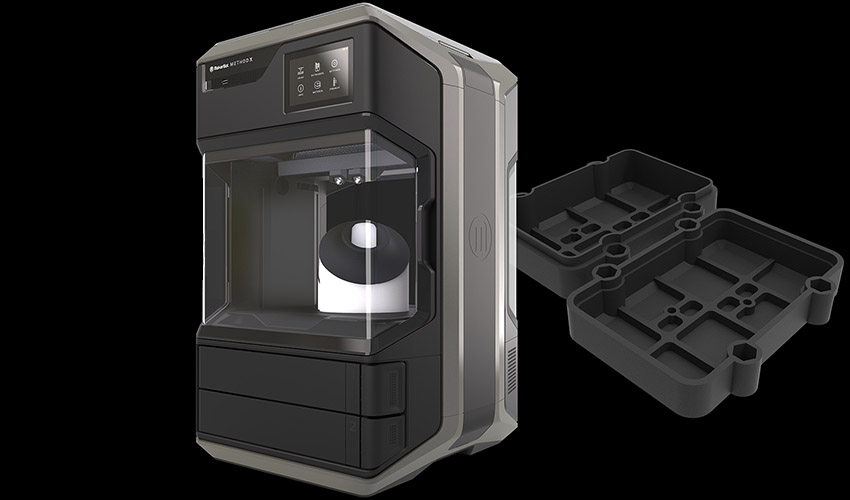 The American 3D printer manufacturer MakerBot, announced the launch of a new machine for its Method range. This new 3D printer is called the METHOD X and is able to print with 'real ABS'. It will also feature a 100°C heated chamber and Stratasys SR-30 soluble supports to deliver higher accuracy and precision for complex parts. According to the manufacturer, 'real ABS' can withstand up to 15°C higher temperatures, is up to 26% more rigid and 12% stronger than modified ABS formulations. 
Nadav Goshen, CEO of MakerBot commented, "When we initially launched METHOD, we broke the price-to-performance barrier by delivering a 3D printer that was designed to bridge the technology gap between industrial and desktop 3D printers. This made industrial 3D printing accessible to professionals for the first time. Since then, we have shipped hundreds of printers and received positive feedback from a number of our customers on the precision and reliability of the machine". 
As a result, the parts printed on this machine should experience no crackling or warping, a common issue with modified ABS, when 3D printed on desktop machines that do not have a heated chamber. Therefore, the MakerBot ABS for METHOD X has thermal and mechanical properties similar to ABS materials used for injection molding applications. 
It will be appropriate for applications such as end-use parts, manufacturing tools and functional prototypes. With this 3D printer, MakerBot seeks to give engineers a way to test and produce models with production-grade ABS for their manufacturing needs. Nadac Goshen adds, "With METHOD X, we are taking a step further to revolutionize manufacturing. METHOD X was created for engineers who need true ABS for production-ready parts that are dimensionally-accurate with no geometric restrictions. METHOD X delivers industrial-level 3D printing without compromising on ABS material properties and automation in a new price category." 
Engineers should be able to print repeatable and consistent parts such as jigs, fixtures and end-effectors with a measurable dimensional accuracy of more or less 2 mm. Also, some features of this industrial, yet desktop 3D printer is that it comes with Dry Sealed Material Bay, Dual Performance Extruders, Soluble Supports and an Ultra-Rigid Metal Frame. 
The shipping of METHOD X should begin at the end of August 2019. To learn more about the MakerBot METHOD X, you can visit their website HERE.
What do you think of this 3D printer? Tell us what you think in a comment below or on our Facebook and Twitter pages! Don't forget to sign up for our free weekly Newsletter, with all the latest news in 3D printing delivered straight to your inbox!