METHOD Carbon Fiber Edition, the carbon fiber 3D printer from MakerBot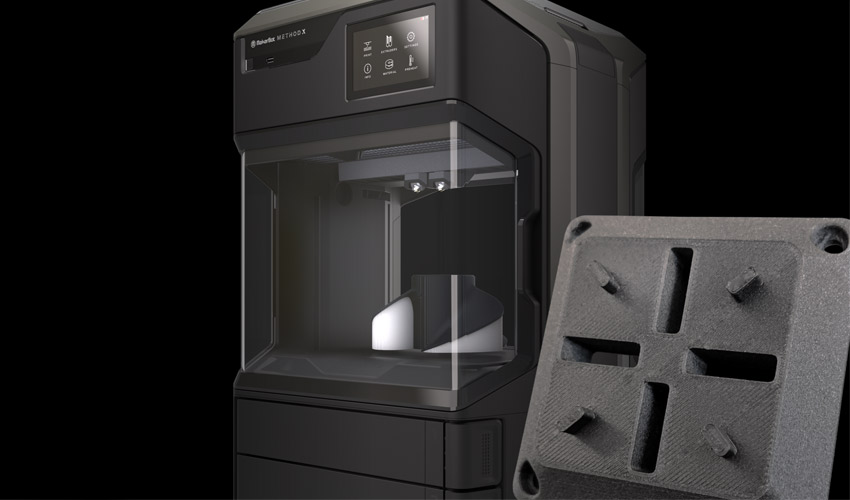 The manufacturer MakerBot has just launched a new professional machine capable of printing carbon fiber reinforced nylon, also developed by the manufacturer. Named METHOD Carbon Fiber Edition, this solution is based on the METHOD platform developed in December 2018 but is preconfigured with a new extruder compatible with composite materials: this one will be available as an upgrade for the METHOD and METHOD X machines. The company thus joins the manufacturers who offer composite 3D printing, which is increasingly sought-after to replace metal parts and lighten components. The complete solution – whether it is the machine, extruder or material – is expected to be available from June 2020.
MakerBot had announced its big comeback at the end of 2018 when it unveiled the METHOD, a desktop 3D printer designed for professionals and industrialists. Since then, the solution has evolved as the manufacturer has developed a new extruder to handle more materials. Its goal is to offer an open printing platform so that all its users can create parts adapted to their needs. Materials already available include ABS, ASA, Nylon and PETG. With METHOD Carbon Fiber, MakerBot widens the scope of possibilities, allowing engineers to design stronger and more accurate parts that could even replace metal in some cases.
Characteristics of METHOD Carbon Fiber Edition
The new carbon fibre reinforced nylon should have high mechanical and thermal properties, high heat resistance and high strength. Nadav Goshen, President and CEO of MakerBot, adds: "Carbon fiber nylon is one of the most sought-after and exciting classes of materials. Because of its high strength, heat resistance and rigidity, this material is ideal for printing metal aftermarket parts, helping to reduce costs and increase overall business efficiency. With the introduction of METHOD Carbon Fiber, we are making 3D printing from composite materials accessible to more users than ever before and opening the door to new applications. METHOD Carbon Fiber is the latest addition to the rapidly growing METHOD 3D printing platform."
As for the specificities of the new METHOD Carbon Fiber, it is based on the characteristics of METHOD or METHOD X depending on the model chosen. With the former, you will be able to print parts measuring 190 x 190 x 196 mm, with a printing speed of 500 mm/second and a layer resolution of 20 to 400 microns. It is equipped with a heated chamber that can be heated up to 60°C and up to 110°C on the METHOD X. This should enable it to support a wider range of high-performance composite materials. A feature that ensures print stability and an optimal surface finish.
The composite 3D printing solution will be available from June 2020; on the price side, we only know that the METHOD is available from €4,999.  Find more information on the official MakerBot website HERE. What do you think of the METHOD Carbon Fiber edition? Let us know in a comment down below or on our Facebook and Twitter pages! Don't forget to sign up for our free weekly Newsletter, with all the latest news in 3D printing delivered straight to your inbox