ExOne and Rapidia launch the world's fastest, office-safe, metal 3D Printer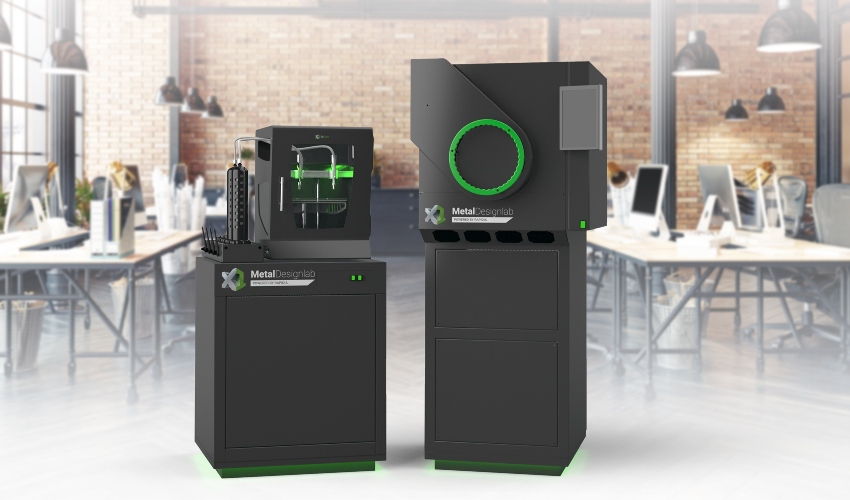 Partnering with Rapidia, ExOne has just launched the world's fastest, office-safe, metal 3D printer. In an exclusive collaboration, the companies have released a complete metal 3D printing system comprising the ExOne Metal Designlab™ and X1F advanced furnace. The novel solution will be marketed and sold solely by ExOne. The Metal Designlab and X1F advanced furnace is said to deliver Print Today, Parts Tomorrow™ performance, based on Rapidia's proprietary two-step method of 3D printing and sintering water-bound metal parts.
The machine incorporates a nozzle for building designs in HydroFuse™. HydroFuse is a water-based paste that contains either metal or ceramic powders. HydroFuse in an environmentally friendly solution which, by replacing 98% of the binder with water, evaporates during the 3D printing process, allowing parts to be directly placed in the furnace. This method does not require the chemical or thermal debinding necessitated by competing bound metal systems. As such, the sintering process is accelerated by days, and terminates the need for a debinding unit. This also removes the limit placed by other solutions on the thickness of solid parts, normally necessary for successful debinding. This solution is thus able to produce strong solid parts that are suitable for an increased number of end-use applications.
A user-friendly, safe, and affordable solution
The 3D printer is said to be as easily operated as an entry-level plastic printer. Not only is the Metal Designlab compatible with ExOne's user-friendly, easy to use software, but the printing process itself mirrors those that print with plastic. Moreover, as the materials are bound in paste, thanks to HydroFuse, there is no loose powder.
Metal powders used in 3D printing have previously been recognized as harmful to user's health. This discovery has triggered a need for alternative solutions, notably Xerox's liquid metal 3D printer, the ElemX. Similarly, ExOne and Rapidia's new solution avoids the detriment of traditional metal powders used in 3D printing thanks to HydroFuse which replaces 98% of the binders with water. By eliminating solvents, odors, and disposal of waste polymer, the ExOne Metal Designlab™ and X1F advanced furnace provides a completely safe and office friendly solution. Moreover, without binders there is no need for a debinding unit nor expensive solvents. The elimination of the components is reflected by the machine's affordability. Production costs are further reduced by the limited need for hydrogen or forming gas, the expense of which is second only to the metal itself. Instead, the Metal Designlab is able to rely on small amounts of welding grade Argon, a far cheaper alternative.
Currently, ExOne only offers 17-4PH and 316L stainless steels as alternatives to HydroFuse, however there are more materials on the way. For more information you can find the full press release HERE.
What do you think about ExOne and Rapidia's newest solution? Let us know in a comment below or on our Facebook, Twitter and LinkedIn pages! Sign up for our free weekly Newsletter here, the latest 3D printing news straight to your inbox!