Metal composite with varying layer hardness is produced with 3D printing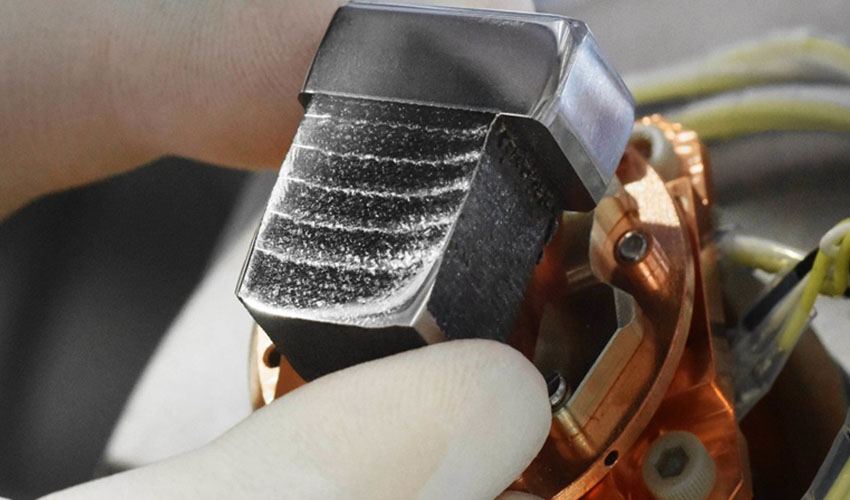 Damascus steel is a type of steel originally used for sword blades. In Germany, a team from Max-Planck-Institut für Eisenforschung (MPIE) and the Fraunhofer Institute for Laser Technology have developed a process that allows this type of steel to be produced layer by layer using a laser 3D printer. Damascus type steel is known for being hard yet tough because it is composed of layers of different iron alloys, and using the 3D printing process, it could be used to make aerospace components and tools for example. Other steels which offer the same properties have not been made for the additive manufacturing process which explains why scientists have not been able to exploit the benefits of this technique yet.
The researchers explain that back when Damascus steel was used for swords, to influence the properties of iron alloys, the only option was to adjust their carbon content. Therefore, they would obtain a type of steel that was either soft yet tough or hard yet brittle. European blacksmiths developed a new technique which consists of folding the alloys into many thin layers to give the steel hard yet tough properties. This is why Damascus steel can usually be recognized by its striped pattern. Following some research, the teams from Germany successfully managed to develop a steel that consists of a single material but is made up of hard and ductile layers to form "Damascus steel".
Creating a metal composite with varying layer hardness
The first step of the process was to develop an alloy that would allow to arrive at the desired properties. Therefore, the researchers developed a material consisting of iron, nickel and titanium. In order to be able to create the desired metal structures, the researchers interrupted the 3D printing process for a certain time after each newly-deposited layer. "We have succeeded in specifically modifying the micro-structure of the individual layers during 3D printing so that the final component has the desired properties – and all this without subsequent heat treatment of the steel," commented Philipp Kürnsteiner, post-doctoral researcher at MPIE.
Using a laser, similarly to the Laser Powder Bed Fusion process, the beam melts the respective materials to form the part. Kürnsteiner explains the key to the printing process: "Under certain conditions, small nickel–titanium micro-structures form. These, so-called precipitates, harden the material." In other words, after each layer, the researchers stop the printing process, allowing the metal to cool to below 195 °C. At this temperature, a transformation of the crystal structure occurs in the steel. Once this transformation has taken place, the next layer is deposited which heats the solidified layer back up again, leading to precipitates forming. As Philipp Kürnsteiner explains, its these micro structures that harden the steel. If the next layer is added directly without interruption, the layer remains softer. In the end, the part formed consists of a composite material formed of layers with different properties (some are softer, some are harder).
It should be added that there are other parameters that can influence these micro structures during the 3D printing process. The scientists mention that the laser's energy, focus or printing speed are all factors that can influence the formation of precipitates. During experiments, the researchers actually formed cube-shaped pieces with side lengths of a few centimeters as models for objects with more complex geometries. Eric Jägle, head of the "Alloys for Additive Manufacturing" group at MPIE concludes: "Thanks to our concept of local control, this was achieved in a single manufacturing step – without the additional process steps previously required for surface hardening such as nitriding."
*Cover Image Credits: Frank Vinken.
What do you think of this technique to create a metal composite with hard yet tough properties? Let us know in a comment below or on our Facebook and Twitter pages! And remember to sign up for our free weekly Newsletter, to get all the latest news on progress, research and more entrepreneurs in 3D printing sent straight to your inbox!