Using metal additive manufacturing for renewable applications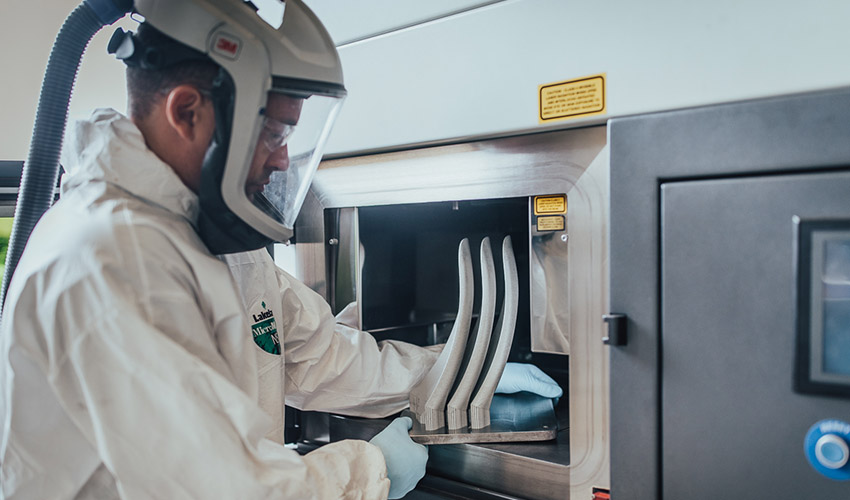 Renishaw has collaborated with the Nova Scotia Community College (NSCC) in Canada to produce two ocean turbine parts using additive manufacturing for industrial design firm Biome Renewables. Biome Renewables is a startup specialized in using biomimetic design processes to create sustainable solutions. One of their solutions is the PowerCone, which is a turbine retrofit that increases annual energy production by up to 13%. Therefore, the company turned to Renishaw and NSCC to reduce the cost of its parts, as well as lead times. 
Biome Renewables first approached NSCC when it decided to expand into tidal wave energy because of the college's specialism in ocean technology and its engineering research facility, which builds prototypes for different industries. The plastic solutions used by NSCC were inappropriate for tidal environments and so it decided to use metal AM to make the parts stronger. It approached Renishaw for technical assistance on the metal additive manufacturing process. In the end, the companies managed to reduce costs by 80%, and develop the turbine components in just two months. 
Renishaw designed two parts for Biome Renewables. The first was a PowerCone, a retrofit part that sits on the hub of an existing turbine and improves efficiency by 10-15 per cent by letting the blades rotate at slower speeds. The second were propellers with a curved design to reduce drag when the blades turn in the water. These parts were then used to build a prototype turbine, which was tested at Strangford Loch in Northern Ireland. "Additive manufacturing allowed us to produce the final parts in two months, which would be unthinkable using traditional methods," explained Mark Kirby, Additive Manufacturing Business Manager at Renishaw Canada. "The ocean turbine project was not only a great opportunity for us to work with one of our many Canadian customers, it was a chance for us to see how metal AM can improve the efficiency of renewable sources."
It's true that design for additive manufacturing techniques can add a lot of complexity to parts, as well as help design parts that are stronger yet lighter. The tidal turbine energy market is one of the many growing renewable energy markets, therefore advancements such as these are positive for the whole sector. Today, many people still think of metal additive manufacturing as a very expensive technology. However, in some cases such as this one it makes perfect sense to utilize this technology. In fact, Biome Renewables managed to reduce the cost of building the turbine by 80%. It's an exciting time in AM to see how other companies can benefit from the technology! 
What do you think of this project?  Let us know in a comment below or on our Facebook and Twitter pages! Don't forget to sign up for our free weekly Newsletter, with all the latest news in 3D printing delivered straight to your inbox!