Metal 3D Printing in the Food Industry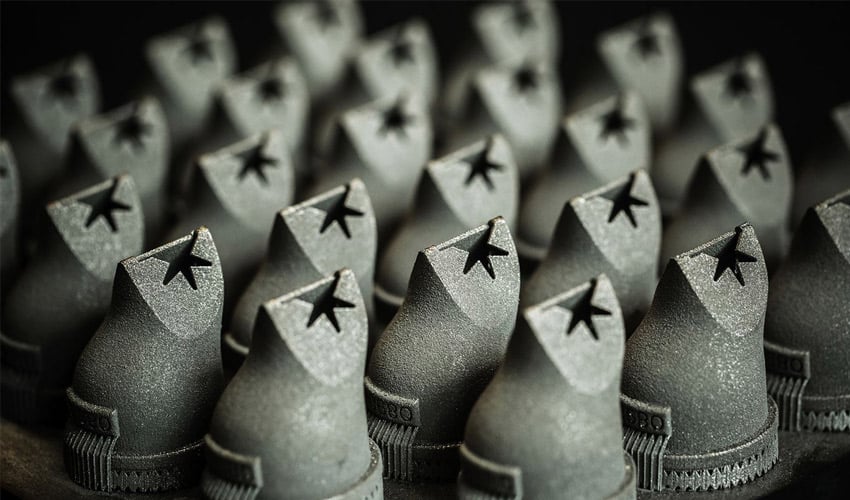 The Swiss Bühler group specializes in the mechanical industry, particularly in the manufacture of machines for the food industry. In 2018, the company joined forces with Haas-Meincke, a Danish machine manufacturer that produces cakes and cookies of all kinds. Some of the company's machines are equipped with metal 3D-printed nozzles, offering more freedom in terms of design, complexity, and flexibility. The nozzles are made with metals compatible with food contact by the Danish Technological Institute, which is equipped with four metal 3D printers. Today, the Danish branch has gone further in its projects and uses metal additive manufacturing in the production of finished parts.
When we think of 3D printing in the food sector, we tend to imagine these small desktop FDM machines, capable of extruding dough or chocolate to design an original dish. And, there's a healthy bit of hesitancy in the consumer market when it comes to eating 3D-printed. It is for this reason that we suggest that you move away from this concept and look at the food industry through another lens, in particular the "behind-the-scenes" of cookie production.
The Choice of Metal Additive Manufacturing
Bühler's machines that make cookies today are equipped with nozzles from which the dough is extruded, just like the nozzle of an FDM 3D printer from which the plastic filament comes out. These nozzles have specific shapes depending on the imagined cakes. To manufacture them, Bühler went through manufacturing in several parts, assembled via a welding step thereafter; the shapes were too complex to be obtained by a milling process. However, the assembly phase adds additional constraints: by welding, we obtain joints in which bacteria can accumulate. A hell of a limit in the food sector.
In 2017, the group discovered plastic 3D printing and circumvented many of the constraints it previously knew. Quickly, Bühler moved towards metal additive manufacturing because of the materials offered, the repeatability and speed offered, as well as the complexity of the design. Today the nozzles of its machines are 3D printed with titanium Ti6A and stainless steel 316L, two metals compatible with food contact. It was also a necessity for the Danish group. Kennie Larsen, Head of Biscuit Feeding and Forming at Bühler Meincke, adds: "Thanks to the design freedom offered by 3D printing, we were able to solve some of the problems with organic and hygienic design, as we can now get rid of the joints and angles of traditional manufacturing. The actual production of nozzles was previously a complex matter; this is no longer the case with 3D printing. "
Bühler Meincke's Future Projects
The business didn't stop at cookie machine nozzles; it optimized other parts such as the die roll. Kennie Larsen explains: "This roller used to be a tube to weld buckets to cut the dough. When we weld, we have a lot of heat that is released and therefore parts that are deformed. By going through additive manufacturing, we are able to overcome these problems."
One thing is certain, metal additive manufacturing allows the company to reduce production times while enjoying great design freedom. The company can now quickly test a prototype, validate a design, and print the same part for final production. Bühler Meincke points out, however, that the technology has its limits, particularly in terms of volume: the company would like to be able to design larger batches. You can find more information HERE. 
What do you think of the use of metal additive manufacturing in the food sector? Let us know in a comment below or on our Linkedin, Facebook, and Twitter pages! Don't forget to sign up for our free weekly Newsletter here, the latest 3D printing news straight to your inbox! You can also find all our videos on our YouTube channel.
Cover Photo Credit: Danish Technological Institute