The biggest metal 3D printer will soon be making its way to the market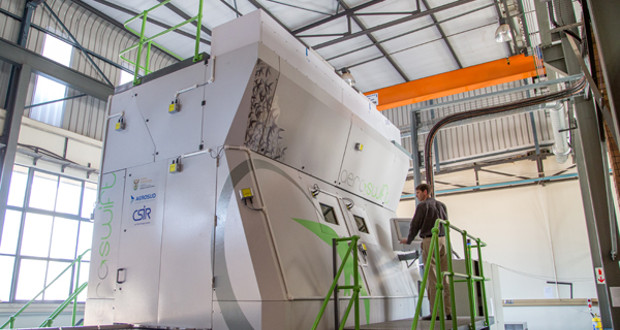 3D printing has been increasingly developing itself in South Africa, where they have been working on different complex projects over the recent years. In 2011, a government-supported project called Aeroswift was launched in collaboration with Aerosud (an actor in additive manufacturing for the aerospace sector) and the Council for Scientific and Industrial Research in South Africa (CSIR). The goal of this project is to build the biggest and fastest metal 3D printer that can create aircraft parts using titanium powder.
Additive manufacturing is expanding into the aerospace market very quickly, and industry players are looking for new solutions to increase efficiency. This is the main objective of the Aeroswift project, designing a brand new machine that can meet a new level of efficiency. This 3D metal printer has a print volume of 2000 x 600 x 600 mm, surpassing that of the Concept Laser and the Xline 200R, which although are using different manufacturing technology, is still able to produce at 800 x 400 x 500 mm! The machine, up until this point, was the most bulky 3D metal printer and only had 5 copies available.
The South African team revealed last year that three titanium pieces that were printed by the machine showed them that the printing process was 10 times faster than other metal machines available. Hardus Greyling, CSIR, explains, "Our machine is unique. We have developed new technologies and patents that allow us to improve the printing process to go faster and make larger parts".
Today, Aerosude and SCIR are preparing to commercialize their production and are in discussion with Boeing and Airbus to manufacture titanium parts to help reduce aircraft weight and lower costs.
This new aircraft manufacturing process could save millions of dollars in production costs, as manufacturers would replace the main aluminum parts with lighter materials, such as titanium alloys.
South Africa could become highly successful in additive metal manufacturing, especially since the country has the 4th largest titanium reserve following China, Australia and India. The Aeroswift team plans to begin testing flights with the parts printed by their 3D printer this year, with a marketing target of 2019.
This 3D metal printer is showing signs of being very promising, soon delivering us with more innovation, and nothing short of things to talk about in the coming years!
What are the advantages of using additive manufacturing in aeronautics? Let us know what you think in a comment below and don't forget to add us on Facebook and Twitter!