A Comprehensive List of All the Metal 3D Printer Manufacturers
Published on January 25, 2023 by
Jamie D.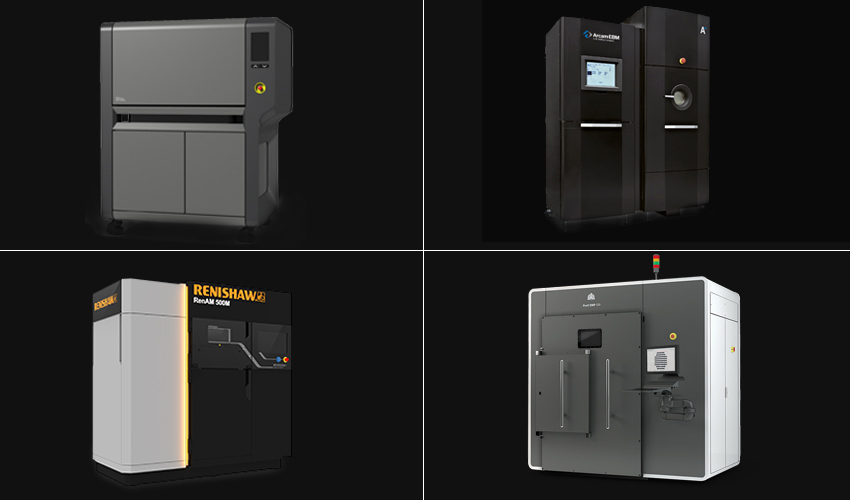 Metal 3D printing has been one of the most outstanding developments in the AM industry in recent years. In 2018, Wohlers Report reported that 80% more metal 3D printing solutions had been sold compared to the previous year – today,  this figure continues to grow. An important number of new market players are joining the market, developing new 3D printers and new technologies. In recent years, more than 40 manufacturers of metal 3D printers have emerged including a number in the United States. Many of these manufacturers have introduced new technologies to deal with this material such as HP's Multi Jet Fusion or XJet's Inkjet technology, for example. Today we present to the main manufacturers of metal 3D printers, we have classified them given the additive manufacturing technology used: Powder Bed Fusion, Directed Energy Deposition, Material Extrusion or Binder Jetting. We have updated it with some new players in the field!
Metal 3D Printer Manufacturers: Powder Bed Fusion (PBF)
3D Systems Offers Metal 3D Printers Among Other Solutions
3D Systems, was part of the first companies to enter the 3D printing market, introducing the first technology stereolithography (SLA) in the 80s. Today it generates more than $600 million in revenue per year thanks to the multitude of 3D printers it has developed. In 2013, it purchased the French printing brand Phenix Systems to expand into the metal segment. Its metal 3D printers use technologies called Direct Metal Printing (DMP) to build parts. They use a high-precision laser that solidifies metal powder placed on a bed. Their range of 3D printers includes the DMP Factory 500 Solution, DMP Flex 350, ProX DMP 300, the ProX DMP 200, the DMP Factory 350, DMP Factory 500 Solution and 3D printers in the dental sector such as the DMP Dental 100.
AddUp, Metal 3D Printers Using LBM 
Founded in 2016 as a joint venture between Michelin and Fives, AddUp developed its first 3D metal printer called FormUp 350. This 3D metal printer is based on Laser Beam Melting (LBM) and can produce metal parts up to 350 x 350 x 350mm. This brand is Michelin's official entry into the additive manufacturing industry after using 3D metal printers for its products for many years. The FormUp 350 can manufacture pieces from stainless steel, nickel, titanium alloys and aluminium alloys.
Arcam, One of GE Additive's Manufacturers of Metal 3D Printers
Arcam is a company that acquired by GE Additive in 2017, the manufacturing giant currently owns more than 90% of Arcam's shares and has become the industry's largest investor into the company. Since its founding in 1997, the Swedish startup has pioneered 3D printing through Electron Beam Melting (EBM) technologies, and is the only manufacturer of 3D printers that uses this technology. Arcam currently has four metal 3D printers on the market, including the Arcam A2X which has a building volume of 200 x 200 x 380 mm and weighs 1.7 kg. This large industrial 3D printer was developed for the aerospace industry, creating metal parts with great strength.
Concept Laser, The Largest Metal Fusion 3D Printer? 
Concept Laser is a German company founded in 2000 by Frank Herzog. In 2016, GE Additive also acquired 75% of the shares of Concept Laser, becoming the leading shareholder of the company. Its metal 3D printers use the brand's patented LaserCUSING® technology, which is also based on laser sintering of metals. They currently have 6 3D printers on the market, including the metal X Line 2000R, which according to the company is the largest metal fusion machine in the world. The printer has a construction volume of 800 x 400 x 500 mm and uses a dual laser system.
DMG Mori 
DMG Mori is a German company joint to a Japanese company that gave rise to DMG Mori Seiki, which is also recognized in Asia. In addition to its operations in the milling and grinding industries, DMG Mori has launched four 3D metal printers. The manufacturer has two printers that use Direct Metal Laser Sintering (DMLS) technology: the Lasertec 12 and the Lasertec 30 Dual. In addition, DMG Mori also sells five other 3D printers that use a nozzle to project metal powder and a laser to melt it, such as its Lasertec 65 and Lasertec 4300 models.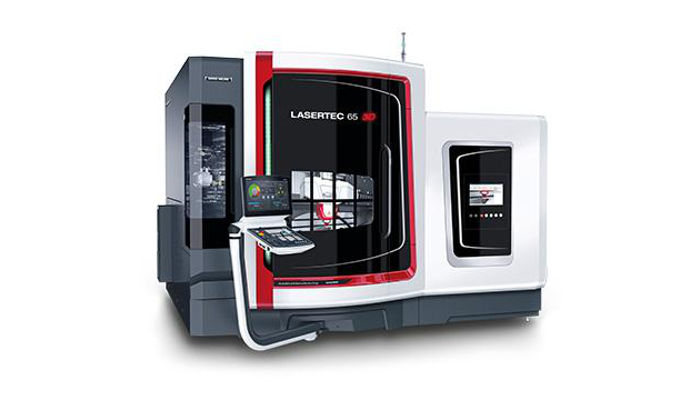 EOS and its Range of Powder Bed Solutions
EOS is an additive manufacturing company of German origin, founded as Electro Optical Systems by Dr. Hans J. Langer and Dr. Hans Steinbichler in 1989. EOS operates in the polymer 3D printing market with a range of Selective Laser Sintering (SLS) 3D printers, and is also found in the metal AM industry. The company has developed a range of Direct Metal Laser Sintering (DMLS) 3D printers. It currently has five different models, these include the EOS M 300-4 und EOS M 400 and EOS M100 models.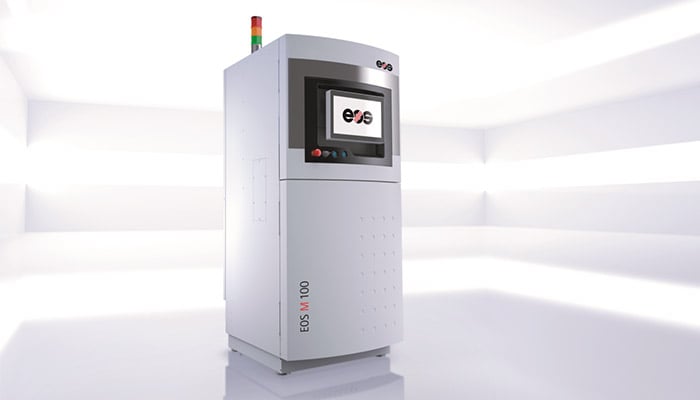 Renishaw, the UK Metal-Based 3D Printer Provider
Renishaw is a UK additive manufacturing company based in Gloucestershire, in the UK. The company specialises in the creation of industrial 3D printers that create lightweight, customised metal models quickly using powder bed fusion technology. Since entering the metal 3D printing market, Renishaw has launched multiples metal printers. Currently, two of these systems are available, the RenAM 500Q and the RenAM 500s. These models offer a 3D printing solution according to different needs, have different speeds and different construction sizes.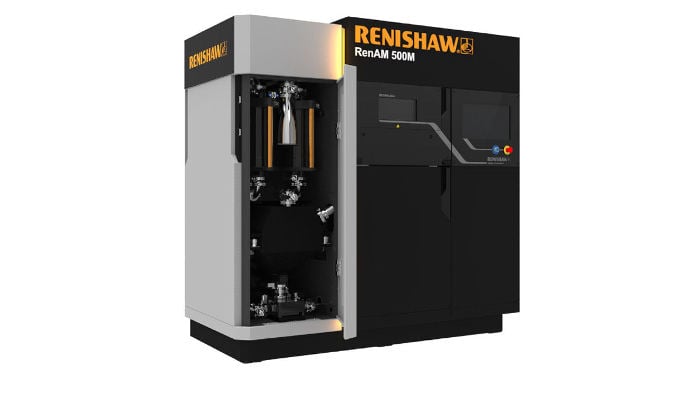 Sisma, an Italian 3D Printing Company
Sisma is an Italian 3D printing company operating in different industries since the 1960s, not that long ago it decided to join additive manufacturing. Since their beginnings into the 3D industry they have already launched ten metal 3D printers based on Laser Metal Fusion (LMF) technologies. They introduced their so-called MYSINT series which uses the following technology. Sisma's 3D printers have been designed to meet the requirements of 4 specific industries: dental, jewelry, medical and industrial production in general.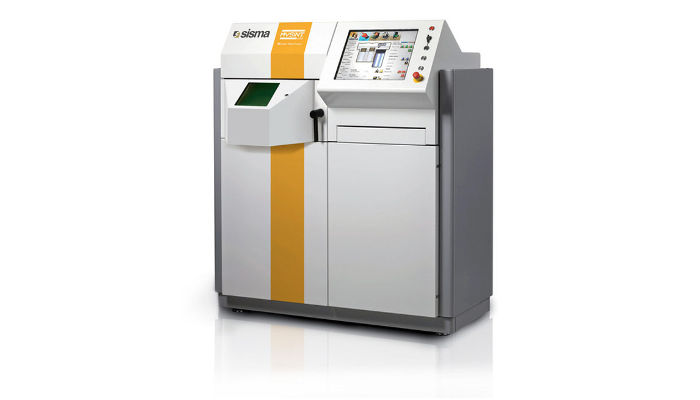 SLM Solutions, One of the Original Metal 3D Printer Manufacturers
SLM Solutions is a German manufacturer of 3D printers dating from the 1960s, and has since been recognized in the sector of metal 3D printing as one of the leaders in sales. They currently have 6 metal 3D printers on the market: SLM 500, SLM 280 2.0, SLM 280 Production Series, SLM 800, SLM 125 and NXG XII 600. These 3D printers are based on DMLS technology, patented as SLM Selective Laser Melting (SLM). SLM Solutions' 3D printers feature multiple laser options, bi-directional coating and closed-loop powder handling to create complex metal parts by solidifying the metal powder layer by layer.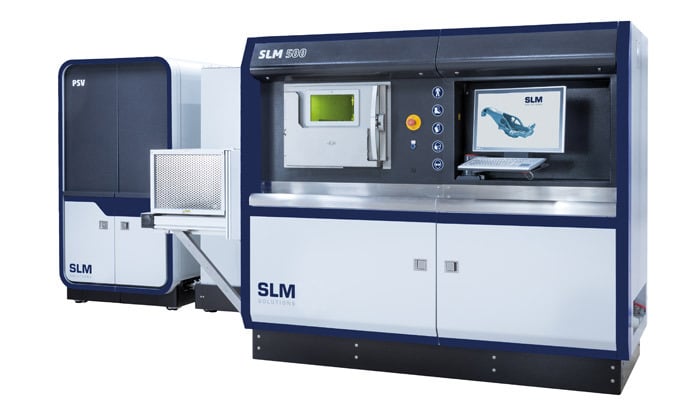 Trumpf, Metal 3D Printing for Tooling
Trumpf is another German manufacturer, specialized in the development of machine tools. Since, the company launched on the 3D printing market and introduced 3D printers based on two different technologies in addition to its laser metal coating technology. First, they launched give printers with Laser Metal Fusion (LMF) technology (a process similar to DMLS), including the TruPrint 3000 model. In addition, they have launched two printers based on Laser Metal Deposition technologies, similar to what we now know as melt deposition. In this category is the TruLaser Cell 3000.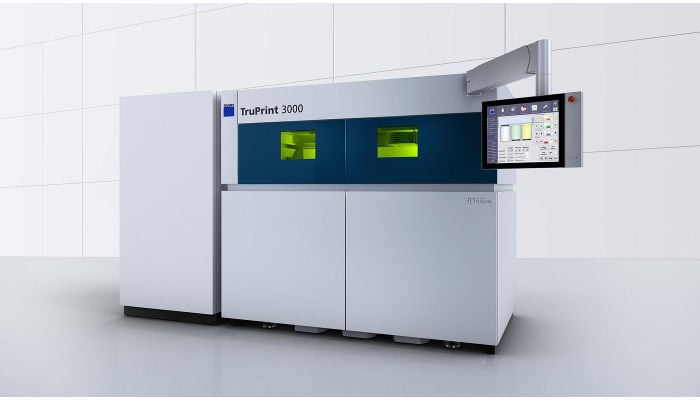 Aconity3D
Since 2014, Aconity3D has been selling modular systems for laser powder bed-based 3D  printing of metals. AconityONE, AconityMIDI and AconityMINI are basic system types and can be freely configured via add-on modules, from dual to quattro laser systems via various laser outputs and heating systems to sensor-supported process monitoring. They can therefore be tailored to special application requirements and individual budgets. In terms of ease-of-use, Aconity3D is currently developing the 3DMetalWIRE, a wire-based 3D laser printing system without complex powder handling, and has released the AconityMICRO, a compact LBM production system designed for micro L-PBF.
Matsuura
Based in Japan, the metal 3D printer manufacturer currently employs 300 people worldwide since its creation in 1935. It markets hybrid 3D printers that combine CNC milling and subtractive manufacturing processes with additive manufacturing such as powder bed fusion. The company sells two models, the LUMEX Avance-25 and the LUMEX Avance-60.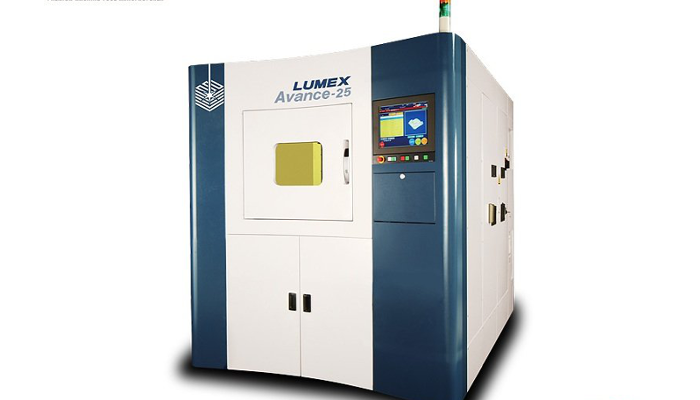 Velo3D
Velo3D is an American manufacturer founded by Benny Buller who wanted to help companies adopt metal technologies by developing the 3D Flow software™. This allows the acceleration of design in 3D printing and enables to collaborate with engineers for the design and preparation of parts for 3D printing. To complete its developments, in 2018 the company created its 3D printer Sapphire™ System, equipped with the patented Intelligent Fusion technology™, based on a powder bed. The machine is capable of printing complex parts using few supports, unlike competing solutions.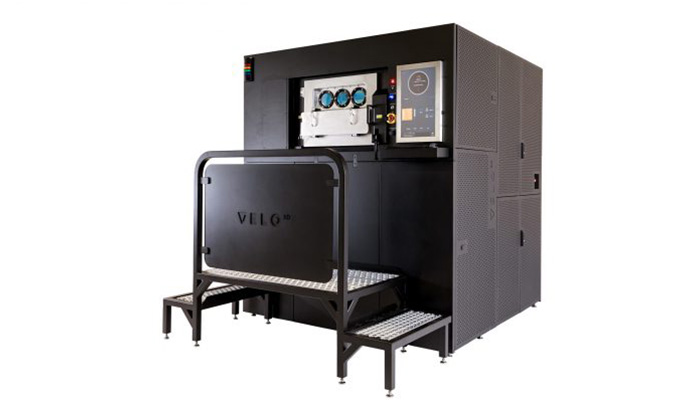 Aurora Labs
The Australian manufacturer, which came on the market in 2017, offers one of the most affordable metal printers in the industry at around $65,000. Today, it offers two machines in its range, the S-Titanium Pro and the RMP-1 production system. Their machines are based on Multi-layer Concurrent Printing technology, a technique between Powder Bed Fusion (PBF) and Direct Energy Deposition (DED). According to the manufacturer, the machines are 55 times faster than any other printer based on a powder bed. The post-processing work is not very extensive and the user can easily obtain parts with smooth finishes.
Sharebot
An Italian company, Sharebot started at the end of 2013 when one of the founders read an article about Andrea Radaelli, one of the first people in Italy to create a 3D printer. They work in a number of industries. They have a number of printers available, though most use FDM. However, they do have one metal printer, the Sharebot metalONE. The Sharebot metalONE uses Direct Metal Laser Sintering and is aimed at the research and production of small and medium sized metal parts. The print area is 65 x 65 x 100 mm (2.6 x 2.6 x 3.9 in) and has a layer high of 5 micron – 200 micron. The printer is compatible with 316L Steel and Cobal Chrome (CoCrMo). Sharebot mentions that the printer could be used in the dental, jewelery, and industry sectors.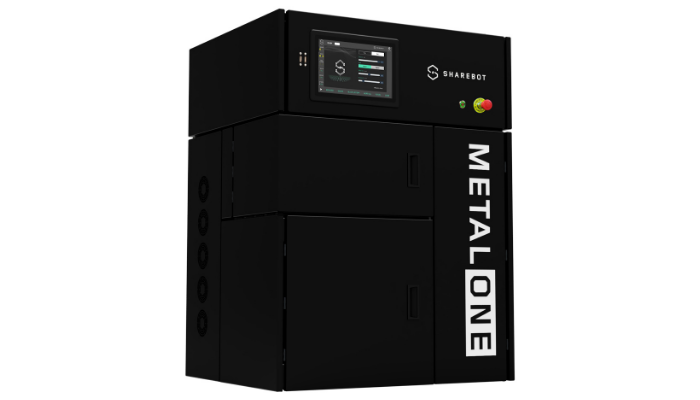 Xact Metal
Founded in 2017, Xact is located in Pennsylvania and operates out of Penn State University's Innovation Park, which is home to some of the leading tech companies in Pennsylvania. Their stated goal is to make metal 3D printing affordable to more people and have a long-term contract with the US Government. They currently have three metal 3D printers available, the XM200C, the XM200S and their latest model the XM300c. While the first two printers use laser-based powder-bed fusion technology through their patnent-pending Xact Core™ technology. The XM300C offers a large build volume (10 x 13 x 13 in; 254 x 330 x 330 mm) and two or four high-precision independent multi-lasers. They claim that this will allow components to be printed up to four times faster. It has two feed chambers to lower build time and increase productivity.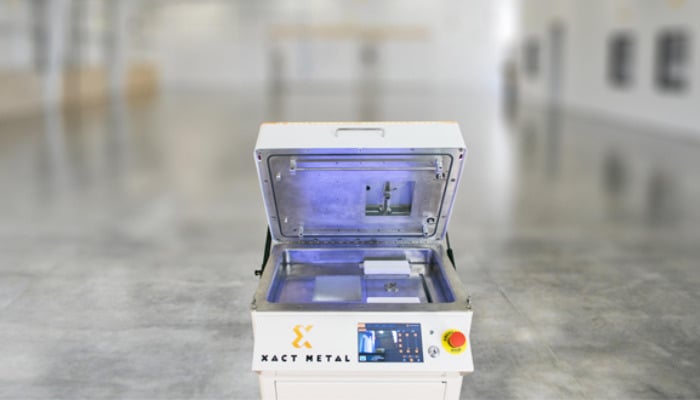 OR Laser
Founded in 1997, Or Laser have become one of Germany's leading manufacturers. The company offer several different types of laser-based machines, not limited to 3D printers. In fact, the company only offers one 3D printer. The Creator is a high-end machine purposed for precision components, that relies on laser powder bed fusion (LPBF).  The printer is compatible with a wide range of materials including stainless steel, tool steel, cobalt chrome, aluminium, nickel-based alloys, titanium as well as precious metals. The Creator possesses a build volume of 100 mm x 100 mm and a layer thickness of 20 – 100 μm.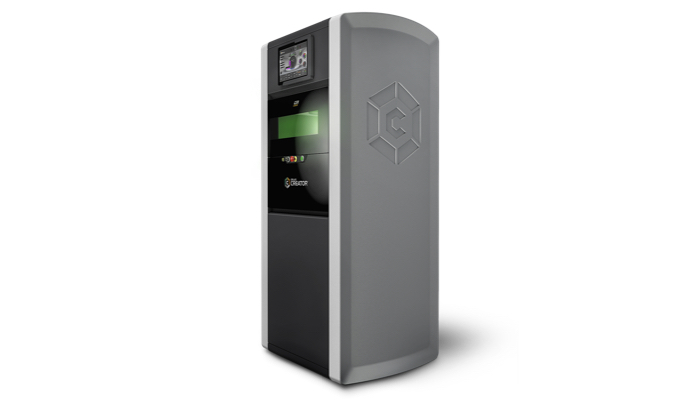 Metal 3D Printer Manufacturers: Directed Energy Deposition (DED) 
BeAM
BeAM is a French manufacturer based in Strasbourg. With 15 years of R&D experience, BeAM has developed 3 metal 3D printers based on a technology called CLAD for Direct Additive Laser Construction, developed by Irepa Laser. This process offers the possibility of repairing damaged elements since it is possible to build directly on the part. Its range includes the Modulo 250, Modulo 400 and Magic 800. In June 2018, AddUp announced that it had acquired BeAM.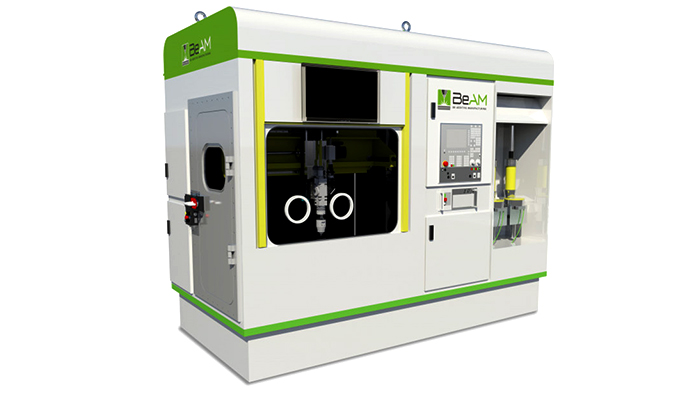 InnsTek, the Korean Metal 3D Printer Manufacturer
InssTek is a South Korean manufacturer of metal 3D printers created in 2001, has developed its own technology, Direct Metal Tooling (DMT), which is similar to the directed energy deposition. The manufacturer has launched three standard models, the MX-400, which corresponds to its entry-level model, the MX-600 and the MX-1000. They also have the new customized DMT 3D printer the MX-Grande, their largest model.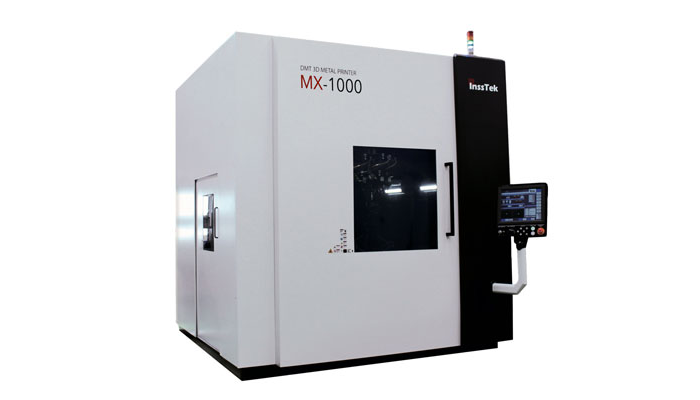 Formalloy and its DED Solutions
Formalloy specializes in the manufacture of machines that rely on direct energy deposition (DED) technology. Since its establishment in 2016, the company have greatly refined this technology and are now capable of producing impressive machinery. Formalloy's X & L-series DED systems boast a maximum deposition rate of 7kg per hour, 0.5mm resolution, a maximum powder efficiency of 95%, and up to five axes of motion. The company also offer in-process features for monitoring as well as some auxiliary OEM solutions within the field of metal additive manufacturing. These include a metal deposition head, material feeders and lasers. Formalloy also offer a service to manufacture and repair customer parts.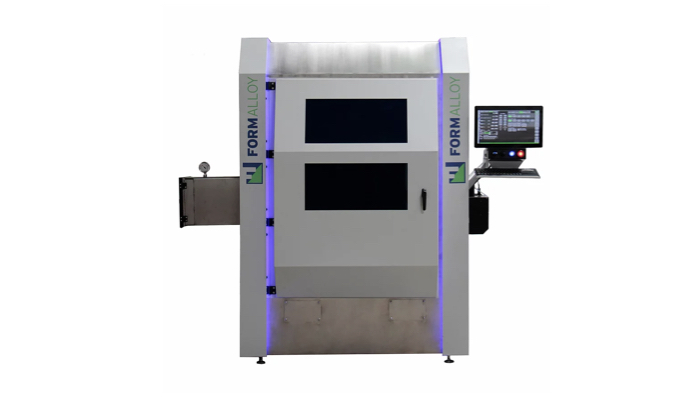 Optomec and its LENS Metal 3D Printing Technology
Optomec is an American manufacturer of metal 3D printers which, since its creation, has registered more than 35 patents and employed about 60 employees. Optomec is known for its LENS metal 3D printing technology, based on the principle of directed energy deposition technology. This company manufactured its first LENS 3D printer in 1998. It currently has 7 metal 3D printing solutions including the LENS 450 and LENS 850-R.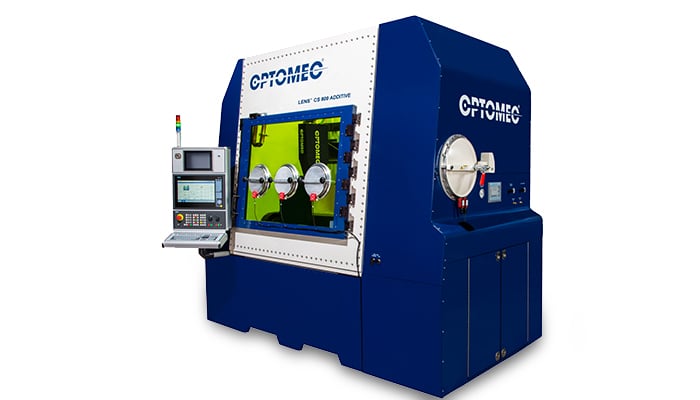 Meltio, A Collaborative Spanish-American Startup in Metal 3D Printing
Meltio was founded in 2019 through the collaboration of two companies in the additive manufacturing sector, Additec and Sicnova. Specializing in the field of 3D metal printing, the startup based between the United States and Spain uses 3E Metal Deposition technology. A process that allows the advantages of powder and wire technologies to be used in a single machine. The company's flagship product, the M450, offers great flexibility and design freedom thanks to the 3E Metal Deposition process, thanks to its ability to manufacture parts with metal rods or powder. It is also possible to combine the two materials without having to change the nozzle. According to the manufacturer, its machines are by far the most accessible in the 3D metal printing market.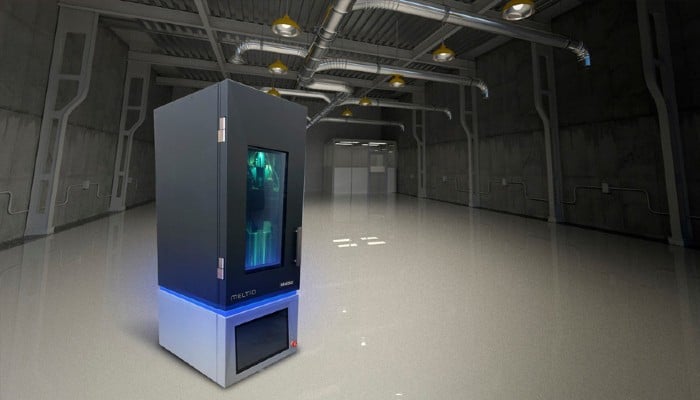 Sciaky, One of the Oldest Metal Manufacturers, and its EBAM Solutions 
Sciaky is one of the oldest companies on our list since it was founded in 1939 and at the time supplied welding systems for American aircraft during the Second World War. More recently, Sciaky has developed its Electron Beam Additive Manufacturing (EBEAM) technology. Instead of using metal powder as a source material, it uses metal rods welded via an electron beam. It now has 5 metal 3D printer models, including the EBAM 300 and EBAM 150.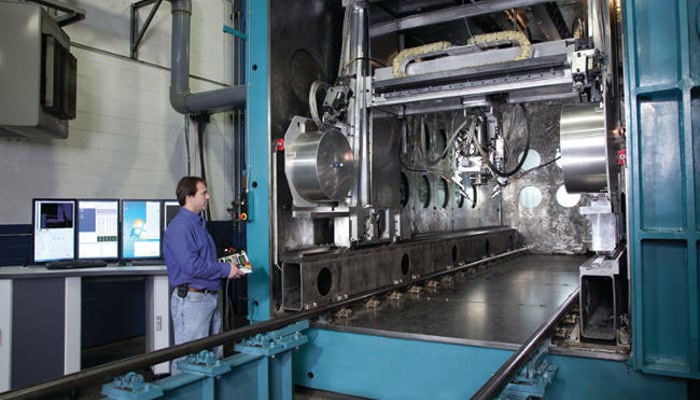 Metal 3D Printers: Material Extrusion 
Desktop Metal and its Accessible Desktop Metal 3D Printer Offerings
Desktop Metal is an American company that wants to reduce the cost and speed of additive metal manufacturing. It currently has three metal printers, the Studio System available from $120K, the Production System which costs $420K and the Shop System™. The manufacturer has already received a total investment of $200M, including from Google, BMW and GE. It has developed its own technology called "single pass jetting" which is very similar to metal injection moulding.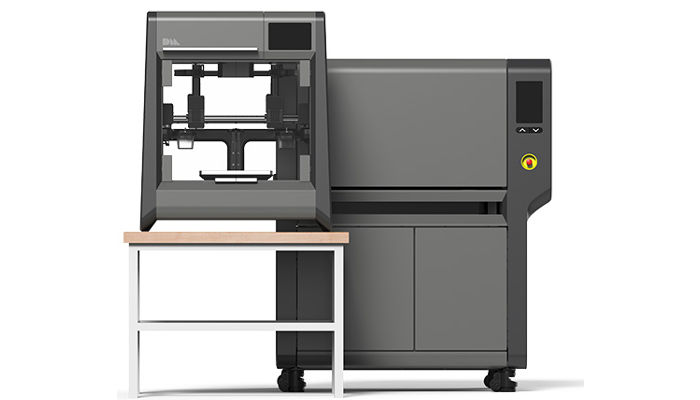 Markforged
Markforged was founded in 2013 by Greg Mark and first focused on 3D printing from carbon fibers. Since then, the company has started manufacturing metal additive manufacturing systems with Metal X. What distinguishes it from other machines is its relatively low cost since it is available from $100,000. Its Atomic Diffusion Additive Manufacturing (ADAM) technology should make it easier to create cheaper parts with a printing volume of 250 x 220 x 200 mm. Like Desktop Metal, its process is based on the MIM (Metal Injection Molding) technology already widely used in the industry.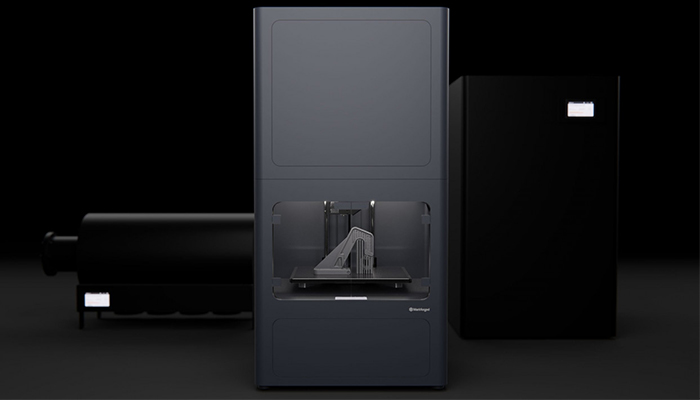 Triditive
Triditive is a Spanish company founded by Mariel Diaz in 2013, which initially focused on training in FDM technologies and the development of 3D printer kits. Today, the startup is best known for its metal additive manufacturing solution called AMCELL. The company's main goal is to make the adoption of 3D printing easier for today's industry. Specifically, Triditive's machine features automated modules based on AMD (Automated Multimaterial Deposition) technology and is capable of manufacturing metal parts by metal extrusion. This is followed by a sintering process to obtain a 100% metal part with improved surface quality. Triditive's solution has undoubtedly demonstrated the potential of additive manufacturing, and specifically, the manufacture of metal parts with more optimal and flexible processes.

Metal 3D Printers: Other Technologies 
HP Metal Jet 
More than a year ago, the American giant HP announced the launch of its first metal solution, the HP Metal Jet. Since its arrival on the market, HP has become one of the leading manufacturers of industrial 3D printers and therefore could not miss the metal. Their metal machine is based on the projection of a binder and a metal powder, solidified layer by layer by a heat source. The binder is removed directly from the 3D printer, while the sintering step must be performed in a suitable furnace.
Digital Metal
Bought by a coal mining company, Höganäs, a few years ago, Digital Metal is a growing company that has produced more than 200,000 metal objects since its creation. Its metal 3D printer, the DM P2500, is based on Binder Jetting technology, and offers a printing volume of 203 x 180 x 69 mm, on top of not requiring any printing media. It promises fast, flexible and economical production. It is also one of the few companies now offering copper as one of the material offerings.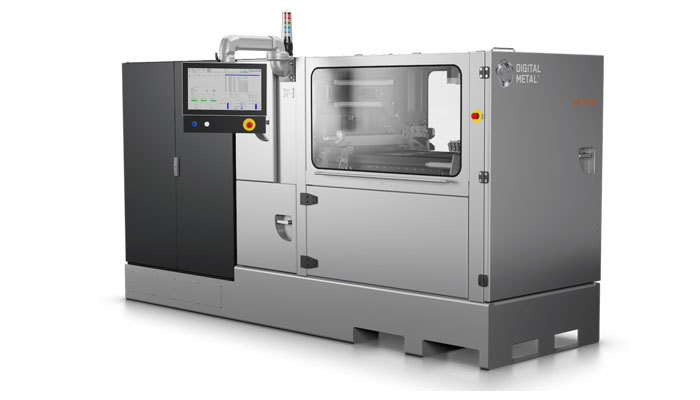 XJet and its Ceramic and Metal Binder Jetting Solutions
XJet is our only Israeli manufacturer, founded by Hanan Gothait. The company is best known for its innovative NanoParticle Jetting technology that could revolutionize metal and ceramic manufacturing. Its 3D printers allow you to create a metal object using a material composed of fine metal droplets suspended in a liquid ink. The Israeli manufacturer currently produces two printers, the X Carmel 700 and the X Carmel 1400. The video below shows the patented technology:
Xerox and its First Entry into Additive Manufacturing
In 2020, Xerox entered the additive manufacturing market by acquiring startup Vader Systems. A year later, it unveiled its ElemX machine based on a 3D liquid metal printing process. This solution uses metal wires that are melted layer by layer to obtain the final part. For the moment, it is compatible with aluminum, but other metals should gradually become available. The ElemX is currently being
tested by the U.S. Navy
to see if it will enable them to print spare parts at sea.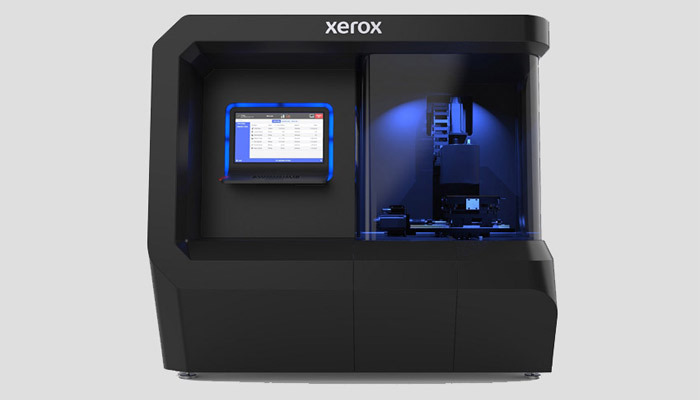 Pollen AM Unveiled a New Metal 3D Printer
The French Pollen AM recently unveiled two new 3D printers, a ceramic and a metal. The latter is also based on the indirect metal manufacturing process MIM (for Metal Injection Molding) and uses metal granules – 316L stainless steel, titanium and 17-4 stainless steel. Their 3D metal printer, the PAM Series M, is available from €68,900, one of the lowest prices on the market.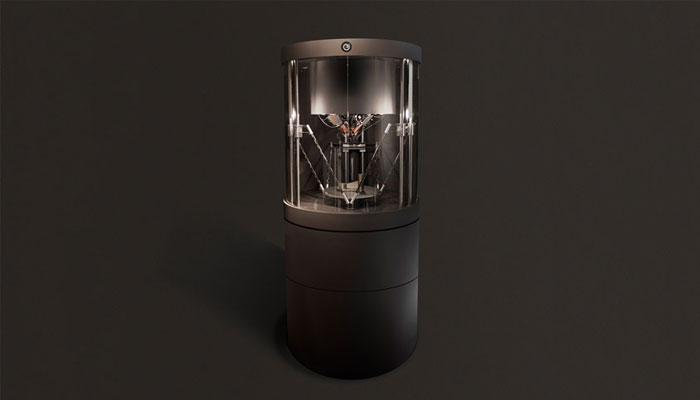 Exaddon and its CERES Print System
Exaddon's 3D metal printer, the CERES Print System can print metal with a resolution as fine as 1 µm, offering a very high level of detail. It has a chamber volume of 100 x 70 x 60 mm and prints at room temperature, with no post-processing necessary. Additionally, it can also print overhanging parts without any need for support structures, a rarity among metal AM technologies.
ADMATEC, The Metal 3D Printer from a Research Project
ADMATEC is a Dutch company founded in November 2013 after the success of a research project in 2012. It has developed its 3D metal printer, the AdMetalFlex 130, which is based on Digital Light Processing (DLP) technology. The machine mixes a photosensitive resin and a metallic powder, and uses a laser to fuse them in the same way as its 3D ceramic printer. The company has also introduced the Admaflex 300, a multi-material 3D printer that can print with both advanced ceramic and metals.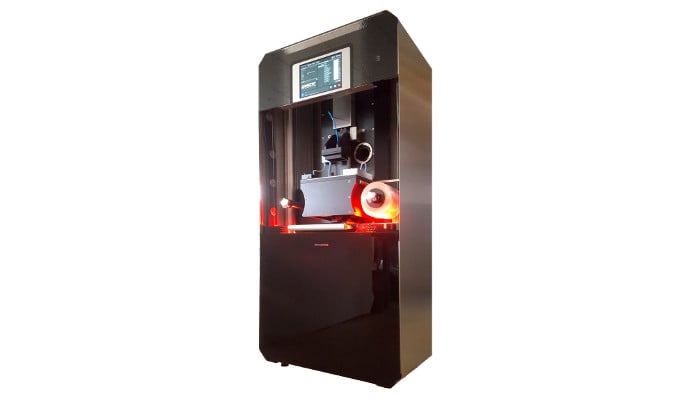 SPEE3D, Producing the World's Fastest Metal 3D Printer
SPEE3D was founded by Byron Kennedy and Steven Camilleri with the goal of making metal part manufacturing easier. So it's hardly surprising that their SPEE3D printers enable a low-cost manufacturing process for metal additives worldwide. That's because the power of kinetic energy is used for the process, rather than expensive high-powered lasers or gases. The company offers four products, ACTIVAT3D Copper, LightSPEE3D, WarpSPEE3D and SPEE3Dcell, with the latter three each being metal printers. The LightSPEE3D and WarpSPEE3D 3D printers can print metal parts with diameters of 350 mm x 300 mmm and 1000 mm x 700 mm, respectively, and are the world's first metal 3D printers with patented SPEE3D technology. The manufacturer particularly emphasizes the excellent speed and low price. The SPEE3Dcell is integrated with a heat treatment furnace and a CNC 3-axis milling machine and is perfect for prototyping. The last product that SPEE3D offers is the ACTIVAT3D copper. This is an antimicrobial copper that can be quickly applied using SPEE3D technology. In the current Covid 19 pandemic, antimicrobial copper surfaces can be incredibly useful for manufacturers, especially those working in the medical field.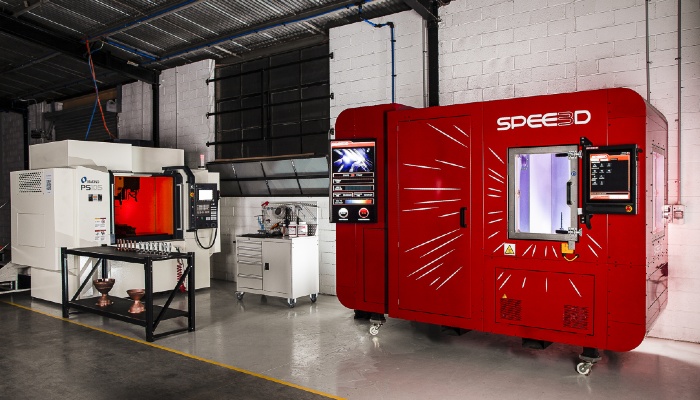 Inetyx, A Made in France Metal 3D Printer
Inetyx is a French manufacturer who has developed a metal printer which uses the AMW (Additive Micro Welding) process. In the place of using powder, this machine deposits metal strips of rectangular section which will be micro-welded by laser. The AMW 300X printer has a printing volume of 300 x 300 x 300mm. You can see more in the video below:
What do you think of these metal 3D printer manufacturers? Which is your favourite? Let us know in a comment below or on our Facebook and Twitter pages! Sign up for our free weekly Newsletter, all the latest news in 3D printing straight to your inbox!