A Comprehensive List of All the Metal 3D Printer Manufacturers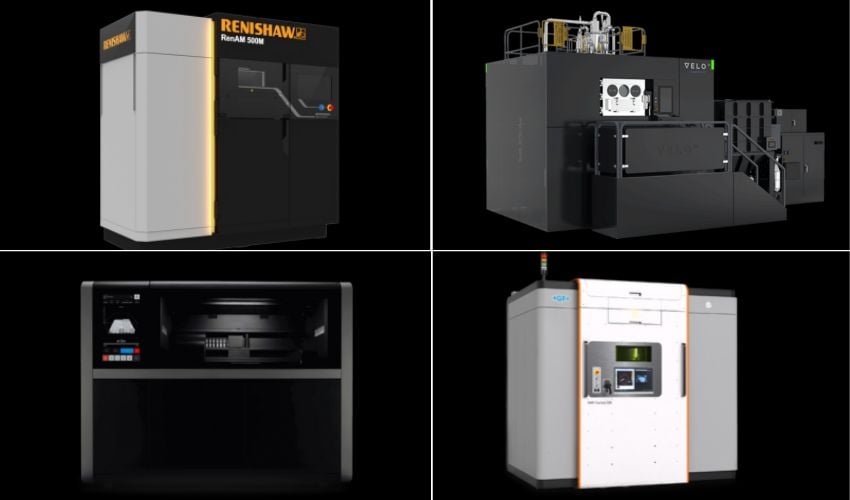 Metal 3D printing is one of the fastest growing sectors in additive manufacturing. According to a report from IDTechEx, metal 3D printing will be valued at $18B by 2032, growing at a CAGR of 18.8% . Moreover, we have seen that a number of new market players have also been joining the market, developing new 3D printers and new technologies. Indeed, in recent years, more than 40 manufacturers of metal 3D printers have emerged including a number in the United States. Many of these manufacturers have introduced new technologies to deal with this material such as SPEE3D's Cold Spray 3D printing or XJet's Inkjet technology, for example. Today we are presenting the main manufacturers of metal 3D printers, classified by additive manufacturing technology used: Powder Bed Fusion, Directed Energy Deposition, Material Extrusion or Binder Jetting. We have updated the list with some new players in the field for 2023!
Metal 3D Printer Manufacturers: Powder Bed Fusion (PBF)
3D4MEC, the Italian Startup Focusing on Steel and Brass
Italian company 3D4MEC, based in Bologna, specializes in the development and manufacture of metal 3D printers, specifically for steel and brass (a copper and zinc alloy). They have two product lines, both of which use laser powder bed fusion technology. On the one hand, there is the 3D4STEEL 3D printing system, specialized in non-reactive steel powders, fully customized for each manufacturer's production requirements. On the other, there is the 3D4BRASS manufacturing system for the creation of prototypes and pre-series directly in brass, without the use of molds or intermediate steps, thus reducing lead times and delivery times. Thanks to 3D4MEC solutions, greater practicality and ease of industrial production are guaranteed, while maintaining a high quality for the final parts.
3D Systems Offers Metal 3D Printers Among Other Solutions
3D Systems, was part of the first companies to enter the 3D printing market, introducing the first technology stereolithography (SLA) in the 80s. Today it generates more than $600 million in revenue per year thanks to the multitude of 3D printers it has developed. In 2013, it purchased the French printing brand Phenix Systems to expand into the metal segment. Its metal 3D printers use technologies called Direct Metal Printing (DMP) to build parts. They use a high-precision laser that solidifies metal powder placed on a bed. Their range of 3D printers includes the DMP Factory 500 Solution, DMP Flex 350, ProX DMP 300, the ProX DMP 200, the DMP Factory 350, DMP Factory 500 Solution and 3D printers in the dental sector such as the DMP Dental 100.
Aconity3D
Since 2014, Aconity3D has been selling modular systems for laser powder bed-based 3D  printing of metals. AconityONE, AconityMIDI and AconityMINI are basic system types and can be freely configured via add-on modules, from dual to quattro laser systems via various laser outputs and heating systems to sensor-supported process monitoring. They can therefore be tailored to special application requirements and individual budgets. In terms of ease-of-use, Aconity3D is currently developing the 3DMetalWIRE, a wire-based 3D laser printing system without complex powder handling, and has released the AconityMICRO, a compact LBM production system designed for micro L-PBF.
AddUp, Metal 3D Printers From Michelin and Fives 
AddUp was founded in 2016 as a joint venture between Michelin (the brand's official entry into additive manufacturing after using metal 3D printers to make its products for a number of years) and Fives. The first metal 3D printer developed by the company is called FormUp 350 and is still available. This solution is a laser powder bed fusion 3D printer and can produce metal parts up to 350 x 350 x 350mm. The FormUp 350 can manufacture pieces from stainless steel, nickel, titanium alloys and aluminum alloys and also is available in an upgraded form as the aptly-named FormUp 350 EVOLUTION. Moreover, since its acquisition in 2018 of BeAM, AddUp now also offer two DED solutions, the Modulo 400  and Magic 800. Both are high power and allow for high volume printing thanks to their large build envelopes and are compatible with two nozzles of different sizes and power.

EOS and its Range of Powder Bed Solutions
EOS is an additive manufacturing company of German origin, founded as Electro Optical Systems by Dr. Hans J. Langer and Dr. Hans Steinbichler in 1989. EOS operates in the polymer 3D printing market with a range of Selective Laser Sintering (SLS) 3D printers, and is also found in the metal AM industry. The company has developed a range of Direct Metal Laser Sintering (DMLS) 3D printers. It currently has five different models, these include the EOS M 300-4 und EOS M 400 and EOS M100 models.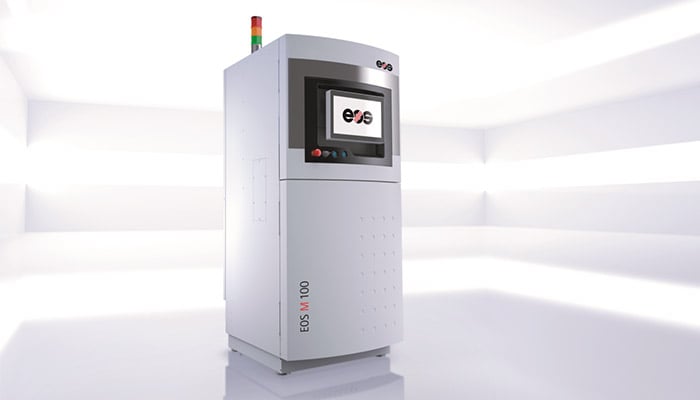 Farsoon and its Focus on Industrial Metal Printing in China
With headquarters in China, North America and Europe, Farsoon Technologies offers a range of metal printing solutions for a variety of applications. The company specializes in laser melting. The Chinese manufacturer, which was founded in 2009, claims it is the leading supplier when it comes to industrial 3D printing in China. However, the company has also been able to gain a foothold at the international level. For example, the CAMS FS421M 3D printer was launched on the European market in 2022. This metal 3D printer, with a machine size of 2770×3220×2350 mm, can produce parts as large as 425×425×420 mm. It uses laser melting technology, and users have the option of using a dual laser. As for the compatible materials, the metal printer can manufacture with copper, titanium and aluminum, among others.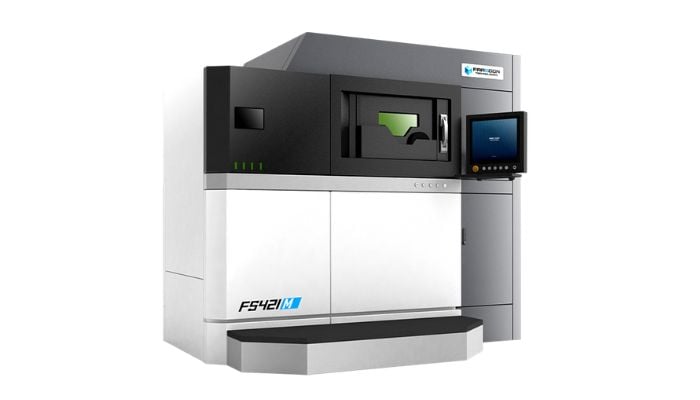 GE Additive, a Major Player in Metal 3D Printing
GE Additive is a major player in metal additive design and manufacturing. With its advanced machine, software and powder solutions, the company offers its services to many sectors such as aerospace, medical and automotive. With the acquisition of the Arcam and Concept Laser brands, the company has expanded its expertise in metal 3D printing. GE Additive is thus able to provide solutions using Arcam's powder bed fusion technologies, particularly electron beam. AP&C, a supplier of metal powders, is also at GE Additive's service to ensure the production of high quality metal parts at competitive prices.
Matsuura
Based in Japan, the metal 3D printer manufacturer was founded in 1935 and currently employs 300 people worldwide. It markets hybrid 3D printers that combine CNC milling and subtractive manufacturing processes with additive manufacturing such as powder bed fusion. The company sells two models, the LUMEX Avance-25 and the LUMEX Avance-60.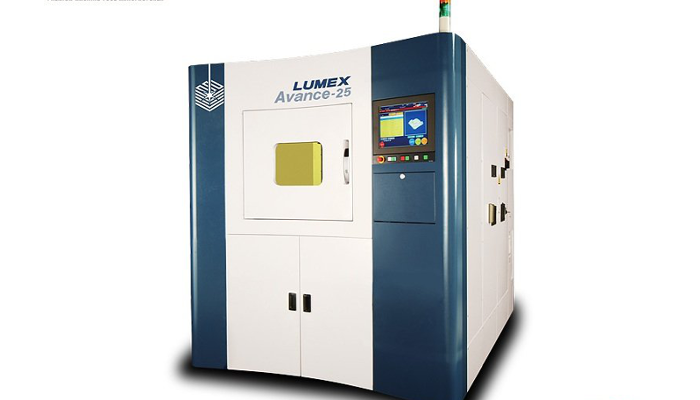 One Click Metal
One Click Metal is a German company based in Tamm, near Stuttgart, which is specialized in manufacturing PBF metal 3D printer solutions. Its main objective is to simplify and make metal additive manufacturing technology accessible to everyone. In addition, One Click Metal demonstrates its commitment to sustainability by using 100% electricity from renewable sources. One Click Metal offers a complete package for metal 3D printing consisting of a starter package called M PREP, M ONE software where to load designs made in CAD programs, the M PRINT 3D printer and the M PUREpro, a 2-in-1 unpacking and sieving station. The M PRINT 3D printer features a powerful 200W fiber laser, which guarantees high productivity and precision in the printing process. Its build volume is 150 mm x 150 mm x 150 mm and machine dimensions are 1.1 x 1.9 x 0.79 m, weighing 440 kg.
Prima Additive
Prima Additive is part of the Prima Industrie Group, a leader in the development of industrial laser systems and manufacturing solutions for additive manufacturing applications. The manufacturer, based in Turin, Italy, offers 3D printers of laser technologies Powder Bed Fusion (PBF) and also DED, and has been able to establish itself in more than 40 years of experience in several industries, including aerospace, automotive, medical and dental. Moreover, the solutions are compatible with a range of metal alloys including as alumium, steel, and titanium alloys. Currently, the manufacturer offers several metal 3D printing solutions using PBF, including the 150 Family, which includes the Print Sharp 150, Print Genius 150 and Print Green 150, and the 300 Family, which includes the Print Sharp 300, Print Genius 300 and Print Brilliance 300 with various laser configurations.
Renishaw, the UK-Based Metal 3D Printer Provider
Renishaw is a UK additive manufacturing company based in Gloucestershire, in the UK. The company specialises in the creation of industrial 3D printers that create lightweight, customised metal models quickly using powder bed fusion technology. Since entering the metal 3D printing market, Renishaw has launched multiples metal printers. Currently, two of these systems are available, the RenAM 500Q and the RenAM 500s. These models offer a 3D printing solution according to different needs, have different speeds and different construction sizes.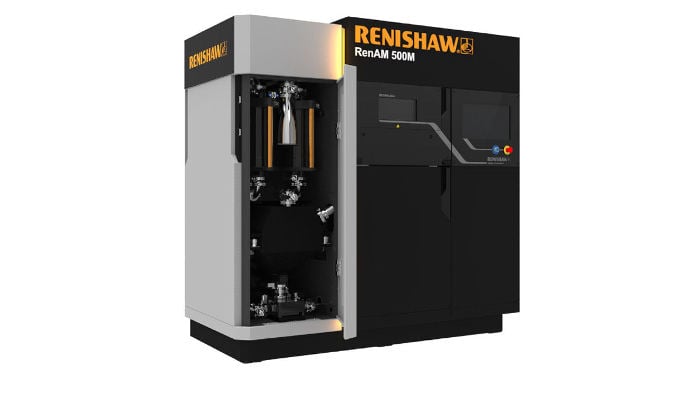 SamyLabs
SamyLabs, a relatively new manufacturer founded in 2016, situated in Bizkaia, Spain, specializes in laser beam powder bed fusion technology for additive manufacturing and is committed to the design, production, and marketing of metal 3D printers. It is the first Spanish company to create a metal 3D printer using this technology, and it has full control over all aspects of it, including rolling software, firmware, and electrical design. They offer the Alba 300, a metal 3D printer intended to function in both industrial and office settings, made in collaboration with ONA.
Sisma, an Italian 3D Printing Company
Sisma is an Italian 3D printing company that has operated in different industries since the 1960s. Not that long ago it decided to join additive manufacturing. Since their beginnings into the 3D industry they have already launched ten metal 3D printers based on Laser Metal Fusion (LMF) technologies. They introduced their so-called MYSINT series which uses the following technology. Sisma's 3D printers have been designed to meet the requirements of 4 specific industries: dental, jewelry, medical and industrial production in general.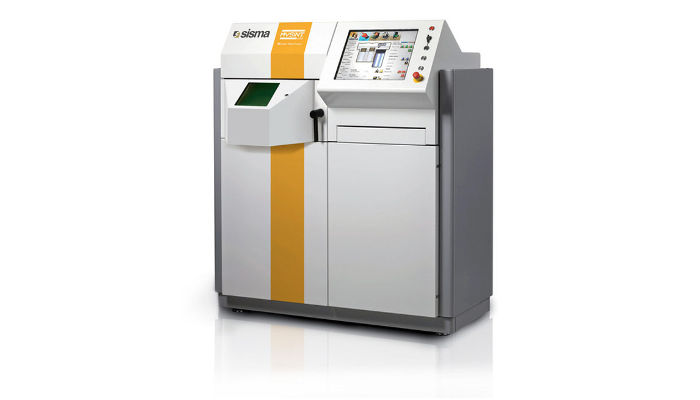 Sharebot
An Italian company, Sharebot started at the end of 2013 when one of the founders read an article about Andrea Radaelli, one of the first people in Italy to create a 3D printer. They work in a number of industries. They have a number of printers available, though most use FDM. However, they do have one metal printer, the Sharebot metalONE. The Sharebot metalONE uses Direct Metal Laser Sintering and is aimed at the research and production of small and medium sized metal parts. The print area is 65 x 65 x 100 mm (2.6 x 2.6 x 3.9 in) and has a layer high of 5 micron – 200 micron. The printer is compatible with 316L Steel and Cobal Chrome (CoCrMo). Sharebot mentions that the printer could be used in the dental, jewelery, and industry sectors.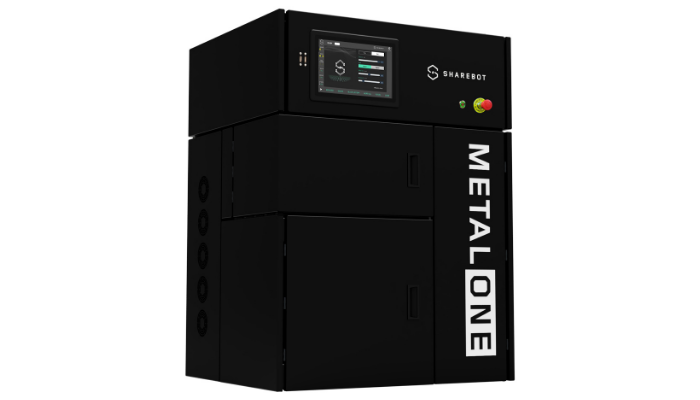 SLM Solutions, One of the Original Metal 3D Printer Manufacturers
SLM Solutions is a German manufacturer of 3D printers dating from the 1960s, and has since been recognized in the sector of metal 3D printing as one of the leaders in sales. They currently have 6 metal 3D printers on the market: SLM 500, SLM 280 2.0, SLM 280 Production Series, SLM 800, SLM 125 and NXG XII 600. These 3D printers are based on DMLS technology, patented as SLM Selective Laser Melting (SLM). SLM Solutions' 3D printers feature multiple laser options, bi-directional coating and closed-loop powder handling to create complex metal parts by solidifying the metal powder layer by layer.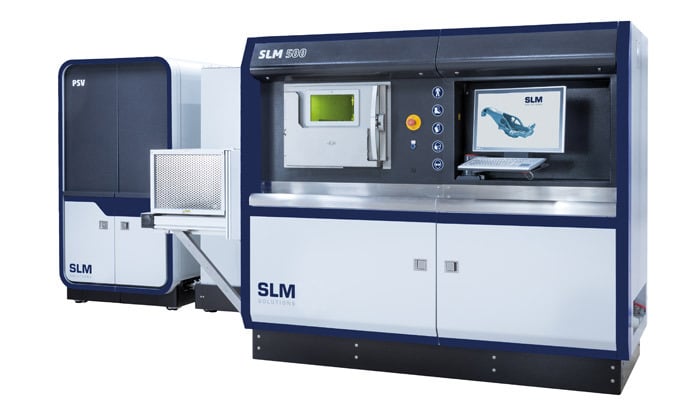 Trumpf, Metal 3D Printing for Tooling
Trumpf is another German manufacturer, specialized in the development of machine tools. Since, the company launched on the 3D printing market and introduced 3D printers based on two different technologies in addition to its laser metal coating technology. First, they launched give printers with Laser Metal Fusion (LMF) technology (a process similar to DMLS), including the TruPrint 3000 model. In addition, they have launched two printers based on Laser Metal Deposition technologies, similar to what we now know as melt deposition. In this category is the TruLaser Cell 3000.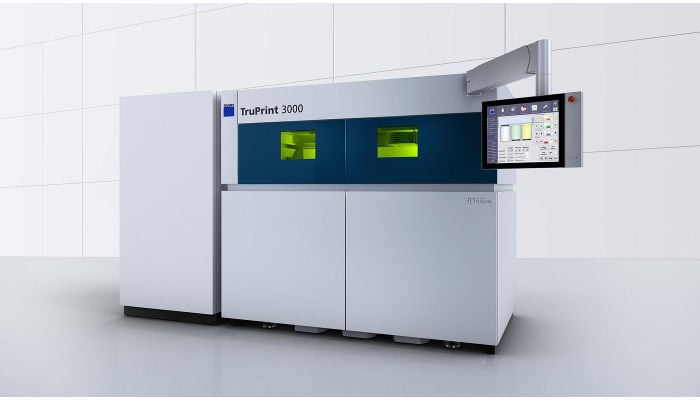 Velo3D, Metal Technologies Without the Need for DfAM
Velo3D is an American manufacturer founded by Benny Buller who wanted to help companies adopt metal technologies by developing the 3D Flow software™. This allows the acceleration of design in 3D printing and enables to collaborate with engineers for the design and preparation of parts for 3D printing. To complete its developments, in 2018 the company created its 3D printer Sapphire™ System, equipped with the patented Intelligent Fusion technology™, based on a powder bed. The machine is capable of printing complex parts using few supports, unlike competing solutions.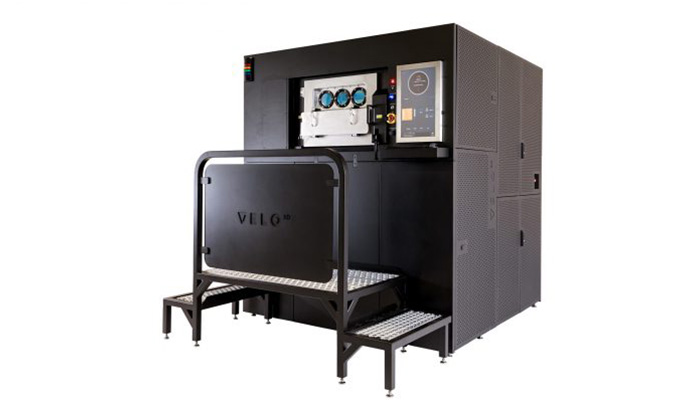 Xact Metal
Founded in 2017, Xact is located in Pennsylvania and operates out of Penn State University's Innovation Park, which is home to some of the leading tech companies in Pennsylvania. Their stated goal is to make metal 3D printing affordable to more people and have a long-term contract with the US Government. They currently have three metal 3D printers available, the XM200C, the XM200S and their latest model the XM300c. While the first two printers use laser-based powder-bed fusion technology through their patnent-pending Xact Core™ technology. The XM300C offers a large build volume (10 x 13 x 13 in; 254 x 330 x 330 mm) and two or four high-precision independent multi-lasers. They claim that this will allow components to be printed up to four times faster. It has two feed chambers to lower build time and increase productivity.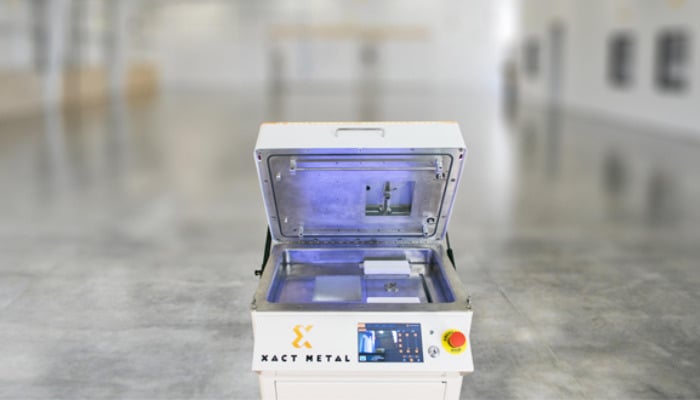 Metal 3D Printer Manufacturers: Directed Energy Deposition (DED)
Addilan
Addilan was established in 2017 in Spain by Ona Electroerosión and Maher Holding. These two machine tool manufacturers had decades of experience in the field and wanted to diversify. With the objective of developing an alternative solution to make production more competitive, Addilan developed a solution using WAAM (Wire Arc Additive Manufacturing) technology, a part of the Directed Energy Deposition (DED) family. This welding method consists of superimposing layers of metal wires, with steel, titanium or aluminum alloys and superalloys as materials. The company has positioned itself in the niche of high-performance 3D printers dedicated to high-value, medium- to large-sized metal components, thus establishing itself in demanding industrial sectors such as aeronautics, aerospace, energy and the maritime sector.
DMG Mori 
DMG Mori is a global full-line supplier with more than 20 years of experience in Additive Manufacturing of metal components. The manufacturer offers complete process chains for additive processes with DED and SLM (L-PBF) technology. Specifically, the proposed solutions for SLM technology are the Lasertec 12 and Lasertec 30 Dual, with a build volume of up to 300 x 300 x 350 mm and open system. For DED technology, on the other hand, the offer is broader, with solutions including hybrids: Lasertec 65 DED and DED hybrid; Lasertec 125, 3000 and 6600 DED hybrid.
Formalloy and its DED Solutions
Formalloy specializes in the manufacture of machines that rely on direct energy deposition (DED) technology. Since its establishment in 2016, the company have greatly refined this technology and are now capable of producing impressive machinery. Formalloy's X & L-series DED systems boast a maximum deposition rate of 7kg per hour, 0.5mm resolution, a maximum powder efficiency of 95%, and up to five axes of motion. The company also offer in-process features for monitoring as well as some auxiliary OEM solutions within the field of metal additive manufacturing. These include a metal deposition head, material feeders and lasers. Formalloy also offer a service to manufacture and repair customer parts.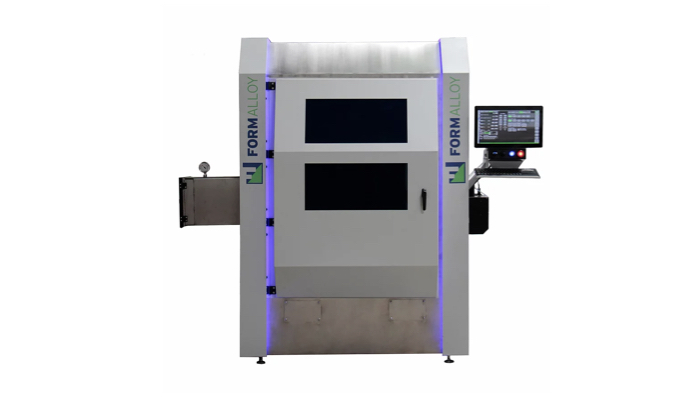 Gefertec
Gefertec was founded in Berlin in 2015 and is today best known for its 3DMP® technology. Here, the WAAM process (Wire Arc Additive Manufacturing) is combined with a CNC machine system. In addition, the technology includes integrative CAM software and quality assurance. The company offers the ARC 605 and ARC 603, where the last digit stands for the number of axes for manufacturing. While the ARC 603 can produce metal parts up to 3.0 m³ with a maximum mass of 3000 kg, the ARC 605 produces parts as large as 0.8 m³ with a maximum mass of 500 kg.
InnsTek, the Korean Metal 3D Printer Manufacturer
InssTek is a South Korean manufacturer of metal 3D printers created in 2001, has developed its own technology, Direct Metal Tooling (DMT), which is similar to the directed energy deposition. The manufacturer has launched three standard models, the MX-400, which corresponds to its entry-level model, the MX-600 and the MX-1000. They also have the new customized DMT 3D printer the MX-Grande, their largest model.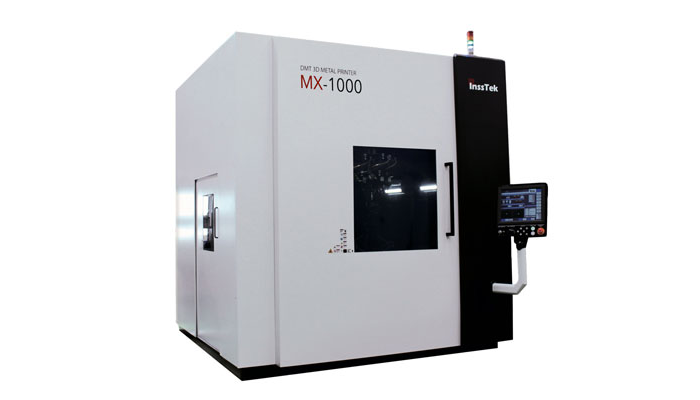 Optomec and its LENS Metal 3D Printing Technology
Optomec is an American manufacturer of metal 3D printers which, since its creation, has registered more than 35 patents and employed about 60 employees. Optomec is known for its LENS metal 3D printing technology, based on the principle of directed energy deposition technology. This company manufactured its first LENS 3D printer in 1998. It currently has 7 metal 3D printing solutions including the LENS 450 and LENS 850-R.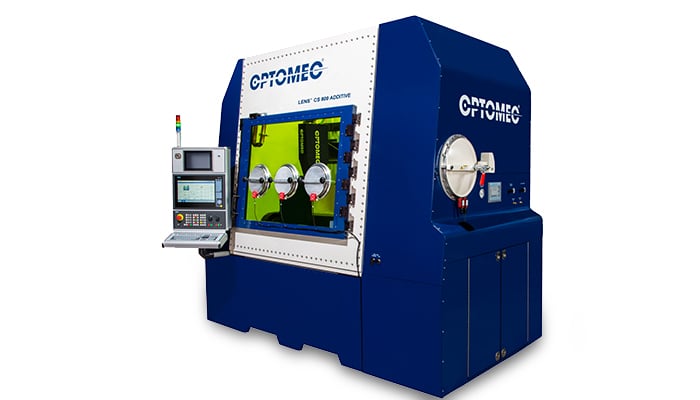 Meltio, A Collaborative Spanish-American Startup in Metal 3D Printing
Meltio was founded in 2019 through the collaboration of two companies in the additive manufacturing sector, Additec and Sicnova. Specializing in the field of 3D metal printing, the startup based between the United States and Spain uses 3E Metal Deposition technology. A process that allows the advantages of powder and wire technologies to be used in a single machine. The company's flagship product, the M450, offers great flexibility and design freedom thanks to the 3E Metal Deposition process, thanks to its ability to manufacture parts with metal rods or powder. It is also possible to combine the two materials without having to change the nozzle. According to the manufacturer, its machines are by far the most accessible in the 3D metal printing market.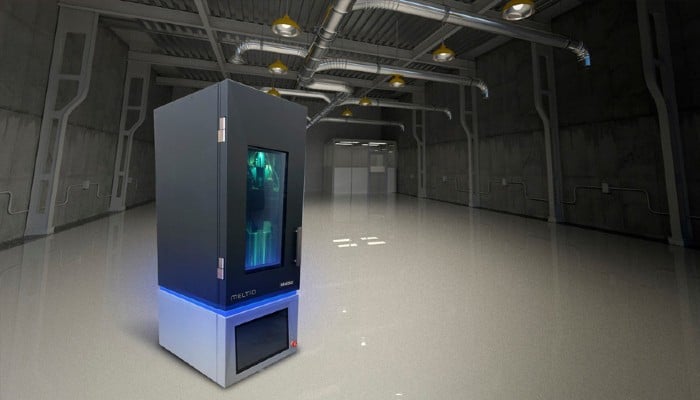 MX3D
MX3D is a Netherlands-based company that develops metal 3D printing solutions using WAAM technology, a robotic welding method that produces parts by layering layers of metal wires. MX3D has developed MetalXL, the first dedicated robotic wire arc additive manufacturing (WAAM) workflow to move from CAD programs to print in one go in part design and development. MX3D enables large-scale 3D metal printing by bringing together its patented technology, a standard industrial robot and a power source with both its MetalXL platform and its M1 Metal AM turnkey system. The robot has 6 to 8 axes and an intelligent process controller with real-time feedback and high-resolution data logging. One of the best known examples we have seen in the use of this metal 3D printer was the creation of a 3D printed metal bridge by MX3D, currently installed in the center of Amsterdam.
Norsk Titanium
Norsk Titanium is a specializes in the development of DED 3D printing solutions, using the company's patented the Rapid Plasma Deposition (RPD) process. This technique consists of melting a metal wire, with plasma as a heat source, in an inert environment of argon gas. The objective of this 3D printing solution is simple: to use less material and reduce machining, manufacturing time and inventory. Among the 3D printers offered by Norsk Titanium, we can count the MERKE IV, an industrial machine capable of producing parts measuring 900 x 600 x 300 mm. According to the manufacturer, this is a 4th generation production solution. It is designed for the production of parts suitable for demanding sectors such as aerospace. The 3D printer is compatible with titanium, nickel alloys, steel and stainless steel.
Sciaky, One of the Oldest Metal Manufacturers, and its EBAM Solutions 
Sciaky is one of the oldest companies on our list, it was founded in 1939 and at the time supplied welding systems for American aircraft during the Second World War. More recently, Sciaky has developed its Electron Beam Additive Manufacturing (EBEAM) technology. Instead of using metal powder as a source material, it uses metal rods welded via an electron beam. It currently has five different metal 3D printer solutions, including the EBAM 300 and EBAM 150.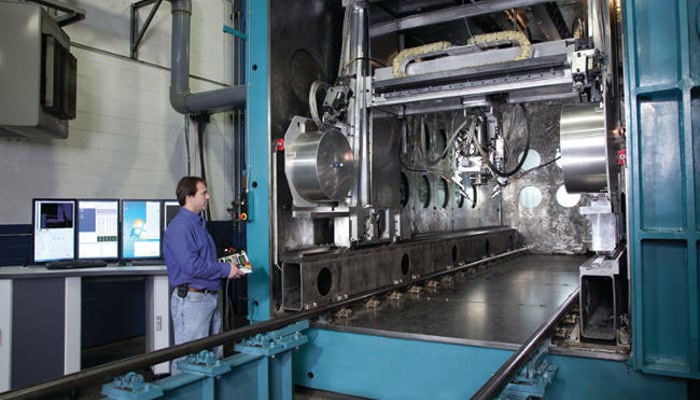 Sotimeco
Sotimeco, a French manufacturer based in the New Aquitaine region, specializes in the development of machines for additive metal manufacturing using the DED process including the GICAM 1500 DED printer. With a print volume of 1,500 x 500 x 500 mm and a maximum build speed of 40 mm/sec, Sotimeco's printer is capable of processing material in both powder and wire form. It features a 1 kW PRC-C 1000 fiber laser source and a 6 x 2.5 m cabin with integrated dust collection and filtration system.
WAAM3D
WAAM3D (Wire Arc Additive Manufacturing 3D) is a pioneering metal 3D printing company from Cranfield University in the United Kingdom. WAAM, the technology used, is a form of additive manufacturing that uses electric arcs to melt and deposit metal wire layer by layer, allowing for the construction of large scale metal components with an enhanced structure. By using robotic arms and a wire feedstock, like with roboWAAM – the company's wire arc additive manufacturing machine, complex geometries and structures can be created with high precision.
Metal 3D Solutions: Material Extrusion
Markforged
Markforged was founded in 2013 by Greg Mark and first focused on carbon fiber 3D printing. Since then, the company has started manufacturing metal extrusion additive manufacturing systems with Metal X. Moreover, it has also moved into metal binder jetting, in 2022 the company acquired Digital Metal and its technology, integrating it intoits design and printing platform, Digital Forge. Digital Metal's technology is known for its high productivity and excellent resolution and surface quality. Markforged's goal is to eventually produce high-precision metal end parts in large production runs, and to do so in a distributed manner through its global presence. With its new positioning, Markforged plans to enter new sectors, including medical, automotive and luxury goods.
Triditive
Triditive is a Spanish company founded by Mariel Diaz in 2013, which initially focused on training in FDM technologies and the development of 3D printer kits. Today, the startup is best known for its metal additive manufacturing solution called AMCELL. The company's main goal is to make the adoption of 3D printing easier for today's industry. Specifically, Triditive's machine features automated modules based on AMD (Automated Multimaterial Deposition) technology and is capable of manufacturing metal parts by metal extrusion. This is followed by a sintering process to obtain a 100% metal part with improved surface quality. Triditive's solution has undoubtedly demonstrated the potential of additive manufacturing, and specifically, the manufacture of metal parts with more optimal and flexible processes.

ValCUN
ValCUN is a young Belgian company that has developed a metal 3D printing solution using Molten Metal Deposition technology. Their Minerva solution produces parts by melting a metal filament, just as is done in the polymer 3D printing (FFF) process. The 3D printer is designed specifically for additive manufacturing of aluminum parts, but it comes with open parameters and an open material system. The data acquisition and nozzle architecture are also open, leaving the user free to modify the parameters for their own needs.
Metal 3D Printer Manufacturers: Binder Jetting
Desktop Metal
Desktop Metal is an American company that since its founding in 2015 has focused on lowering the cost of 3D printing complex metal objects and accelerating the production of those metal parts. Desktop Metal's big goal is to take additive manufacturing to the next level and permanently change mass production. The company defines this vision as "AM 2.0." Although Desktop Metal focused more on extrusion with metal in its early days, the company is increasingly expanding into metal binder jetting. Desktop Metal currently carries four series of systems with printers in its range, which mainly work with binder jetting technology. The Production System™ series includes the P1 and P50 high-speed metal printers. The X-Series combines binder jetting with metal and ceramics and includes the InnoventX, X25Pro and X160Pro models. The X-Series originally came from ExOne, but has continued at Desktop Metal since the 2021 acquisition. While the Shop System™ series is focused on volume production of custom metal parts, the Studio System™2 is primarily of interest for office-friendly metal part production. The Studio System™2 is based on extrusion and its simple 2-step process makes it extremely user-friendly for small-scale production and prototyping.
HP Metal Jet 
More than a year ago, the American giant HP announced the launch of its first metal solution, the HP Metal Jet. Since its arrival on the market, HP has become one of the leading manufacturers of industrial 3D printers and therefore could not miss the metal. Their metal machine is based on the projection of a binder and a metal powder, solidified layer by layer by a heat source. The binder is removed directly from the 3D printer, while the sintering step must be performed in a suitable furnace.
Sinterjet, the Desktop Binder Jetting Solution
Headquartered in Istanbul, Turkey-based Sinterjet is dedicated to the development and manufacture of advanced metal additive manufacturing solutions. Showcased at Formnext 2022, its flagship Sinterjet M60 solution uses binder jetting to create precise metal parts. Characteristic of the company, and specifically of this machine, is its strikingly compact size. Compared to other 3D printers on the market, the M60 is a desktop solution capable of creating complex parts with a maximum size of 160 x 60 x 60 mm and with minimal effort required from users. This fulfills one of Sinterjet's missions: to offer more compact solutions, with a simplified workflow and built-in processing power.
Metal 3D: Other Technologies
ADMATEC, the Metal 3D Printer From a Research Project
ADMATEC is a Dutch company founded in November 2013 after the success of a research project in 2012. It has developed its 3D metal printer, the AdMetalFlex 130, which is based on Digital Light Processing (DLP) technology. The machine mixes a photosensitive resin and a metallic powder, and uses a laser to fuse them in the same way as its 3D ceramic printer. The company has also introduced the Admaflex 300, a multi-material 3D printer that can print with both advanced ceramic and metals.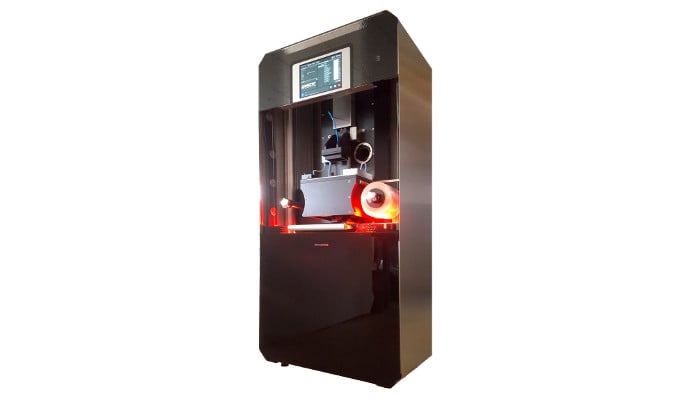 Exaddon and its CERES Print System
Exaddon's 3D metal printer, the CERES Print System can print metal with a resolution as fine as 1 µm, offering a very high level of detail. It has a chamber volume of 100 x 70 x 60 mm and prints at room temperature, with no post-processing necessary. Additionally, it can also print overhanging parts without any need for support structures, a rarity among metal AM technologies.
Inetyx, A Made in France Metal 3D Printer
Inetyx is a French manufacturer who has developed a metal printer which uses the AMW (Additive Micro Welding) process. In the place of using powder, this machine deposits metal strips of rectangular section which will be micro-welded by laser. The AMW 300X printer has a printing volume of 300 x 300 x 300mm. You can see more in the video below:
Pollen AM Unveiled a New Metal Solution
The French Pollen AM recently unveiled two new 3D printers, a ceramic and a metal. The latter is also based on the indirect metal manufacturing process MIM (for Metal Injection Molding) and uses metal granules – 316L stainless steel, titanium and 17-4 stainless steel. Their 3D metal printer, the PAM Series M, is available from €68,900, one of the lowest prices on the market.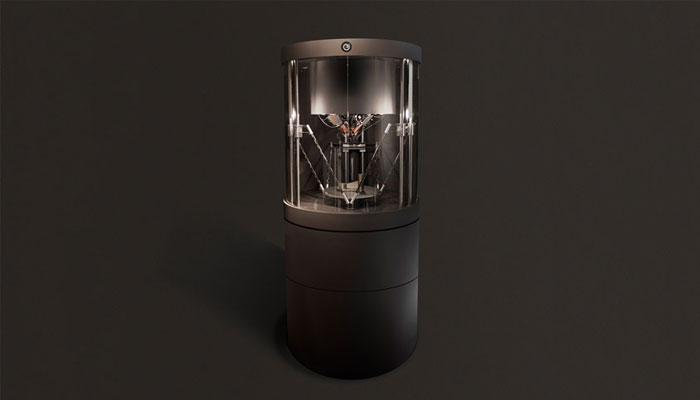 SPEE3D, Producing the World's Fastest Metal 3D Printer
SPEE3D was founded by Byron Kennedy and Steven Camilleri with the goal of making metal part manufacturing easier. So it's hardly surprising that their SPEE3D printers enable a low-cost manufacturing process for metal additives worldwide. That's because the power of kinetic energy is used for the process, rather than expensive high-powered lasers or gases. The company offers four products, ACTIVAT3D Copper, LightSPEE3D, WarpSPEE3D and SPEE3Dcell, with the latter three each being metal printers. The LightSPEE3D and WarpSPEE3D 3D printers can print metal parts with diameters of 350 mm x 300 mmm and 1000 mm x 700 mm, respectively, and are the world's first metal 3D printers with patented SPEE3D technology. The manufacturer particularly emphasizes the excellent speed and low price. The SPEE3Dcell is integrated with a heat treatment furnace and a CNC 3-axis milling machine and is perfect for prototyping. The last product that SPEE3D offers is the ACTIVAT3D copper. This is an antimicrobial copper that can be quickly applied using SPEE3D technology. In the current Covid 19 pandemic, antimicrobial copper surfaces can be incredibly useful for manufacturers, especially those working in the medical field.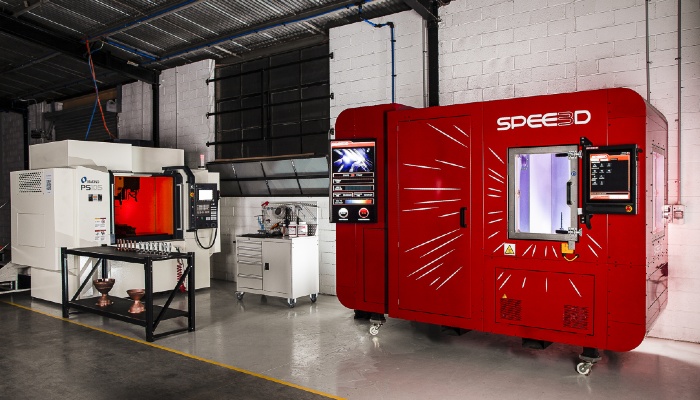 XJet and its Ceramic and Metal Binder Jetting Solutions
XJet is the only Israeli manufacturer on the list. Founded by Hanan Gothait, the company is best known for its innovative NanoParticle Jetting technology that could revolutionize metal and ceramic manufacturing. Its 3D printers allow you to create a metal object using a material composed of fine metal droplets suspended in a liquid ink. The Israeli manufacturer currently produces two printers, the X Carmel 700 and the X Carmel 1400. The video below shows the patented technology:
What do you think of these metal 3D printer manufacturers? Which is your favorite? Let us know in a comment below or on our Facebook and Twitter pages! Sign up for our free weekly Newsletter, all the latest news in 3D printing straight to your inbox!