CHIRON Group launches first metal 3D printer for wire and powder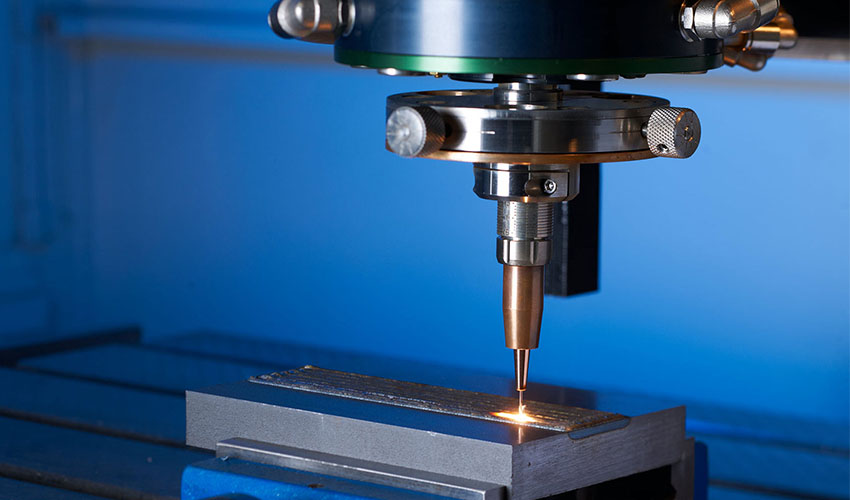 The CHIRON Group, specialist in the field of CNC equipment such as CNC-controlled vertical milling, has developed the AM Cube. It is the group's first 3D printer for manufacturing larger and more complex metal components. The AM Cube is based on a technology similar to Directed Energy Deposition (DED). DED is at the frontier of material extrusion and powder bed fusion (PBF), meaning that it uses a focused energy source such as a laser to melt the metal at the same time as it is being deposited by the nozzle of the 3D printer. This 3D printing technology is often used in AM to repair damaged parts.
One of the interesting features of the AM Cube is that the print head can be changed during an active printing or coating process. In fact, the system includes an automatic head change option. One print head could be used to achieve a high surface quality, and another could be used to achieve a high deposition rate for example. In total, the AM Cube has three print heads that can be interchanged for an increased level of flexibility.
AM Cube works with wire and powder
Additionally, CHIRON Group announced that their system can work with metal wire and powder. This is quite a rare, yet interesting feature in the industry. Meltio, a company specializing in metal 3D printing, has developed a technology that can also work with both wires and powders on the same printhead. This technology made some noise when it was revealed during Formnext 2019, adding freedom and new possibilities to manufacturing. In fact, CHIRON Group explains that while coating with powder is the most commonly used process in metal additive manufacturing, wire-based laser metal deposition offers better safety characteristics and an impressive reduction in waste material.
The system is designed as a platform, therefore on top of its 3D printing capabilities, it can be reconfigured to 5-axis machining with relatively little effort. Additionally, the AM Cube is equipped with sensors to meet all relevant safety requirements for operation without monitoring by the operator. If the AM Cube is used to machine particularly reactive materials such as titanium, the entire system can be flooded with protective gas to reduce oxidation, enabling manufacturing to be performed under a protective gas atmosphere for several hours.
Even though this is the group's first 3D printing platform, it is confident that solutions for AM will be essential for industrial sectors. Axel Boi, Head of Additive Manufacturing at the CHIRON Group comments: "The Additive Manufacturing department is a start-up within our own business group. With this 3D metal printer, made by CHIRON, we are creating a facility for manufacturing larger components with long procurement times and high material prices. This technology can be used effectively in the mechanical engineering, tool manufacturing, energy production and aerospace sectors."
*Cover Image Credits: Jürgen Jeibmann, Fraunhofer IWS Dresden
What do you think of this new 3D printer from CHIRON Group? Let us know in a comment below or on our Facebook and Twitter pages! Don't forget to sign up for our free weekly Newsletter, with all the latest news in 3D printing delivered straight to your inbox!