Meltio M450, a metal 3D printer for industrial needs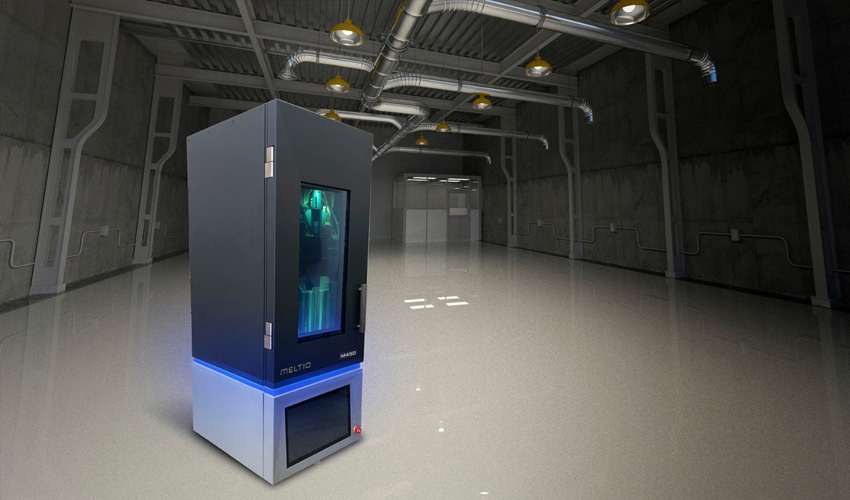 Metal 3D printing is undoubtedly one of the most prominent 3D printing technologies of the last decade, its growth is due to the arrival of increasingly accessible and easily adoptable solutions. According to Technavio's study, the growth of metal technologies is estimated to be 14% per year until 2024. Thus, this market will be worth $4.42 billion in the next few years. Behind this growth are the companies that have bet on innovation in the metal field. One of the brands that has brought metal 3D printing closer to users is the manufacturer Meltio, also known for its Meltio M450 3D printer.
The 3D printer was unveiled during the last edition of Formnext: it uses technology developed by Meltio which is capable of manufacturing with metal powders or wires, or even combining both types of techniques on the same piece, and with no need to change print heads. The result is metal parts with 100% density, a very attractive feature for sectors such as aerospace or automotive, as it increases the efficiency of parts. In order to let users access and understand all the features of its M450 3D printer, the manufacturer has launched several online resources available to users of their technology.
Demo of the Meltio M450
Many are curious about metal additive manufacturing as the technology can be difficult to fully grasp. To answer users' questions and doubts, the Meltio team will be giving a live demonstration of their technology on April 29. From their R&D center in Las Vegas, they will talk in detail about the software behind their metal machine, demonstrate how their metal 3D printing technology works, and what it is capable of achieving. The meeting will take place at 16:00 CET (9:00 GMT-7) and will be attended by the creators of Meltio's patented technology. Success stories of pieces that have begun to be used in the industry will be shown. You can sign up to attend HERE.
Lease-to-Own program for its metal 3D printer
The current COVID-19 pandemic has slowed down the industry, and many companies have been limited in their resources to acquire additive manufacturing solutions. That's why the Meltio team has decided to create a financing plan, backed by HP Financial Services, for the purchase of their machine – at € 1,600 per month, you will be able to acquire the Meltio M450.
In addition to facilitating access to metal additive manufacturing technologies, the Meltio team also allows users who have already purchased a machine of their brand to finance the remaining payments. The goal? To allow more companies to continue their growth in the industry, so that the current crisis does not prevent them from adopting metal AM. Financing programs range from 36 to 60 months, and are available in over 50 countries. If you want more information about their program you can contact HERE.
What do yo think of Meltio's activities in metal AM? Let us know in a comment below or on our Facebook and Twitter pages! Don't forget to sign up for our free weekly Newsletter, with all the latest news in 3D printing delivered straight to your inbox!