The growing market for additive manufacturing in the medical sector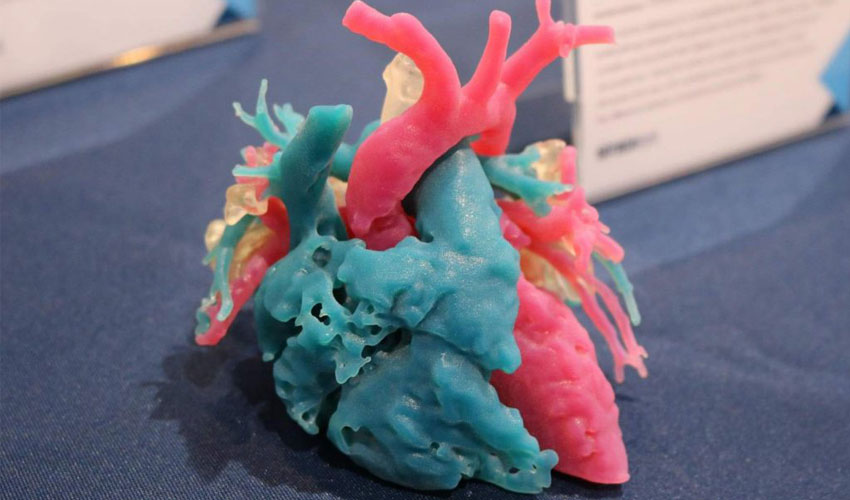 SME is an American professional association that recently unveiled their Medical AM3DP 2018 Annual Report, which provides a global overview of the impact of additive manufacturing in the medical sector – highlighting the importance of technological innovation to improve the cost-effectiveness of care for each patient. A report that also highlights the benefits of additive manufacturing in creating personalized medical solutions.
While dental 3D printing is expected to grow by $9.7 billion by 2027, confirming a staggering 35% growth in one year, the use of additive manufacturing in the medical sector is also expected to grow more and more. More than 97% of medical 3D printing professionals expect applications and use of 3D technologies to continue to grow – the report rates the global additive manufacturing market at $7.3 billion in 2017, with an annual growth of 21% in terms of income.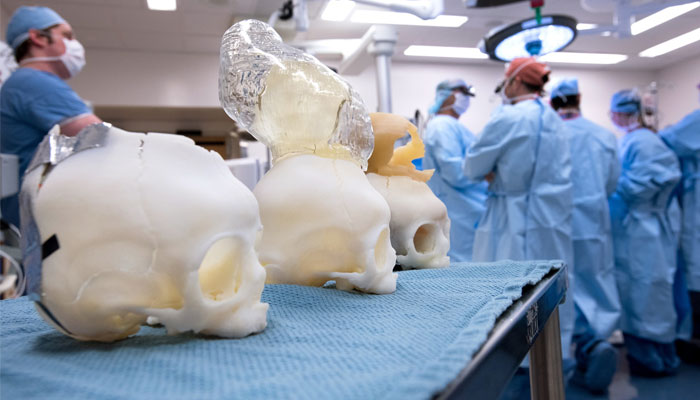 The report includes the results of a survey conducted with medical additive manufacturing professionals to gain insight into how the technology is used, what processes and materials are used, what challenges are faced, and what, according to them, will have an impact on patients. "Collaboration between companies and organizations, and particularly between medicine and engineering, was a big part of the story this year," says Lauralyn McDaniel, SME Sector Manager. "Everyone is working together to continue to grow the millions of patients already directly impacted by the benefits of AM/3DP-enabled precision medicine." Regulatory bodies, industry and clinical groups contribute elsewhere to this growth. Illustrating this is the French company Medicrea, which received approval last year by the FDA for their 3D printed implants, allowing them to propose a solution that is adaptable to their patients.
The study also reveals that 11% of the medical industry's revenue comes from 3D printed parts, whether implants or medical devices. This growing interest could be explained by the need to customize medical solutions today. Dan Fritzinger, Manager at Global Instrument Innovation at DePuy Synthes, says: "3D printing was once an innovation of the future and is now an exciting reality. This technology presents enhanced career growth opportunities for each new generation of engineers and manufacturers entering the workforce." He goes on to explain that DePuy Synthes has opened their "3D Printing Center of Excellence" in order to accelerate the development of additive manufacturing and customization of medical benefits. An initiative that many hospitals have followed: according to the study, the number of hospitals in the United States that have installed a 3D printing center between 2010 and 2016 has increased by 3,200%! Many have adopted a medical additive manufacturing strategy.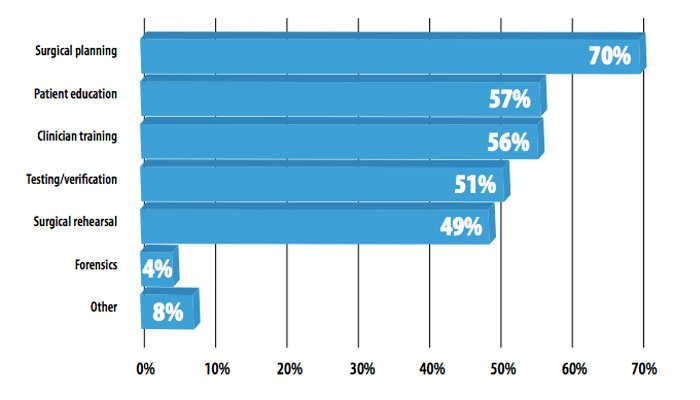 You can find the whole EMS study on their official website.
What do you think about the growth of additive manufacturing in the medical market? Let us know in a comment below or on our Facebook and Twitter pages! Don't forget to sign up for our free weekly Newsletter, with all the latest news in 3D printing delivered straight to your inbox!