Mecuris creates a digital platform for 3D printing prostheses & orthoses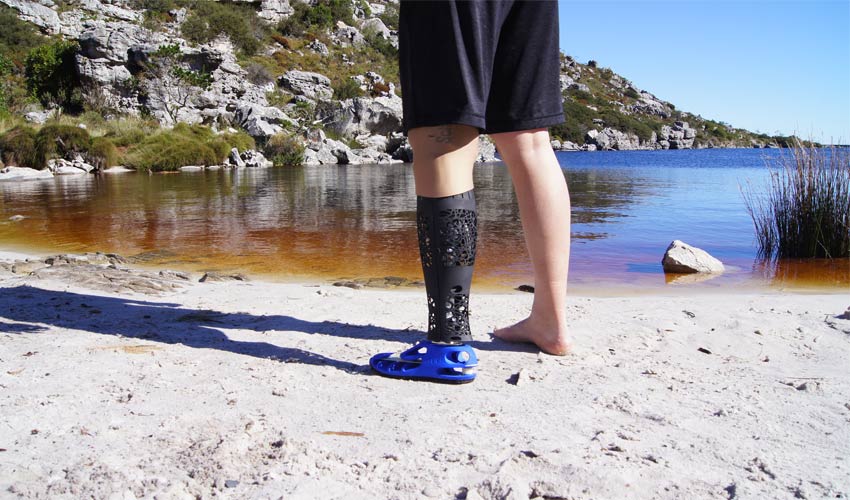 3D printing is increasingly used in the medical field, whether for research work, to create fabrics using bio-printing technology or to design custom prostheses and orthotics. Some players in the sector are developing innovative solutions using 3D technologies, allowing patients to access care adapted to their needs more easily and quickly. That's exactly what the German company Mecuris is looking for with its digital platform. With the help of 3D printing, it offers its clients orthoses and custom-made prostheses, perfectly adapted to their morphology and that can be manufactured much more quickly. We wanted to know more about the process of creating these medical devices and therefore met the Mecuris team.
3DN: Can you tell us a bit more about Mecuris and its beginnings?
Mecuris was created in 2016. The company that currently has no more than 20 employees is a spin-off from the Ludwig Maximilian University in Munich. The six founders and the rest of the team are interdisciplinary physicists, medical technicians, engineers, production technicians, computer scientists, economists and designers. Together, we are enabling national and international medical equipment companies to enter the digital age. To do this, the team of experts provides orthopaedic mechanics with a digital procurement platform (Mecuris Solution Platform) with 3D products that adapt precisely to customers. All the necessary parts can be directly ordered. About 100 medical supply stores in more than 30 countries on 6 continents are already registered on this digital platform. This one has existed since May only. In Germany, first deliveries have been made since mid-2016.
3DN: What can be done with additive manufacturing in your sector of activity that could not be achieved with traditional methods?
3D printing has several advantages compared to traditional manufacturing processes. In principle, it can be used more cost-effectively by an orthopaedic technician. Added to this are delivery times: 3D printed parts can be created during the night. In addition, they can be personalised and certified CE, it is one of the biggest assets for the orthopaedic sector. 3D printing is a technology that allows each part of the individual prosthesis to be adapted to the needs of the user. This includes the creation of a custom shape, a specific functionality corresponding to the wearer but also a great freedom in the aesthetic design.
3DN: What are the benefits of using 3D technology for Mecuris and its customers?
By combining 3D technology with our intuitive platform, we enable orthopaedic technicians to create custom prostheses and orthotics for their patients with no 3D design or 3D printing skills. This increases the productivity of experts by 4000% or more. Thanks to 3D printing, we can also offer additional features: your prosthesis can be water resistant or incorporate a bottle opener!
The anatomy and dimensions of the wearer of the prosthesis are preserved. So, if you need a second prosthesis for a particular need – for example for water sports – it's much faster. With this follow-up, anatomical changes can be compared with millimeter accuracy. This complies with the latest EU regulatory requirements. Therefore, for the first time in the world, individual prostheses and orthoses can be manufactured in accordance with CE standards.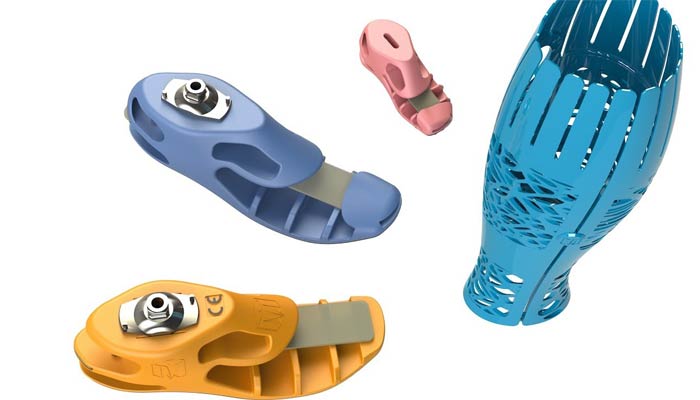 3DN: What are the objectives of Mecuris in the long term?
Of course, we are constantly trying to improve our products and expand our range. The creation of tools should also be easier and faster for the experts and at the same time offer more opportunities to strengthen their expertise. Mecuris wants to occupy a global position in the field of digitally manufactured orthoses and prostheses. At home, orthopaedic surgeons design customised products that improve the quality of life of their patients, all in 24 hours.
3DN: What is the future of 3D printing in the field of health and more specifically of orthopedics?
The orthopaedic field is still in its infancy as far as 3D printing and digitisation are concerned. In the future, the manufacturing time will decrease and with it the processing time. Printing costs are decreasing each year due to improved printers and 3D services. This is not the only trend:
– Hybrid production: versatile machines that combine additive processes such as 3D printing with subtractive processes such as milling will increase. Such machines will then allow the machining of a part in a single step. The combination of additive manufacturing to obtain custom parts with subtractive manufacturing for standard parts will result in cost advantages.
– Intelligent materials: they react independently to changing environmental influences, such as increasing temperature or mechanical loads. The prostheses can be "printed in 4D" and adapt their flexibility according to the weight. The prosthesis therefore always has a mechanical rigidity adapted to the activity that has just been achieved. Other materials detect small cracks that appear as a result of mechanical stresses and are able to eliminate the resulting defects. The self-healing materials make it possible to create extremely light and durable prostheses and orthoses.
– Connected prostheses: a pedometer can be integrated into the prosthesis quite easily from a technical point of view. The patient is thus regularly informed of his level of fitness. This will speed up the rehabilitation and will monitor some physiological parameters to ensure optimal mobility. Other sensors could include measuring devices that would monitor the mechanical load of the prosthesis as well as that of the prosthetic stem and stump.
3DN: A last word for our readers?
We are sure that these trends can not be realised by an orthopaedic expert, a designer or a programmer. Only an interdisciplinary team can enable patients to become mobile and active quickly. Mecuris relies not only on its internal knowledge, but works closely with orthopaedic technicians, hospitals, health insurance companies and industry leaders in the fields of 3D printing, 3D construction, simulation, etc. Find all our work on our official website.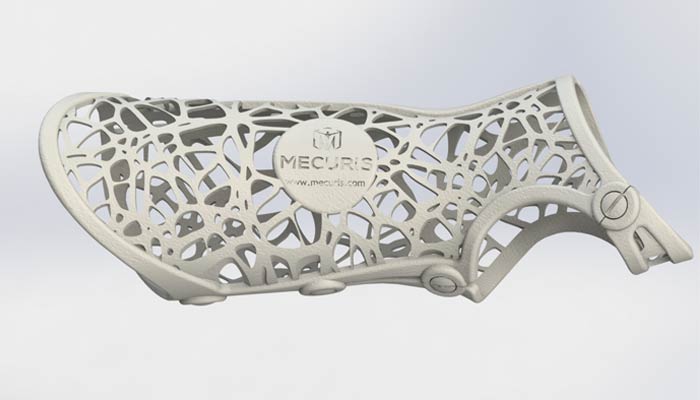 What do you think of the platform developed by Mecuris? Let us know in a comment below or on our Facebook and Twitter pages! And remember to sign up for our free weekly Newsletter, to get all the latest news in 3D printing send straight to your inbox!