McLaren Racing and Stratasys: 3D Printing for Automotive Performance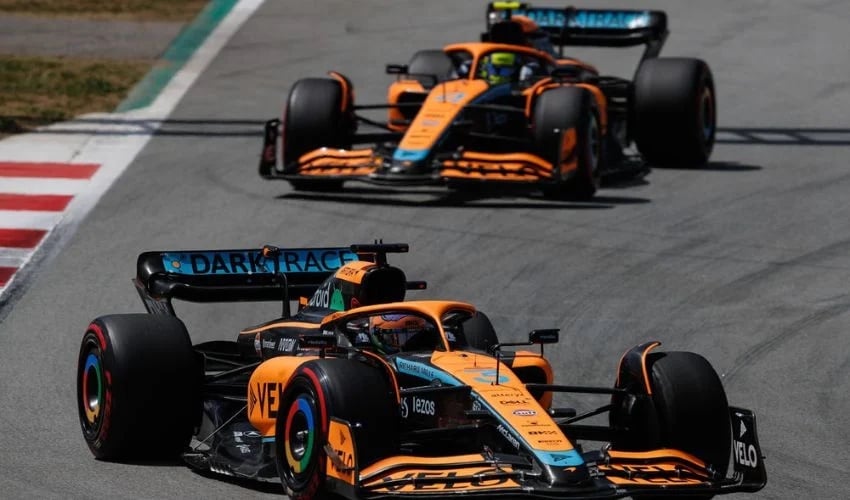 If you're interested in cars and 3D printing, the names McLaren Racing and Stratasys are probably familiar to you. These two companies have decided to team up to create state-of-the-art equipment together. In Formula 1, one thing is most important: speed. This is not only important on the race track but also off it, especially in terms of part production times. This is where additive manufacturing can help win the race against time off the track.
McLaren Racing manages to meet the time and budget requirements of the Fédération Internationale de l'Automobile (FIA) for vehicle production in 2022. This is achieved by entering into a cooperation with Stratasys. Stratasys will enable the manufacturing of tens of thousands of parts through additive manufacturing, by using its Neo800 3D printer. This will reduce the production time for certain model parts and also speed up vehicle development.
The 3D Printed Parts and Their Areas of Application
The racing sport is facing uncertain times, and because of the Covid 19 pandemic, it has not generated revenue for an extended period of time. As a result, the FIA decided to reduce the budget cap from $175 million to $145 million for the first year of operation in 2021, then to $140 million for 2022 and $135 million for 2023.
McLaren is therefore banking on 3D printing and producing up to 9,000 car parts per year for the front and rear wings, as well as large parts of the side and upper bodywork in just three days. According to the race team, these parts are able to make great strides in optimizing the car's aerodynamics during wind tunnel testing. The parts are more precise thanks to 3D printing and, in addition to the quality aspect, the production time of the parts has been considerably reduced. This allows McLaren to produce quickly and at a lower cost.
The use of 3D printing technology not only has advantages for McLaren Racing but also for the environment. By using its own printers, McLaren can produce all of its aerodynamic parts at its site in Woking, UK. This reduces long delivery and transportation times, as well as costs and environmental impact. Not only can additive manufacturing be used to produce automotive parts, but the team can also 3D print fixtures and jigs as well as small molds that previously had to be milled from metal blocks. So the stereolithography process used in the Neo800 not only saves a lot of time, but also saves materials, and therefore money. Tim Champman, head of additive manufacturing at McLaren Racing explains: "Our new Neo series of 3D printers have dramatically helped to reduce the lead times of our aerodynamic wind tunnel components and projects. The large bed size of the Neo800 allows very large parts to be built quickly and to a very high level of detail, definition, and repeatability. We find the high-definition components from our Neo machines require minimal hand finishing, which allows much faster throughput to the wind tunnel. Finishing cycle times have been reduced dramatically."
Using 3D Printing To Improve Performance at McLaren
In Formula 1 racing, we know that every second of advance counts. To measure this performance, wind tunnel tests are used. According to Tim Chapman, these tests are always the gold standard when it comes to evaluating how all surfaces interact. That's why Somos® PerFORM Reflect resin, which is specially developed for wind tunnel models, is used for printing. The result is robust and rigid parts, with finishing time reduced by 30%. The high-precision components from the Neo printers would also require minimal manual rework, allowing for much faster throughput in the wind tunnel. In addition to the speed advantage, they can now produce wind tunnel parts with very high accuracy and detail, as well as the best possible surface finish. This has allowed the team to improve testing and come up with new and innovative ideas to improve performance. Car delivery times for the next race are always extremely tight and even the smallest design adjustment can mean the difference between winning and losing or helping to achieve better grid positions.
What do you think of the combination of 3D printing and motorsport in the McLaren Racing cars?Let us know in a comment below or on our LinkedIn, Facebook, and Twitter pages! Don't forget to sign up for our free weekly Newsletter here, the latest 3D printing news straight to your inbox! You can also find all our videos on our YouTube channel.