Meet McLaren's New Artura Hybrid Supercar with 3D Printed Cores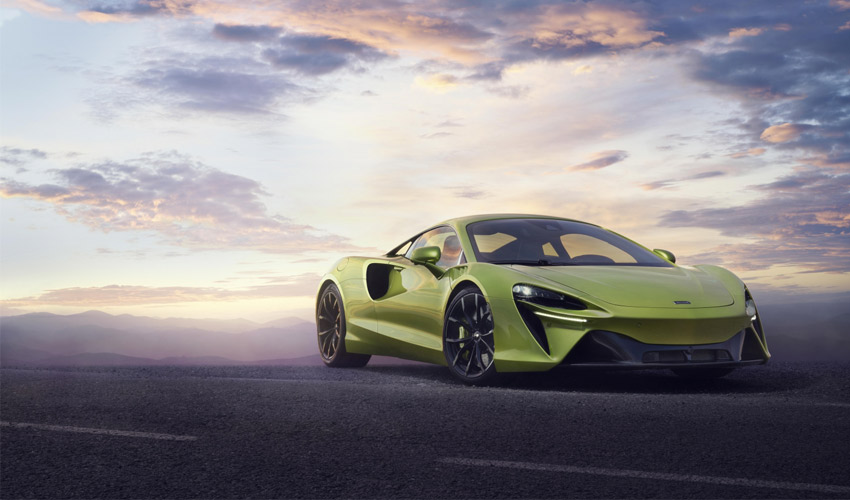 A few days ago, luxury carmaker McLaren introduced its latest concept: its first high-performance hybrid supercar, the McLaren Artura. Engineered to combine technology, design and unmatched performance, the hybrid car is a compendium of innovation, and of course, additive manufacturing is part of it. The British company claims to have used 3D metal printing to design the engine block and cylinder head cores. This method would allow better cooling of the engine, and therefore better performance.
The electrification of vehicles is a rapidly growing trend worldwide. According to a report by the IEA, the global sale of electric cars has registered a 40% year-on-year increase. Additionally, a recent report from Fortune Business Insights mentions that the electric vehicle market is expected to reach $985.72 Billion by 2027, with customers especially favoring efficient hybrid cars. There's no doubt that car manufacturers are moving more into the market and in many cases, additive manufacturing is helping development. For example, Porsche has reduced the total weight of the drive by about 10%. There is also the case of Aptera Motors, which has come up with a partially 3D printed design. This time we're going to England, where McLaren has unveiled an innovative concept.
The McLaren Artura had a weight reduction requirement, so engineers turned to carbon fiber to design a lighter frame. The monobloc structure will weigh only 82kg (180.8lbs) and will help protect the battery pack – in fact, the total weight of the hybrid components is only 130kg (286.6lbs). Carbon fiber also offers more impact resistance. On the engine side, the McLaren Artura's engine will be more compact, smaller and denser than a conventional radial-flow E-motor. Weighing only 15.4 kgs, it can reach 0-100 km/h in just 3 seconds, with a top speed limited to 330 km/h.
What is particularly interesting is the engine block and aluminum cylinder heads as they incorporate 3D printed cores. McLaren hasn't revealed much information regarding the technology used, but it is very likely that the cores were also made of aluminum. In that case it is likely that a laser powder bed fusion process was used for the 3D printing processes. Regardless, the automaker claims that additive manufacturing allowed it to design a more complex part and include details that would otherwise be impossible to manufacture. The cores include a 2 mm micro-compact cooling passage between the cylinders, which serves to significantly improve engine cooling.
Geoff Grose, Chief Engineer, McLaren Artura explains: "From the very beginning of the project, designing and engineering the Artura has been all about challenging ourselves to innovate, pushing and pushing to achieve everything we knew a next-generation, high-performance Hybrid McLaren supercar had to be. As a result, the Artura is all-new; the carbon fiber monocoque, electrical architecture and the body and interior are new. So too is the V6 engine, the transmission – which also integrates a new type of electric motor for the industry – as well as the rear suspension concept and our first-ever electronic differential." Beyond the integration of additive manufacturing, the McLaren Artura is a compendium of innovation: you can read the official press release HERE to learn more about all its features!
What do you think about McLaren's new hybrid supercar? Let us know in a comment below or on our Linkedin, Facebook and Twitter pages! Sign up for our free weekly Newsletter here, the latest 3D printing news straight to your inbox!