Used cooking oil from McDonald's is transformed into 3D printing resin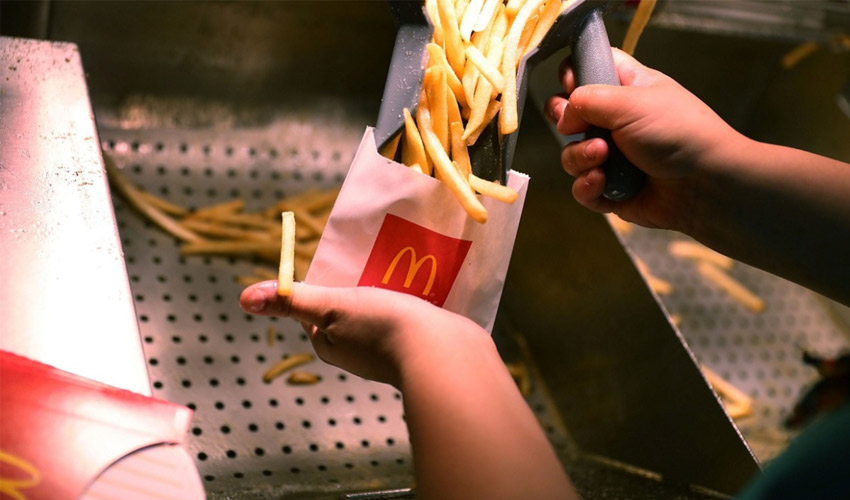 At the University of Toronto, a team of researchers has recovered used cooking oil from a local McDonald's and turned it into a high-resolution biodegradable 3D printing resin. For one litre of used oil, they obtained 420 mL (14 oz) of liquid resin which they used to 3D print several butterflies. The resin they created did not crumble or melt above room temperature. This project is a good example of how 3D printing technologies can be used to give value to our food waste.
Apart from the fact that it is far from healthy, frying oil has some environmental impacts too, especially after it's been used to fry. Today, it is thrown down our sinks, causing clogged pipes due to the accumulation of grease. However, there are initiatives to recycle it. The fast food giant McDonald's has committed to reusing its frying oil to create biofuel. A total of 35,000 litres (9,245 gallons) are processed each month, saving 420,000 litres (11,0950 gallons) of crude oil per year. The initiative began in India, where it has been a great success. Projects such as this one can attract more attention to these issues, often forgotten by consumers.
Creating McDonald's 3D printing resin?
The University of Toronto professors behind this project started from a simple observation: most plastics are made from man-made synthetic components that are much more difficult for nature to assimilate. Andre Simpson, a professor in the university's Department of Physical and Environmental Sciences, explains: "If plastics are a problem, it's because nature has not evolved to process man-made chemicals. Because we use what is essentially a natural product – in this case fats from cooking oil – nature can handle them much better."
The researchers found that the grease molecules in the frying oil had the same characteristics as those of a commercial resin. The project could begin. The team asked several restaurants and fast food chains for their used frying oil, including McDonald's, which was the only one to agree. Using a simple, one-step chemical process, the researchers explain that they transformed 1 litre of used oil into 420 mL of plastic resin, compatible with a 3D printer. To demonstrate the potential of this chemical transformation, they printed several butterflies with impressive physical and chemical properties, proving that the material is as effective as a resin in the additive manufacturing market.
And while the resin is more environmentally friendly, it is also cheaper to produce. According to researchers, it costs only $300 per tonne, while a commercial resin derived from fossil fuels can go up to $525 per litre given its more complex production process. Finally, this new resin is also biodegradable. The researchers buried one of the 3D printed butterflies in the ground and two weeks later it had lost 20% of its weight. Because it's essentially made up of fat, the microbes in the soil break down the structure: "Microbes like fat, they like to eat it so they do a good job of breaking it down," explains Andre Simpson.
This is not the first time that the University of Toronto has taken an interest in the recycling of food waste through 3D printing: a few months ago, former students founded the startup Genecis, which designs 3D printing filaments from food. In any case, it is hoped that the new resin will provide a viable solution for recycling used cooking oil! What do you think of this initiative? Let us know in a comment below or on our Facebook and Twitter pages! And remember to sign up for our free weekly Newsletter, to get all the latest news in 3D printing send straight to your inbox!