the Mayku FormBox; an ideal partner for your 3D printer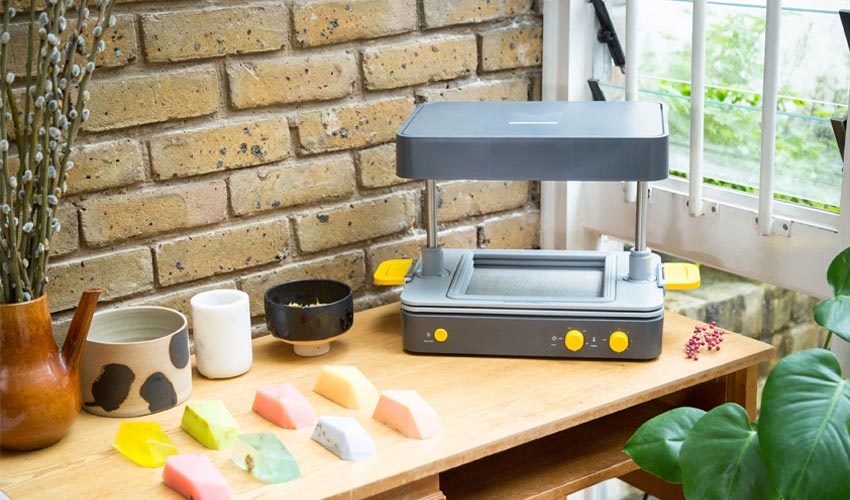 Mayku is a young startup that launched FormBox, a desktop tool that works like a vacuum machine. After their success on Kickstarter, where they raised more than $ 550,000. The company began commercialisation: this machine allows you to create all kinds of objects; from molds to flower pots to soaps, simply by plugging in your vacuum cleaner. The startup aims to change the way we manufacture today and says it can be an ideal partner for your 3D printer. The Mayku FormBox would indeed be able to produce the molds of your 3D prints: you just have to place your 3D printed object on the machine tray and it is responsible for making the corresponding mold. We wanted to know more about this little machine and met the International Marketing Director, Daniel Mark Carr.
3DN: Can you introduce the Mayku startup?
Founded in 2015, Mayku was started by two London based design entrepreneurs, Alex Smilansky and Benjamin Redford, and the pair intended to change the way our things are made forever. The FormBox is Mayku's first creation, which gives people the power to create incredible things – as simply as baking a cake. They're building the world's first Desktop Factory, a family of mini-machines to make creating products as simple as cooking.
3DN: How does the FormBox work? What is its link with 3D printing?
The FormBox is a desktop vacuum former which when used alongside a 3D printer, allows users to produce molds of their 3D prints in seconds. These molds can then be used to replicate a 3D model in a variety of materials, countless times, allowing rapid prototyping and design work in minutes instead of hours or days. The FormBox can also be used to create packaging, product prototypes and plastic items such as drone casing.
The FormBox houses a ceramic heater in its top which heats a piece of thermoplastic. When the material is soft and malleable, the FormBox trays are lowered down over the object being formed. When the trays are lowered, the vacuum cleaner automatically switches on for 10 seconds, sucking the soft thermoplastic over and around the template being formed.
The FormBox is very easy to use, it doesn't require any additional software or digital model manipulation and uses the power of a domestic vacuum to create the molds.
3DN: Can you tell us more about its specifications? Is it compatible with all materials?
The Formbox is the perfect addition to a workshop or design studio. When making molds for food the Mayku Cast Sheets are transparent and food safe, while the Mayku Form Sheets are a ridgid recyclable plastic for product packaging, prototyping and enhancing consulting projects. Once the perfect form is made users can add Mayku Pour which is a strong, durable plaster into the mold which gives the ability to create professional looking designs. Alternatively the molds can be filled with cement, chocolate, resin and many more materials.
On the specifications side, note that the tray measures 200 x 200 mm and that any vacuum cleaner is compatible – you can use the one you have at home. Compatible materials are PETg, HIPS, APS, Polystyrene, Polycarbonate and PMMA. The machine is quite compact and measures 300 x 458 x 240 mm.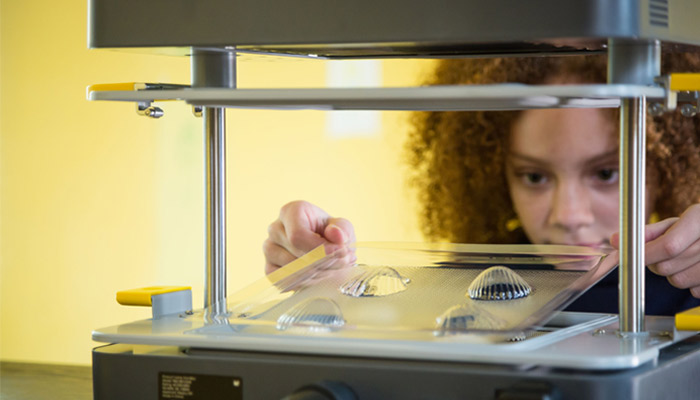 3DN: For which applications can we use the FormBox?
With the Mayku FormBox you can create molds and cast them in a world of materials, or you can use the forms as an item themselves; such as for the casing on a drone or an RC car. We currently have a community of over 3000 makers and creators across the globe, using the FormBox for teaching STEM, running Etsy businesses, or in their restaurants!
3DN: What are the main advantages of the Mayku Formbox's technology?
The FormBox brings a traditional manufacturing technique to a totally new consumer. The main benefit is speed. With the Mayku FormBox you can prototype and make product, and create batches of product in minutes, not hours. The FormBox allows you to experiment and be creative, try out ideas and make alterations quickly and easily with no need to send alterations to a factory. There are general principles to vacuum forming that need to be adhered to, but the Mayku FormBox comes with a starter kits which includes 3 templates and a starter book to make that process simple and enjoyable.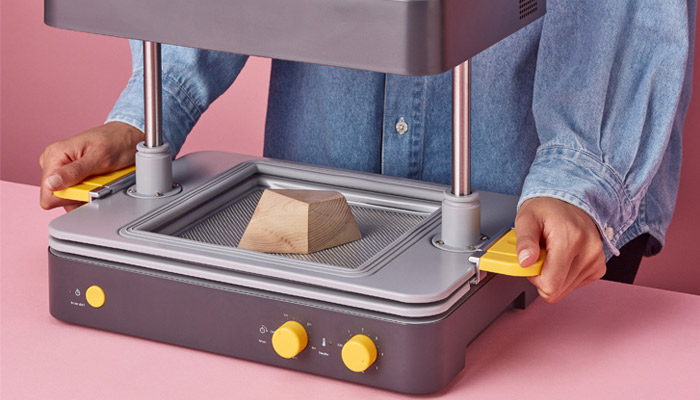 3DN: A last word for our readers?
Mayku is also building a community of makers that can share projects and designs to be listed on the Mayku Gallery. Thanks to Mayku's pro-makers and passionate community around the FormBox these designs range from fun at-home ideas to more professional products in order to help grow a design studio. You can order your Mayku FormBox at € 699 on our website.
 What do you think of Mayku FormBox? Let us know what you think in a comment below or on our 
Facebook
 and 
Twitter
 pages! Don't forget to sign up for our free weekly 
Newsletter
, with all the latest news in 3D printing delivered straight to your inbox!