Materialise on Using Sustainable Materials to 3D-Print Designer Eyewear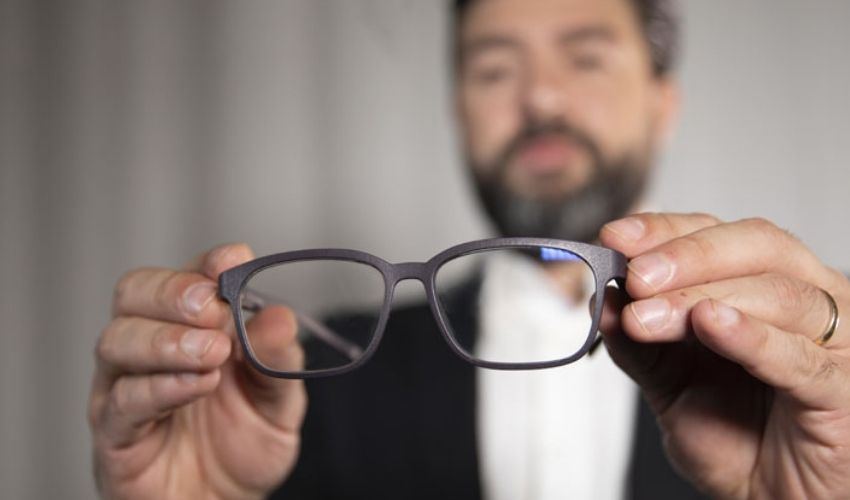 One of the many benefits of using 3D printing for the manufacture of products is that it enables companies to move from away mass-production to mass-customization — offering a selection of colors and styles to suit the tastes of each individual consumer. Taking it a step further, 3D technologies, such as facial scanning, also allows companies to offer personalized products tailored to the unique features and characteristics of the individual. Furthermore, with 3D printing technologies, companies can produce high-quality glasses frames with materials, such as Polyamide 12 (PA-12), also known as Nylon. This particular 3D printing material is known for its durability and abrasion resistance which is why we see it used widely in the wearables space. Which brings us to Materialise, a Belgium-based company that has established itself as an innovator in the eyewear market. The company uses 3D printing to create high-end glasses, offering design freedom for brands to execute their creative vision as well as personalized fit for customers. To get a better understanding of the use of 3D printing in the eyewear sector, we spoke with Alireza Parandian, Head of Global Business Strategy, Wearables at Materialise.
3DN: You've been working with Materialise for over 7 years now, but when did you first get your start in additive manufacturing?
I was running the networking part of a big EU-funded project. It was the first European project on digital production and through that network I became acquainted with Materialise. We were working on technology and application mapping to guide how emerging technology could be used to create new applications in the market. As part of this project I wrote a paper on how to find new applications and this brought me to see the possibilities presented by additive manufacturing. AM was a new technology that had at its core the value proposition that enabled freedom of design. Something that was not possible with other technologies for manufacturing. In fact, for more than century there wasn't such a real innovation in manufacturing except incremental changes in making production more efficient. The time I joined Materialise coincided with the introduction of new materials and faster technologies. This meant it had become more economically viable and relevant to move to serial production.
3DN: What are some of the specific issues consumers have with traditional glasses, and how does 3D printing solve these issues?
The biggest challenge for consumers is finding a pair of frames that fits them perfectly. Everyone's features are different — the nose bridge, the temple length, and face shape are unique to every person. That not only impacts the wearability and comfort but it also has an impact on the visual experience you can deliver with a pair of corrective frames. To make it tangible, 1 in 4 consumers have trouble finding glasses that fit properly. Current manufacturing technologies for eyewear limit the ability of brands to offer a variety of choices and sizes. It is difficult for them to easily address the issue of fit in the way they manufacture today. Additive Manufacturing can offer a solution to help find a custom fit. With AM you can produce with greater flexibility, or completely on-demand. Brands can create a single, custom-fit frame from a digital facial scan, or include multiple sizing opportunities for temples and fronts.
An example of complete customization is Yuniku — we are proud to have created the first end-to-end digital supply chain that enables full customization of the frames and the lenses in partnership with Hoya. The consumer can be involved with the design process which builds a strong connection to their frame. When co-creating this with our partner Hoya, we created a digital platform that allowed eyewear professionals to interact in an enhanced way with their customers to improve the experience in optical retail. Another example of a brand offering consumers access to a fit more tailored to their features is weareannu. The brand gives consumers the ability to build their frame from a selection of shapes, sizes, colors, and nose-fit components to create a tailor-made frame.
3DN: What do you believe are some misconceptions consumers may have regarding 3D printing for eyewear?
The consumer hype of 3D printing that happened in the 2010s was focussed on home printers, this means people can still struggle to believe the premium product produced with industrial 3D printing is possible. What has changed is that we see consumers becoming aware of the technology. And with that I see they are more aware of aspects like the customer experience when they buy. They are also recognising the sustainability benefit and looking more to 3D printing as a solution than just a technology.
3DN: Can you tell us more about Materialise's eyewear production product, Luxura?
Luxura is the name for our premium consumer-grade finish for eyewear. The finish combines leading-edge automated techniques with atelier-style hand finishing to produce the look and feel the designers require. Our offer for eyewear encompasses more than just the finish. We have a dedicated production process for eyewear which starts with ideation onto prototyping through to scaled manufacturing. We have built this production line to meet the unique and intricate needs of the eyewear industry in terms of product, aesthetics, and performance requirements. It goes beyond simply printing the part, and delivers on every aspect of the creation of a collection. This includes working with brands to optimise the 3D design, creation of custom colors, or selection from our wide range of colors, and finding the perfect finish. 
3DN: What are some of the measurable business goals in Materialise's eyewear division that align with sustainability initiatives?
Our goal is to empower the choice for sustainability, to enable brands and businesses to create the model that works for them though offering options with production, materials, supply chains. We are also moving into adding materials, like our recent launch of PA11: a sustainably sourced bio-based material.
3DN: Anything else you'd like to share with our readers?
For those interested in the sustainability of 3D printing for eyewear production, you can read the recently released paper which empirically explores the sustainability impact of two mass customisation oriented production methods, AM and subtractive, within two complete production lines of eyewear. A Holistic View on Sustainability in Additive and Subtractive Manufacturing: A Comparative Empirical Study of Eyewear Production Systems HERE.
Have you ever tried any products from Materialise? Let us know in a comment below or on our Linkedin, Facebook, and Twitter pages! Don't forget to sign up for our free weekly Newsletter here, the latest 3D printing news straight to your inbox! You can also find all our videos on our YouTube channel.