Mass production and 3D printing: where do we stand?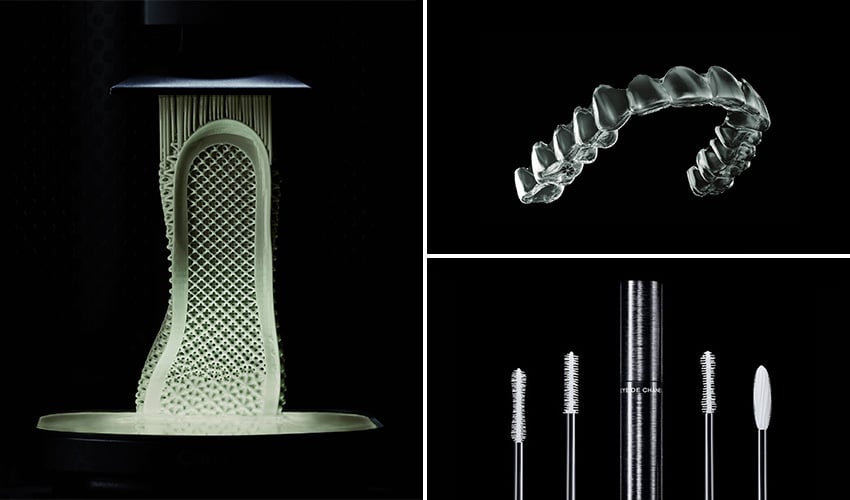 Additive manufacturing is now widely used in the production of end-use parts, a trend confirmed by Sculpteo's latest study "The State of 3D Printing" which showed that more than 50% of companies surveyed used 3D printing technologies not for prototyping but for production. But what about the number of parts that are actually 3D printed in series? Additive manufacturing is generally not the preferred method for mass production because lead times are no longer as short as with conventional methods and costs are no longer as low. Manufacturers will tend to favour injection molding because it is faster and cheaper when producing at scale. And yet, more and more manufacturers are looking at moving towards mass production with additive manufacturing. How can 3D printing be used to manufacture the same standardised part in industrial quantities? Today, we present to you a few examples that combine mass production and 3D printing, to show you the industrial potential of this technology – the examples are listed in alphabetical order.
Adidas and Carbon: mass producing sneakers
In April 2017, the famous equipment manufacturer Adidas announced a major partnership with Carbon. Together, they launched the production of 100,000 pairs of Future Craft 4D shoes that featured 3D printed mid-soles! By using the American company's Digital Light Synthesis (DSL) technology, Adidas was able to print the lattice-like sole in 19 minutes. The 3D printed sole provides more comfort and flexibility. If additive manufacturing has been chosen to make so many shoes, it is because it allows to create this lattice structure. This structure is key to reduce the total weight of the shoe, and to respond precisely to the movements of each athlete: offering better cushioning and very good stability.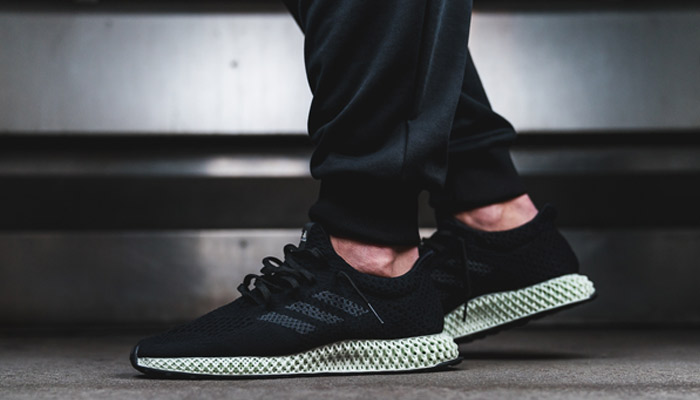 Align Technology: mass production, 3D printing and personalisation
The American company Align Technology specializes orthodontic solutions using 3D printing, known in particular for having developed Invisalign, made-to-measure aligners. It uses additive manufacturing, and more specifically SLA machines from 3D Systems, to design the mould of the tray which is then thermoformed before being used by the patient. Each device is, of course, tailor-made, completely adapted to the anatomy of its wearer. The famous Invisalign are therefore a perfect example of combining personalisation, mass production and 3D printing: Align Technology is currently printing more than 320,000 pieces per day! Today, more than 9 million people would used these transparent aligners.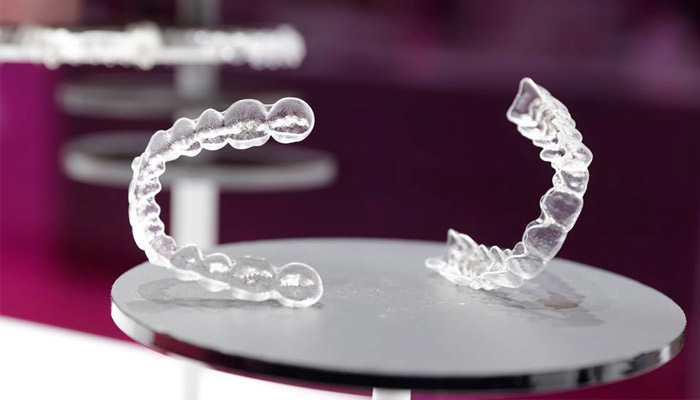 Chanel: 3D printing high-tech mascara brushes
Back in 2018, the Volume Révolution mascara brush from Chanel was developed in collaboration with Erpro 3D Factory, a startup founded by Erpro Group that specializes in additive mass production. In fact, the French luxury brand had developed an interest in 3D printing technologies about twenty years ago, and had actually filled a patent for this 3D printed mascara in 2007! It decided to partner with Erpro Group to create this design at industrial scale. Erpro 3D Factory explains that it has 3D printed 17 million parts since 2017, and operates 15 machines that can work 24/7.
These are the machines that produce the Chanel mascara brushes with SLS technology: 250,000 per week. Following the Volume Révolution, Chanel decided to take it one step further by producing E.Y.E, a new range of 3D printed mascaras that include 10 exclusive brushes. Additive manufacturing allowed designers to bypass the traditional mold creation process, which is time consuming and expensive. It also allowed the fine tuning of the brush's design through over 100 prototypes. Chanel explained that the unique design of the brush would not have been possible using conventional manufacturing.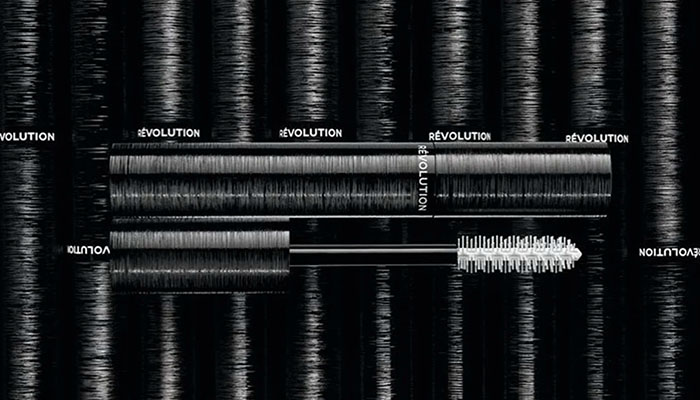 Formlabs: 3D printed COVID-19 test swabs
At the start of the COVID-19 pandemic in the West, multiple 3D printing companies put their hardware at the service of the medical sector. In the US, Formlabs focused on 3D printing nasal swabs to test patients. The swab they developed could be printed in one piece using the manufacturer's biocompatible and autoclavable materials (such as its surgical guide resin). Capable of producing 1 million swabs a week with its 3D printers, this production rate was necessary to meet the urgent need in the country. Formlabs explained that they had put 250 of their SLA machines in operation during the peak of production. "We have received notification from the FDA that this would be a Class 1 exempted product, as long as it is manufactured in an ISO 135 controlled facility," had explained Formlabs Product Manager, David Lakatos – this allowed an even quicker delivery to the market. You can find more information behind this project in the following video:
GE Additive and Safran: manufacturing fuel nozzles
GE Additive, in partnership with Safran Aircraft Engines, a global supplier of aircraft engines, was able to use additive manufacturing to produce more than 30,000 fuel nozzles for commercial aircraft. They used GE Aviation's 3D printer plant in Auburn, Alabama. Today, the plant has over 40 3D printers working from titanium powder. In total, the weight of the nozzles was reduced by 25%, and they were able to reduce the number of nozzle parts (approximately 20) into one complete part. The manufacturer claims that it's not just about producing thousands of parts, but that they wanted to demonstrate the role and operation of additive manufacturing in mass production for their business. For the company, this is one of the most recognisable examples of how to speed up production, reduce costs and shorten lead times.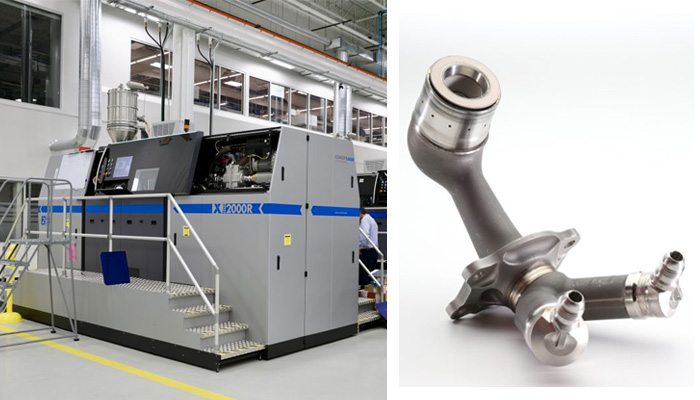 Photocentric: 3D printing valves to fight the pandemic
The British company Photocentric specialises in plastic polymers and, more specifically, in stereolithography technology. In mid-March, the manufacturer went into mass production for the creation of valves compatible with breathing apparatus. The goal? To alleviate the health crisis caused by COVID-19 and to help hospitalised patients. It used three 3D resin printers: the Magna, the Titan and the Maximus, which printed more than 600 valves in one night. The Photocentric team claimed that they could produce over 40,000 valves a week using their Liquid Crystal 3D printers. This would require them to work 24 hours a day for 5 days a week. This example shows how additive manufacturing can be a reactive production process when there is urgency.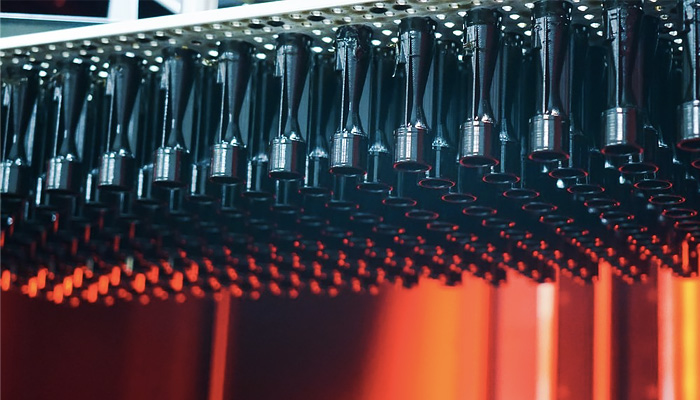 Rehook: get your chain back on the bike
Rehook is a simple tool when you are desperately trying to get the chain back on your bike. The concept is simple: a hook is used to hold the chain and a specially designed pin holds the tension of the chain so that you are able to pull it back onto your bike with just one hand and without coming into direct contact with the chain. The development of the tool included various 3D printers. A MakerBot printer was used to develop the design, so that prototypes could be produced quickly and cost-effectively. After some adjustments and improvements, the design was finalised and different 3D printing technologies and materials for manufacturing were tried out through the 3D Hubs service. SLS proved to be the most suitable process for manufacturing the tool.
They had a capacity of around 400 units per month, which was enough to start a first pilot trial. Several thousand tools have now been sold and it can be found on all European Amazon sites. To meet the growing demand, the company decided to switch to injection moulding. However, it can be said that without 3D printing, this success would not have been possible because the company had a very small budget and development using traditional manufacturing methods would simply have been too expensive.
VormVrij 3D: 3D printing clay cups
In 2017, Studio Unfold contacted VormVrij 3D with an order that would demonstrate the Dutch manufacturer's 3D sound printers capabilities. The order was for 400 3D printed clay cups within 14 days. Yao vd Heerik, CEO and chief developer at VormVrij3D explained: "For mass production we had to optimize the print. The design of this special cup is a bit crenellated with sharp corners. This would not allow maximum printing speeds, as the directional shifts at these points could cause the printed object to vibrate when printing at high speed".
In the end, the clay cups were printed with an average layer height of 1 mm, with a 3 mm stable wall thickness and printing speeds between 10 and 40 mm per second. To increase the production volume even further, four printers were used simultaneously. After printing, the clay cups had to be post-processed, which included glazing. After manufacture, the cups were packed and shipped by Studio Unfold. Due to the satisfactory results, VormVrij 3D received follow-up orders from Studio Unfold, so that a total of 1,200 clay cups were 3D printed within six weeks.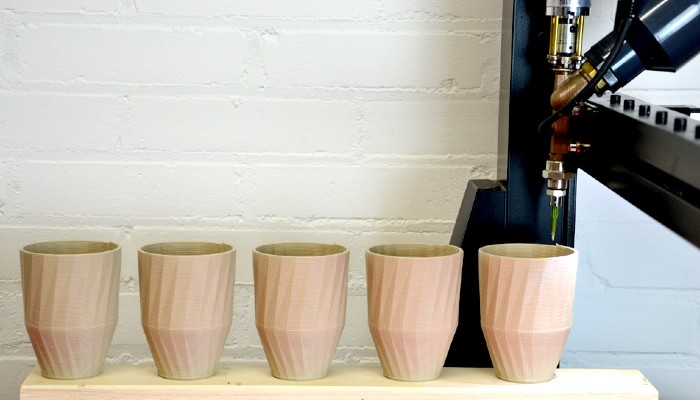 Do you know of any other mass production projects in additive manufacturing? Let us know in a comment below or on our Facebook and Twitter page! Don't forget to sign up for our free weekly Newsletter, with all the latest news in 3D printing delivered straight to your inbox!